Let's Talk About Necks: How to Care for Your Neck Skin
October 11, 2018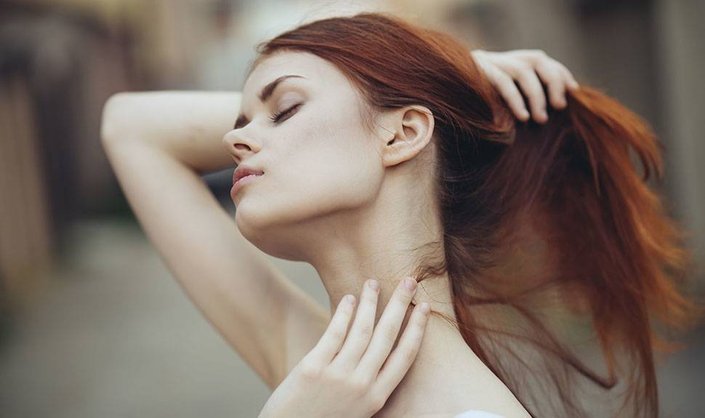 Let's be honest—favoritism can come into play with skin care. Some areas of skin receive more moisturizer and sunscreen than others. Few would argue that facial skin gets a lot of attention, but all too often the care doesn't extend below the jawline. As such, your neck is one of the most neglected areas of skin. It is not until signs of aging begin to appear on the neck—think: creases, lines, and wrinkles—that most people kick their skin care efforts in this area into high gear.
Along with making it a part of your anti-aging routine, it's important to make sure tending to the skin on your neck is part of your daily skin care ritual. Cleansing, exfoliating, and moisturizing are all actions you should be taking on your neck skin to not only address existing concerns but also help  them from cropping up prematurely. If you're noticing that your neck skin is looking a little saggy, there are ways to help tighten and firm its appearance. Read on for tips on how to tighten the look of your neck skin—plus, a daily skin care routine for your neck to begin following stat!
WHAT'S DIFFERENT ABOUT YOUR NECK SKIN?
Aside from its overall position on your body, your neck skin is different from the skin on the rest of your body. A paper published by the Journal of Cosmetic Chemists found that when compared to other sun-exposed areas of skin such as the cheeks, neck skin tended to be thinner. Elasticity and extensibility (a muscle's capability to be stretched), on the other hand, was much higher in the neck than the cheek. This general thinness combined with a greater capacity to lose water mass can quickly exacerbate signs of aging on the neck, such as wrinkles and sagging. That's why it's imperative to take care of the skin on your neck starting from a young age as a preventative measure against obvious signs of aging in the future.
A SKIN CARE ROUTINE FOR YOUR NECK
Neck skin maintenance is all about the consistency. Like other parts of your body, make sure to tend to it in certain ways every day of the week. Here are a few simple tips on how to make sure your neck is getting the TLC it deserves.
NECK SKIN TIP #1: KEEP IT HYDRATED, KEEP IT CLEAN
Since the skin on your neck loses its water consistency as you age, make sure it gets  a lot of hydration daily. Ingredients such as manuka honey, hyaluronic acid, ceramides, and more can help keep your skin from getting absolutely parched. Along with your moisturizing ritual, don't forget to clean your neck as well. The skin on your neck is just as susceptible to absorbing the day's dirt particles via pores and whatever foundation you may be wearing. Take care to clean it thoroughly in order to keep pimples at bay, which, unfortunately, can form on your neck too. 
NECK SKIN TIP #2: PROTECT YOUR NECK FROM THE SUN
Sun damage to the skin can cause a number of negative repercussions, such as crepey skin, so don't forget to lather on sunscreen under your chin as well. The skin on your neck gets just as much action from the sun as your face, ears, and hairline do. Board-certified plastic surgeon, SkinCeuticals ambassador, and Skincare.com consultant Dr. Peter Schmid recommends SkinCeuticals Physical Fusion UV Defense.
NECK SKIN TIP #3: DON'T FORGET TO EXFOLIATE!
In the kingdom of skin care, exfoliation is queen. Neck skin is just another one of her subjects. Make sure to slough away those dead skin cells to avoid clogged pores, and to keep your neck skin looking fresh and vibrant.
HOW TO TIGHTEN THE LOOK OF YOUR NECK SKIN
Let's say, as you've peered into the mirror, you've noticed your neck has already begun to sag. Worry not—there are plenty of products out there that can help tighten the appearance of your neck skin and help to address the signs of aging. Since dry skin can exacerbate the look of wrinkles, keeping your skin plumped with moisture can help give the appearance of firm neck skin. Read on for a glimpse into what options are available for you.
MASKS
There's a mask for just about anything now; there's even masks out there that can cover your entire body. The fact that certain beauty trends popping up include using masks for your neck skin comes as no surprise, especially since there's an increase in demand for neck skin wrinkles solutions in countries such as China. Try using a mask that's packed with hyaluronic acid for extra hydration benefits.
SERUMS
There's a lot to love about serums, and we love a lot of them. Not only can they help focus on nearly every skin concern imaginable, but they usually come packed with a bunch of ingredients your skin finds delectable. When it comes to testing some out for your neck skin, keep your eyes peeled for serums formulated with radiance-boosting Vitamin C or caffeine. Your neck skin will thank you. 
CREAMS
Creams that are formulated to firm and strengthen the look of skin are the perfect way to lessen the look of signs of aging. Products such as multi-correcting creams are a great way to reduce the appearance of wrinkles and give skin a vibrant glow.
Editor's note: Creases and lines that form on your neck can in some cases be attributed to bad posture. The same way lines can form on your forehead or face with repeated facial expressions, so too can they form on your neck if you're constantly slouching or looking down at your cellphone. To help reduce the risk of premature droopy looking neck skin, make an effort to keep your head straight, and bring phones and tablets up to eye level to prevent the need to look down.
Read more

Back to top