Quick Q: What's The Best Way To Wash Off Sunscreen?
February 15, 2019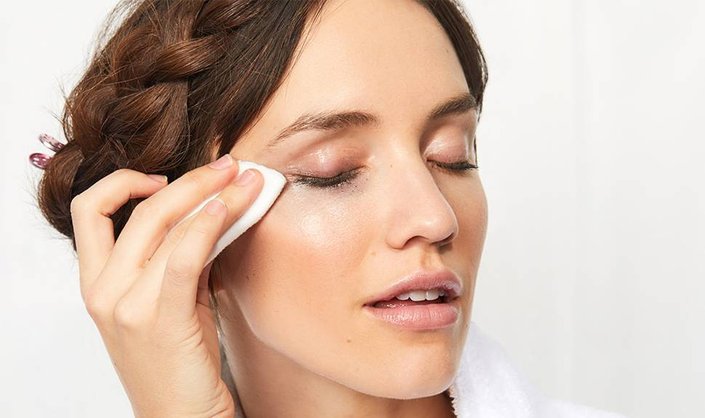 Applying sunscreen is a key part to our daily ritual — whether it be a day we apply a full beat of makeup or go without any at all. And while we've mastered this technique just about every morning, we have to remember that removing our sunscreen at the end of the day is just as important. We chatted with dermatologist Dr. Anita Saluja about exactly how to remove SPF using the best cleansing tool in our collection, the Clarisonic.
After you've removed your makeup, Dr. Saluja first recommends massaging your cleanser into the skin using warm water (our favorite to use for this is the CeraVe Hydrating Cleanser). The type of sunscreen you have on will determine what type of cleanser you use. "Some physician sunscreens — ones that contain zinc and titanium dioxide — can be more stubborn to remove," says Dr. Saluja. "In these cases, an oil-based cleanser is helpful, which can be followed by a second cleanser best suited for your skin."
Then, while your cleanser is still on your skin, pick up your Clarisonic Mia Smart or Mia 2 to remove excess product ingredients still stuck onto the skin. "The Clarisonic is more effective at removing sunscreen, makeup, dirt and oil trapped in pores," says Dr. Saluja. "My favorite brush head is the Daily Radiance Cleansing Head, but everyone can choose the brush head that is best suited for his or her skin." Slowly brush the device over the skin in circular motions. Not only will the Clarisonic help to remove remnants of SPF, it's also a great way to take a minute or two for relaxing self-care at the end of the day.
Photo by Chaunte Vaughn
Read More
The Best Drugstore Makeup Wipes
10 Best Face Moisturizers of 2018
Read more

Back to top