6 Skin Care Products You Need for Long Haul Flights
April 07, 2017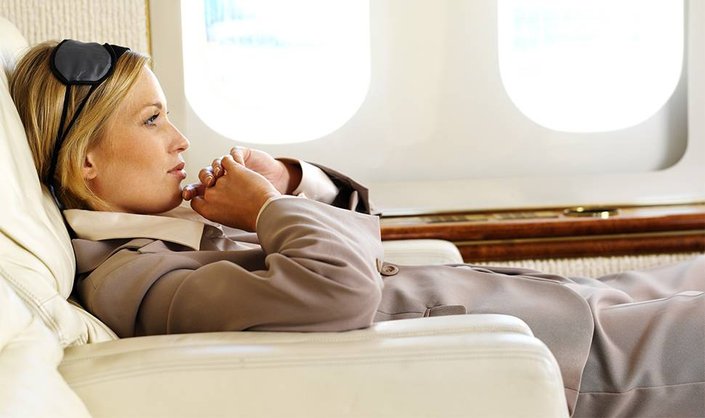 It's safe to say that planes aren't the ideal environment for our skin. Dry cabin air can suck the life out of skin, making for an unpleasant appearance upon landing, especially if the ride was lengthy. But it doesn't have to be that way. With the right skin care products in your carry-on, you can help your body's largest organ survive a long-haul flight and descend from 30,000 feet looking as good as ever. Ahead, we share six all-star skin care products to use in-flight. Your skin will thank you! 
FACE MIST
Splashing water on your face in the lavatory is always an option, but if you're cozy in your seat and want to give your skin a quick boost of moisture, you'll be happy to have face mist in tow. One of our favorites? Vichy Mineralizing Thermal Water. Rich in 15 rare minerals, this thermal water—sourced from the French volcanoes—helps soothe, hydrate, and strengthen the skin against external aggressors. It's even available in travel-size!
LIP BALM
If your lips feel dry and flaky on land, just imagine what they can feel like when exposed to the drying effects of airplane cabins! Since our delicate pouts contain no oil glands, they'll need a helping hand when it comes to adding moisture. Reach for your favorite lip balm, salve, or conditioner and apply it liberally throughout the flight. Bonus points if it's formulated with broad-spectrum SPF! After all, you're closer to the sun at higher altitudes, which means intense UV rays can penetrate through windows and cause damage.
SUNSCREEN
Speaking of broad-spectrum SPF, don't leave home without it! The sun never takes a break, and neither should your skin's protection against it. Regardless of whether you're sitting in a window seat, apply a broad-spectrum sunscreen with an SPF of 15 or higher. Reapply at least every two hours.
MOISTURIZER FORMULATED WITH SPF
You know that recycled cabin air we told you about? The lack of hydration in the air can cause your skin to become dry, dry, dry. To help your skin out in this less-than-ideal skin environment, store a hydrating moisturizer in your purse for quick and easy access. We recommend formulas with moisturizing ingredients like hyaluronic acid, glycerin, and/or ceramides, plus broad-spectrum SPF to help protect skin from harmful UV rays. Apply a heaping dose onto your skin when it starts to feel tight and uncomfortable. Don't forget to stay hydrated on the inside as well by drinking plenty of water!
EYE MASK
Let's face it: Planes aren't the most comfortable places to snooze. Aside from sitting in an upright position, space is tight and we're often stuck elbow-to-elbow with complete strangers (those of us in coach class, that is). Assuming you didn't catch much shut eye throughout the flight, it's worth taking the extra effort to camouflage some of those potential side effects. Lack of sleep can show up as visible dark circles and make eye-area wrinkles look more pronounced, as well as contribute to puffiness and an overall 'tired' look. Treat your tired eyes to an eye mask—like Lancôme Absolue L'Extrait Ultimate Eye Patches—that can help hydrate the delicate area and give it some much-needed TLC during a long flight! 
HAND CREAM
Your paws are not immune to the drying effects of cabin air. Replenish and hydrate your paws by slathering on a nourishing hand cream, like Kiehl's Ultimate Strength Hand Salve. The formula—which contains a blend of botanical oils—soothes, moisturizes, and conditions skin.  This can also come in handy at your final destination, be it a tropical locale or a cold, snow-covered town. 
Read more

Back to top