Meet the Sisters Behind the Always Sold-Out Facial Oil
January 28, 2022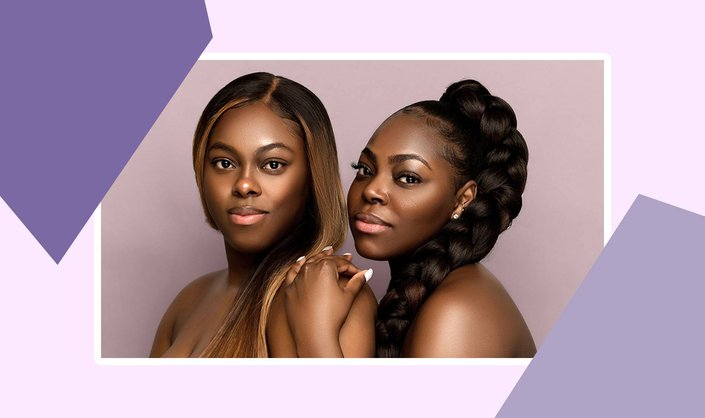 Have you ever wondered what building a brand with your sibling would be like? For Alisha Ricki and Keamone F., the decision to start kanti together came naturally. Both sisters were determined to carve out a skincare line they could recommend to Black and brown friends, family and social media followers with confidence, especially once they realized that many of the people they spoke to had similar skin concerns to their own. Below, read more about the sisters' motivation to create a skincare line that caters to dark skin, their journeys to self-acceptance through skincare and the line's hero product, likuid gold luxury glo oil. 
What inspired you to start kanti?
Keamone: Skincare has been a huge part of my life since it was introduced to me in college by my sister, Alisha, who is now the co-founder of kanti. When I was younger, I really struggled with self-love because I never liked my dark skin. When I found skincare, I found a way to channel my dislike for my skin tone into the complete opposite. As I fell in love with skincare, I learned to appreciate my skin, so I decided to start sharing my passion for skincare on social media. As a social media content creator, I had the opportunity to connect with many people over the topic of skincare. They would complain about the exact same skin concerns and look to me for product recommendations — that's when I realized that our struggle was really real. People with melanin-rich skin were dealing with similar skin concerns, hyperpigmentation being the most common, and I couldn't truly recommend products that I confidently felt were made for us. That didn't sit well with me. I don't know what it was, some would say it was a calling, but I felt an immense need to do something about it, and thus, kanti was born. kanti was created specifically to cater to the needs of melanin-rich skin and help people who look like me to learn to fall in love with their skin just as I did.
What does kanti mean, and why did you choose this name?
Keamone: When I decided to start kanti, I looked at it like it was my first child, so I was literally looking up baby names that start with K. I came across the name Kanti in a list of Sanskrit baby names with two different meanings. One meant 'beauty, loveliness' and the other meant 'bright, shining, brilliance.' Both meanings spoke to me and I felt like together, the word's meanings perfectly explained kanti's mission to help my fellow melanin-rich queens to feel beautiful and to glow up both inside and out.
What made you want to start this brand together? What's your relationship like outside of work?
Keamone: Alisha is the one who introduced me to skincare, so I felt like it was only right to pitch the idea to her. We always talked about putting our heads together and building a business, so when the opportunity came, we just went for it. Outside of work, we're pretty close; we actually live together. Pre-rona, we always spent a lot of time brunching on weekends and doing almost everything together (and getting asked if we're twins everywhere we go as a result). We even used to have a joint YouTube channel and podcast, so working together doesn't really feel like work. I'll jump the gun and assume she actually likes me. Of course, like any other siblings, we clash from time to time, but we both love our business so much that it never gets in the way of us making magic together.
What did you each do before Kanti, career-wise? Do you work outside of Kanti now as well?
Keamone: Before kanti, I worked in social media and branding. I worked on the agency side of social as a social media manager for brands like Hennessy and OWN. I also worked on the influencer side as a digital content creator where I've had the opportunity to work with some amazing brands like Dermalogica, Ole Henriksen and Fenty Skin, to name a few. Lastly, I have my own branding studio where I did freelance graphic design and social media work for small businesses, creatives and entrepreneurs. I still work in social media today as social media manager at HYPEBAE. I'm not sure I'll ever truly give up the creative and social media space, because I really enjoy it and I love that I have another creative outlet outside of kanti.
Alisha: I've had a passion for fashion for as long as I can remember — since I was a little girl, really — and I later developed a similar interest in all things beauty. I really began to explore makeup and skincare while I was in college and eventually fell into sharing that love by creating and sharing content through blogging, YouTube and Instagram. After seeing what my content was doing to help other women who looked like me discover all the beauty products and fashion pieces I was experiencing and sharing with them, I eventually became very interested in marketing. I decided to get my MBA in marketing so I could build a career doing what I love. I spent a few years working in digital marketing for small businesses and later in e-commerce for a luxury fashion company, where I got to work on some of my favorite brands like Balmain and Monse. I was able to take all that knowledge and experience into successfully launching kanti, and now I get to do what I love in a way that really resonates with who I am and the change I want to see in the beauty industry.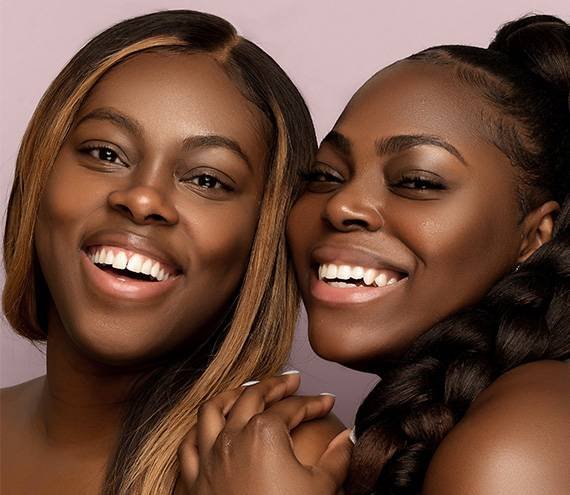 Is there any advice you want to share with Black aspiring beauty entrepreneurs?
Keamone: My advice is and will always be to be authentically you. Even though beauty sounds glamorous, this industry is brutal, and it can cause you to want to change who you are to get ahead. Start the business, but stay true to yourself. Build your brand based on values that truly mean something to you. Say things that you mean, not just things that sound good. Dress how you want. Stand out for being unapologetically you and see everything you put your mind to all the way through, from beginning to end, on your terms only. Don't let the lows or the no's change you!
Alisha: I'd say, be incredibly patient and always prioritize taking care of yourself mentally. The beauty industry is a really tough space to break into, especially for our community due to limited resources and lack of visibility, so the journey to achieving major milestones will be super challenging and longer than you may initially expect. You really have to be strong enough to show up for yourself and your business every single day, even when things may not be going the way you want, when you want. It's important to be your most powerful support system and know that everything will work once you do. Take breaks if you need to, but don't quit! 
What has the reception to likuid gold been like? It seems like it's often sold out!
We're really happy and proud to say that likuid gold has grown to be a favorite in our community and is often referred to as a holy-grail or a skincare staple. With the oil being the single star of our product lineup, it could've gone either way. With oils, people tend to either love them or hate them, because they don't know how to use them or how beneficial they are. Most people who try likuid gold describe it as lightweight and super moisturizing, and love how their skin looks and feels after using it.
Do you plan on releasing any other products?
Absolutely! We have not one, but three new products in the pipeline as we speak and we can't wait to share them with the world. We can't give any details on what they're going to be just yet, but just know they've been in the works for over a year now and the team has been working really hard to fine-tune the formulas so when they finally launch, they will be bomb!
Photo: Courtesy of Kanti, Design: Juliana Campisi
Read More: 
Career Diaries: How the EADEM Founders Are Reframing the Industry's Approach to Melanin-Rich Skin
Dr. Corey L. Hartman on TikTok Trends and the Skincare Mistakes Not to Make
Pholk Beauty Founder Niambi Cacchioli on Curating Plant-Powered Skincare Products for Women of Color
Read more

Back to top