Why We're Obsessing Over This New Calendula Face Mask
January 19, 2017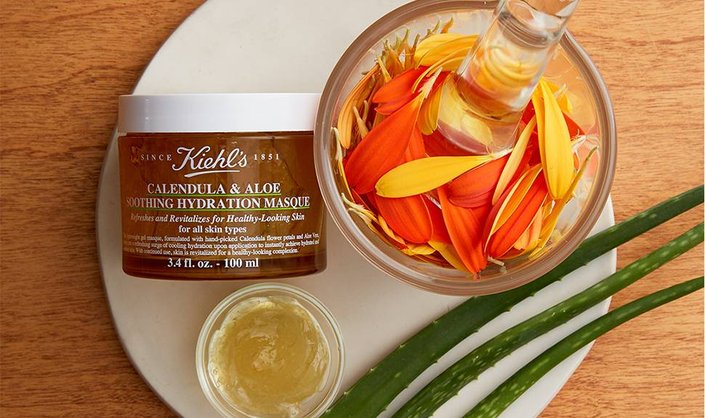 We're sharing everything you need to know about Kiehl's Calendula & Aloe Soothing Hydration Masque, below. Keep reading to discover why this face mask deserves a spot in your skin care arsenal!
KIEHL'S CALENDULA & ALOE SOOTHING HYDRATION MASQUE
While this is not the first Kiehl's product formulated with calendula—more on that later—it is the brand's first calendula-rich facial mask. Calendula petals are known to be packed with nutrients that can help leave dry, unbalanced skin feeling soft and refreshed. These petals, along with cooling and hydrating aloe vera, are among the noteworthy ingredients in this lightweight gel masque. According to Kiehl's, upon application, the formula bursts into a refreshing surge of cooling moisture for instantly hydrated and soothed skin. With continued use, skin is revitalized for a healthy-looking complexion.  
To Use: Apply a generous layer of Calendula & Aloe Soothing Hydration Masque onto your skin and leave on for three minutes. Rinse and remove the formula with a damp washcloth. 
Kiehl's Calendula & Aloe Soothing Hydration Masque, $45 MSRP
A CALENDULA SKIN CARE ROUTINE TO FOLLOW
Of course, you could opt to use the new Calendula & Aloe Soothing Hydration Masque with your usual face wash and toner. But why not up the ante a bit by incorporating other Kieh's products formulated with calendula into your skin care regimen? More calendula, more fun! Ahead, a three-step routine to try.
This rich, gel formula—with calendula flower extract and glycerin—activates with water to create a creamy, dense foam that gently removes impurities without stripping skin of its essential moisture. Apply a small amount to clean fingertips and gently massage into damp facial areas in upward, circular motions. Rinse thoroughly or remove excess with a damp washcloth.
This alcohol-free toner is formulated with select herbal extracts—calendula among them, duh—to gently cleanse and soothe normal to oily skin types without the use of harsh synthetic drying ingredients. Saturate a cotton pad with the formula and sweep it over your facial zones, avoiding the eye area.
Last but not least, apply the facial mask of the hour— Kiehl's Calendula & Aloe Soothing Hydration Masque! As mentioned, this formula offers cooling hydration for revitalized and healthy-looking skin. Leave it on for three minutes before rinsing. 
Read more

Back to top