How Live Tinted Founder Deepica Mutyala Is Changing the Beauty Narrative for People of Color
December 28, 2021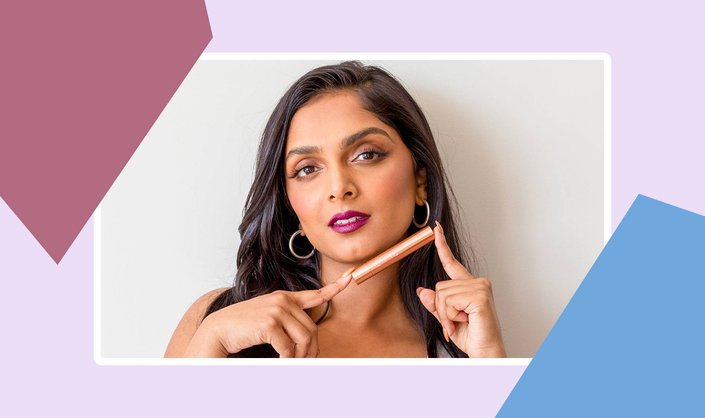 Nowadays, you can flip through just about any beauty or fashion magazine and see a diverse range of people scattered throughout the pages. But back in the early 2000s when Deepica Mutyala was growing up in Houston, Texas, that wasn't the case. Rather than lamenting about the lack of representation, though, she began to put wheels in motion to change the narrative for herself and other brown girls across the world. 
After starting her career in the beauty industry, she posted a video tutorial on how to color correct with red lipstick and it quickly amassed millions of views. That video became a catalyst in her mission to make beauty more accessible for people of color, and soon led to the launch of Live Tinted. 
What started as an inclusive beauty community board has since blossomed into an award-winning cosmetics and skincare brand that shows no signs of slowing down. We recently had the opportunity to speak with Mutyala as she prepares to expand Live Tinted into a new skincare product category next year. Below, she shares how her culture has shaped every aspect of the brand and what steps she thinks the beauty industry needs to take to become even more inclusive.
In essence, did your viral video lead you to create the Live Tinted Community?
Yes and no. I would say that my viral video is what really kick-started me into my journey as an influencer, but creating Live Tinted as the community platform was really a result of my entire career being in the beauty industry. Starting on the corporate side to then becoming an influencer is really how I realized that there wasn't a centralized hub where people could come and discuss topics that were taboo in the industry — things like colorism and facial hair, for example. I think topics like this are way more normalized now, but this was 2017 when I just didn't feel like that was a thing. So starting Live Tinted as a community platform was really important to me. Now we've turned it into a community and a brand which feels really, really great. 
Was the goal from the start to turn this community into a full-fledged beauty brand?
Since I was 16 years old living in Houston, Texas, I always told my parents I was gonna start my own beauty brand. That desire came from walking down the beauty aisles and seeing no one who looked like me and never seeing any products that worked for me. I always told myself I was gonna change that. So every step of my career has sort of led me to this moment. The fact that it's all happening is very surreal and a dream come true for sure.
What was the inspiration behind the name Live Tinted?
Growing up, I always thought I would call my own beauty brand something like 'deep beauty' — a play on my name — but also because I wanted it to be known for deeper skin tones, to really make this brand fully about us [people with deeper skin tones]. But I really didn't want this brand to be about me and just using the word 'deep' felt that way.
I was going through this whole revelation, and I knew I wanted the brand to be collective. So I felt like the word 'tinted' was really unifying because we all have a tint to our skin and I wanted to normalize deeper skin tones being a part of the larger narrative. I think 'living tinted' feels like a mantra: By living tinted you're living authentically and embracing your skin tone and your hues; and being proud of your identity and culture. 
At what point did you decide to start crafting products after launching the community site?
Well, during the early days of being a community platform, we would have polls and ask questions so we could get to know the community members and understand what they wanted to see from us. One of the polls we did was 'what is your number one beauty concern?' An overwhelming amount of the population said their number one beauty concern was hyperpigmentation and dark circles. And so, you know, my dark circle color correcting video went viral in 2015, and we asked this question in early 2018; so three years later, people were still experiencing the same problem. Three years later, I thought the industry had course-corrected and fixed it. To hear that from this loyal community of people of color, I just felt like we needed to create the solution. Enter: the HueStick, which launched in 2019.
I think the smartest thing we did was take the learnings from my life as an influencer and being in this industry, and recognizing that color correcting was an artistry-friendly tool. We made it consumer-friendly by making it an everyday multi-stick, but in shades that explored color correcting. Being a brand that stands for innovation is something that's really important to me just because I've been in this industry for so long. I want this to be a legacy brand that outlives me. So we really take our time to create quality products that our community is proud of. 
Within two years, Live Tinted was picked up by Ulta — what did it mean to you to be the first South Asian-owned and founded brand to be sold there?
It meant the world, and it still feels like a 'pinch me' moment. I'm proud that we're able to do this for the South Asian community, but I also hope I'm not the last. I hope that this is just the beginning for many other brands to come because we need to normalize this. To me, it's about normalizing tinted skin and making it so every brown girl out there sees themselves represented. So being at the largest beauty retailer to do that feels like the right way to continue our mission. 
How does your culture influence the decisions you make for Live Tinted?
It plays a role in every decision that I make — from hiring to fundraising and investor decisions, to our product development. I always try to find ways to incorporate my culture. When we launched the bright, vibrant, berry colored HueStick, we called it 'Free' because for the first time I felt free wearing a bright color on my skin tone. We celebrated it with a Holi party, which is the festival of color within my culture. 
I never want to just become this product brand that doesn't keep the community in mind. So you'll see that all the little details of our products go back to my culture. For example, our packaging is copper. It's a color that is heavily used not only in South Asian culture, but in a lot of other cultures, too. I really like the idea of unifying people from different cultural backgrounds through beauty. That really is my goal with this brand — that with every detail, you kind of see a piece of where you come from.
Tell me about your latest product, the HueGuard.
HueGuard is a mineral SPF primer and moisturizer that doesn't leave a white cast on your skin. It took a really long time for us to get this formula to be where it's at. It has a beautiful marigold tint to it because, from the beginning, I didn't want us to create that feeling of spreading whiteness on our skin because that's what we've been told our whole lives was considered beautiful. So, even just that little detail of having it start as a marigold tint that then blends into your skin seamlessly is something I'm really proud of. 
It had a 10,000-person wait list before we even launched the product because we built the buzz. We knew that our community was going to be so excited for this because we've been waiting for it, too. We've been waiting for a brand to create an SPF by us, for us to solve concerns that are specific to us. I will tell you, a lot of people told me that it would not do well — and that's just another reminder to go with your gut because they were wrong. 
Stepping away from Live Tinted for a moment, why do you think the beauty industry has been so slow to accommodate people of color?
I think they haven't been forced to. So when you see demand come from one part of your business, you're gonna continue to create supply for that demand. It's really ironic because how can you expect there to be a demand when you don't have products created for that audience? When you look at the spending power that people of color have, the number of dollars that they spend, it's in the trillions. So for it to not be catered to is really disappointing, but at the same time, I'm hopeful for what the future will be. It really is cool to see how much change has happened in the last five years. I have a hope and a dream (and I think it's going to become reality) that there's a whole next generation of people that won't even have these conversations. That to me is really exciting. So I'm trying to focus on the positive, but it is unfortunate that it took this long.
What strides do you still hope to see in the industry?
Diversity needs to be in every layer of the business. It can't just be a one off thing in campaigns. I think that the more brands diversify their employees, the more they're diversifying their perspectives and the way they think every single day. And so I think personally, we've been really fortunate to have a team that is super diverse and it's been really beneficial. I mean, it's not rocket science, hire diverse talent to create diversity in your brand. I hope that in the future, more brands recognize the power of that.
What advice would you give someone who wants to start their own brand?
There's entrepreneurs out there that find white spaces in the market, but not all of them find that white space from personal experience. Finding a white space that is also related to me on a personal level has helped me get through the really tough days of being an entrepreneur because I realize that this brand is bigger than myself. When you're an entrepreneur, it's a rollercoaster — you could have a low the same day that you have a high. If you create a brand that's from a personal mission and there's a purpose behind it you will wake up every single day excited about your job. 
Finally, what is your favorite beauty trend of the moment?
People embracing the things that we used to think were flaws. For example, even though we have the color correcting HueStick, there's plenty of days where I rock my dark circles. I think that the more we see people doing that, the more people feel confident and comfortable in their skin. I'm really happy that there's a less is more kind of approach to beauty these days, too. 
Photo: Courtesy of Deepica Mutyala, Design: Juliana Campisi
Read More:
Pholk Beauty Founder Niambi Cacchioli on Curating Plant-Powered Skincare Products for Women of Color
How to Get Rid of Dark Under-Eye Circles, According to An Expert
How to Address and Prevent Dark Spots on Deep Skin Tones
Read more

Back to top