Career Diaries: How Frequent Traveler Misty Reich Turned Her Skincare Strifes into a Travel-Friendly Line
September 17, 2021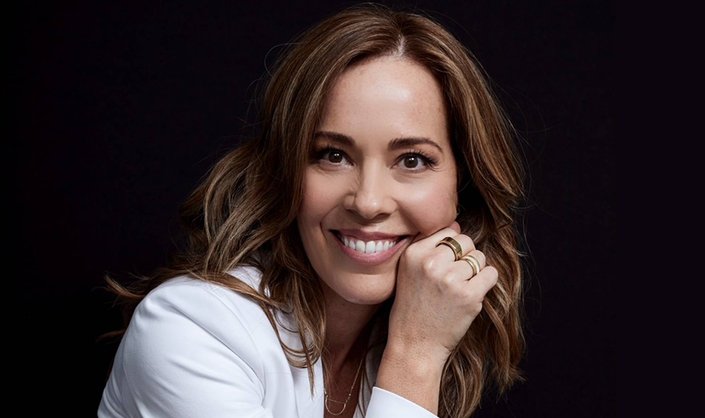 When it comes to packing for a trip, skincare alone can take up a ton of time and space. Between decanting into containers that fit TSA requirements and finding products that will keep you hydrated and blemish free during your vacation, there's a lot that can go wrong. But what if there were skincare products that were specifically designed to make traveling a breeze and keep your skin happy and healthy while you're out jetsetting? Misty Reich, founder of the new skincare brand 35 Thousand set out to do just that with her new collection of multipurpose products that all fit into a TSA-approved makeup bag. 
The vegan line (which partially launches today!) includes a cleanser that doubles as a face mask, a hydrating toning mist, an spf-infused tinted serum, a plumping moisturizer and a dual-ended highlighting-hydrating balm. Below, she talks about the science behind the brand and what inspired her to help women excel in their skin and in life. 
What inspired you to start 35 Thousand?
What inspired me was solving my own problem. I used to constantly travel for business and have always struggled with my skin. As good as I was at traveling, I could never crack getting my essential skincare liquids into a bag and still having room for some foundation and other things. I tried all the decanting tools and never found a great solution. So I started to ask: 'could I craft something for myself?' Then it just snowballed from people I talked to who said I should make my own skincare line.
What was the most important thing to you about crafting the formulas?
Before we even set out to make the formulas, I invested in a lot of research. I partnered with the University of Newcastle Dermatology department and Professor Mark Birch-Machin who specializes in molecular skincare. He developed this swab that removes the top layer of skin cells so he can assess the mitochondrial DNA of your skin and the health of your skin. So we got 28 flight attendants who were assigned to long haul flights and gave them a qualitative survey — asked them some questions about what they do with their skin at home and then during their flying periods. Then we had them test their skin at the beginning of their flying period and at the end of their flying period. We were looking for the most extreme situation that our skin gets in so we could formulate for that environment. We knew that if our products work in that situation, then they're going to work anywhere.
So when we developed the formulas, the most important thing was efficacy. I love skincare — it's my hobby. I like really effective skincare and particularly like skincare that gives you an immediate something, but also makes your skin better over time. So that was thing number one: the formulas needed to be highly effective and with some instant payoff, but also they needed to improve my skin over time.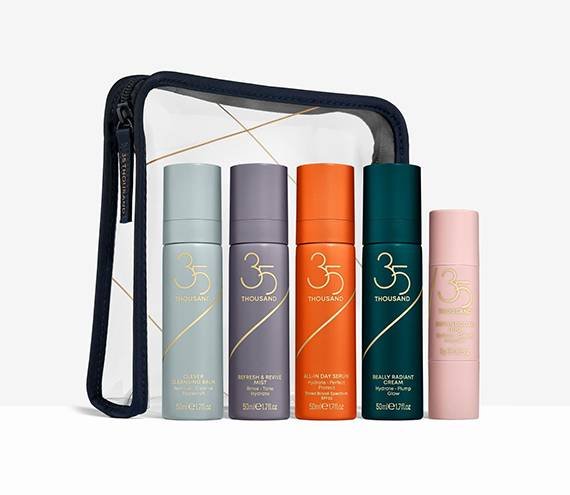 Did you originally plan for the products to be multipurpose?
No, not originally. That unfolded when we started playing with the products and really challenging ourselves to use them in different ways at home. For example, I left the Clever Cleansing Balm on as an overnight mask, and when I woke up in the morning, I was like, 'wow my skin looks so good!' It truly unfolded through playing with the products — that's when we decided we should push the boundaries of the line. 
What is your favorite product from the collection at the moment?
I would have to say the All-In Day Serum. There is not a day that I don't wear it. It was so hard to formulate because I wanted it to be between a moisturizer and a serum. It's super light, contains all-mineral SPF and doesn't leave a white cast on anyone's skin. I honestly wasn't sure we were going to get it right but, it's great. So today that's my favorite. 
What truly sets 35 Thousand apart from other skincare brands?
I think it's our mission. It's so much more than the products. We want women feeling a little more confident, a little more put together, a little more capable and a little more willing to step out — that's what this is about. We plan to set aside 10% of our profits to contribute to the next generation of women coming into the workforce. Our plan is to create a mentoring program that will provide women just entering their careers and have never had exposure to a corporate environment with big sister-like mentors to show them what that career path looks like. 
Do you have any advice for women who also want to create their own brand — beauty or non-beauty?
Don't believe everything you think. As women, we tend to self-sabotage — sometimes our mind can be a dangerous little neighborhood. So keep your goal in perspective and don't allow your own thoughts to derail you.
What skincare trends are you loving right now?
At-home devices. I just think they're getting better and better. I love microcurrent and dermaplaning [products]. My current obsession is LED OmniLux Contour Face. It's a really intensive LED mask and I've seen some amazing results with that.
Photo: Courtesy of Misty Reich
Read More: 
Indie Lee on Embracing Your Natural Beauty and Living Your Best Life
Career Diaries: Meet the Kinship Founders Who Are Crusading For Gen Z Skincare Concerns
Charlotte Palermino of Dieux Skin on Building a "Skincare Congregation" and Why You Shouldn't Stress About Achieving Perfect Skin
Read more

Back to top