I Stopped My Laser Hair Removal Because of Coronavirus — Now What?
June 22, 2020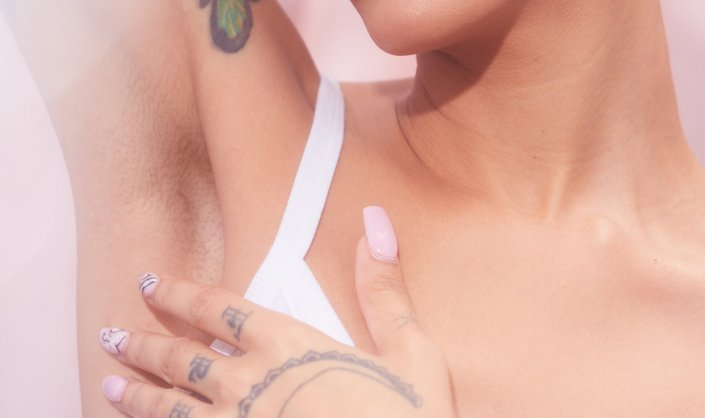 If you're one who dreads the act of shaving (hi, yes, me), you may have decided that in the name of convenience and in the hopes of never picking up a razor again, laser hair removal was worth the investment. A handful of sessions and a few months down the line and your legs, armpits and bikini line could be stubble-free! But if you started your sessions before coronavirus put everything on pause, you may be wondering, what now? Do you have to start your laser hair-removal sessions over from scratch? Did a massive pause in between appointments make your progress null and void? To get more information on how to proceed once you can return to your hair-removal specialist, we consulted with board-certified dermatologist Dr. Robyn Gmyrek of Union Square Laser Dermatology. 
How Long Does It Typically Take to Complete Laser Hair Removal? 
Laser hair removal is a process, not a one-treatment-and-done procedure. Regardless of the area you're targeting (read: bikini, legs or armpits), you'll need a minimum of four to six treatments for 85% hair removal, or around 10 to 15 treatments for almost complete hair removal. That said, some patients will need life-long maintenance. "Laser hair removal uses a specific wavelength of light, which, when it hits the melanin in the hair, gets absorbed, generates heat, destroys the hair and the surrounding follicle," says Dr. Gmyrek. Not all hairs, however, will be affected to the same degree during a laser treatment. Dr. Gmyrek explains that hair in the growth phase typically absorbs the most light during the process and, as a result, is successfully removed. "On the body, only about 20% to 30% of hair is in the growth phase (as opposed to the resting phase or shedding phase), so in each treatment only 20% to 30% of hair will be successfully removed." In order to target more hair in the growth phase, a patient must wait around four to six weeks for hair to re-enter the growth cycle. "If you get treated in the same area sooner than four or six weeks, you will likely have less hair in the growth cycle and even less success per treatment, leading to more treatments overall." (Doctor's note: Patients with darker skin tones typically require more treatments at lower energy levels so as to not destroy the melanin in the skin.) 
Do You Have to Restart Laser Hair Removal Sessions From Scratch If You Wait Longer Than Six Weeks Between Appointments? 
If you were getting treatments on a six-week cadence, the novel coronavirus pandemic likely caused you to change your schedule. In some cases, you may be going on three or four months sans a follow-up treatment. Will you have to start all of your sessions over from scratch? Dr. Gymrek has some good news: "Initial progress is maintained! Just pick up where you left off," she says. "You'll see growth of the hair that is remaining during this time, it'll look thinner and a bit patchy." 
While you're waiting to get your next laser appointment, feel free to shave, but steer clear of hair removal methods that will remove the hair follicle. "You shouldn't wax or pull the hair out of the follicle by threading, tweezing, sugaring or epilating before an appointment," says Dr. Gymrek. "If you pull the hair out of the follicle, there is nothing for the laser to target." She explains that it's also important to avoid waxing (at-home treatments included) because not only will you have to wait a few weeks to let the hair grow in before doing a laser treatment, but if you're prone to ingrown hairs, you can also make matters worse.  
If you're considering laser hair removal and want to see if you're a good candidate or get more information about risks associated with the treatment, always consult with a board-certified dermatologist or laser hair-removal specialist. 
Read More:
6 Hydrating Toners for Dry Skin Types
Bar Soaps Are Back: Here Are 6 to Try 
Astringent vs. Toner — What's the Difference?
Read more

Back to top