This Little Known Skin-Care Ingredient Is a Gift From Bees
May 19, 2020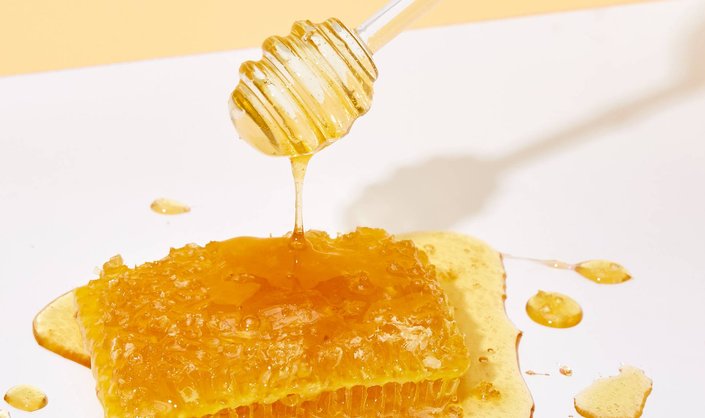 Bees aren't only a source of delicious honey and painful stings — they could also be the secret to taking your skin-care routine to the next level. Bee propolis, a resin produced by honeybees that's also known as "bee glue," is gaining recognition as a skin-care ingredient thanks to its many benefits. Want to understand what all the buzz is about? We're revealing four benefits bee propolis could bring to your skin-care routine, below.
Bee Propolis Benefit #1: Moisturize Without Clogging Pores
All too often people are afraid to moisturize, thinking they'll risk clogging their pores. Even though clogged pores can be a valid concern with certain comedogenic products, it doesn't make moisturizing any less essential. And that's exactly why bee propolis is receiving such hype. According to board-certified plastic surgeon John Burroughs, M.D., the resin can reportedly be used to moisturize the skin without clogging pores. 
Bee Propolis Benefit #2: Helps Address Acne
The skin-care industry as a whole and acne sufferers in specific are always on the hunt for new ways to address acne, and bee propolis is one of the latest ingredients to garner attention for its ability to help address it. According to the National Center of Biotechnology Information (NCBI), bee propolis has anti-inflammatory, antioxidant and anti-bacterial properties and has been shown to have a high efficacy when targeting acne. 
Bee Propolis Benefit #3: Contribute to Protection From Free Radicals
Free radicals are oxygen molecules that damage cell function and your skin's DNA, and they can be generated by UV exposure. While it as important as ever to wear broad-spectrum sunscreen to protect your skin from harmful UV rays, we recommend taking things a step further and pairing SPF with antioxidants to help neutralize free radical damage. When exposed to UVA and UVB rays, studies from the NCBI have found that bee propolis contributes to skin protection against free radicals.
Bee Propolis Benefit #4: Aid in Wound Healing
Think propolis couldn't possibly benefit anything else? As it turns out, it can also help with wound healing. According to the NCBI, bee propolis has been seen to have a positive impact on the wound-healing process, in part by increasing the collagen content of tissues and promoting wound closure. 
Read More: 
4 Things Your Dermatologist Wishes You Did in the Springtime
6 Acne Spot Treatments to Try in 2020
Read more

Back to top