Skin Sleuth: What Is Rosehip Oil?
December 13, 2019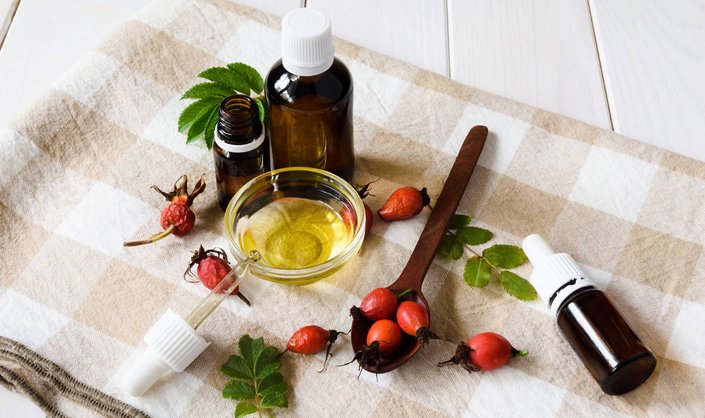 Roses are good for more than just looking pretty in a vase or putting a smile on someone's face. Rosehip oil, which is extracted from the seeds located in the hips of the rose plant, is a popular skin-care ingredient in the beauty space. Chances are, you probably already use an oil, moisturizer or cream boasting this plant derivative in its formula, but if you don't know exactly all that it can do, you're not alone. Ahead, Dr. Purvisha Patel, board-certified dermatologist and founder of Visha Skincare, gives us the scoop on rosehip oil and its many skin-care benefits.
What Is Rosehip Oil?
If you have been searching for more antioxidant-rich products to use, consider incorporating rosehip oil into your daily regimen. Rosehips contain a high level of vitamins A and C, making them a powerful antioxidant  — which, as we know, are known to help neutralize the negative effects of free radicals, among other things. "Vitamin A promotes cell turnover [on the outermost layers of skin's surface], which helps to give the appearance of smooth skin and minimize visible fine lines and wrinkles," says Dr. Patel. "Vitamin C is a potent antioxidant that helps with surface cell damage and lightens the appearance of discoloration. Both of these vitamins [when found in skincare products can] help reduce the appearance of fine lines, scars and pigmentation [over time with continued use]." Rosehip oil is also rich in essential fatty acids, which help restore the skin barrier and trap water in the skin to moisturize, she explains.
How to Use Rosehip Oil in Your Skin-Care Routine
Similar to other natural ingredients — coconut oil, aloe, castor oil and so on — rosehip oil can be found in its pure form or as an ingredient in a variety of skin-care products. "Rosehip seed oil as an oil works well on the scalp for moisturizing hair," says Dr. Patel. Or, when incorporated into skin balms, such as the Visha Skincare Face 2 Feet 5-in-1 Body Balm or the SkinCeuticals Hydra Balm, it can help nourish dry skin and replenish moisture.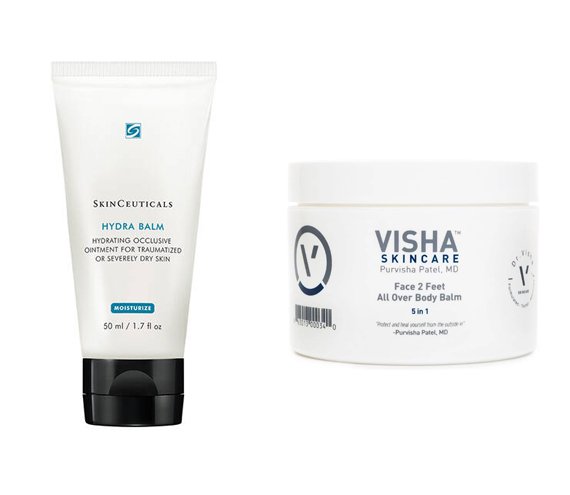 While those with sensitive and dry skin can benefit from the antioxidant and moisturizing properties of rosehip oil, Dr. Patel cautions against using it, or at least recommends using it very sparingly, if you have oily skin. "Some people can be allergic to flower extracts, so testing a small area on the inside of your arm is wise," says Dr. Patel. Like we always say, it's best to consult with your doctor or dermatologist before starting something new.  
The Packaging Matters When it Comes to Rosehip Oil
Rosehip oil needs to be stored in the proper container to ensure it maintains its efficacy, just like vitamin C. "Since this is an oil extracted from seeds, it can become oxidized when exposed to air for a long time," says Dr. Patel. "Straight oil formulations should be packaged in a non-clear container and have a small opening for product to come out." This also helps keep oxygen from getting in. She also notes that because rosehip oil is of natural origin, it can result in variations of the concentration of rosehip oil in products.
Read More:
5 Non-Comedogenic Moisturizers You Need for Dry Skin This Winter
Why You Should Face Mask in the Shower, According to a Dermatologist
Our Favorite Night Creams for Every Budget
Photo: Shutterstock


Read more

Back to top