Career Diaries: Meet 'Sister Scientist' Cosmetic Chemist Erica Douglas
February 25, 2022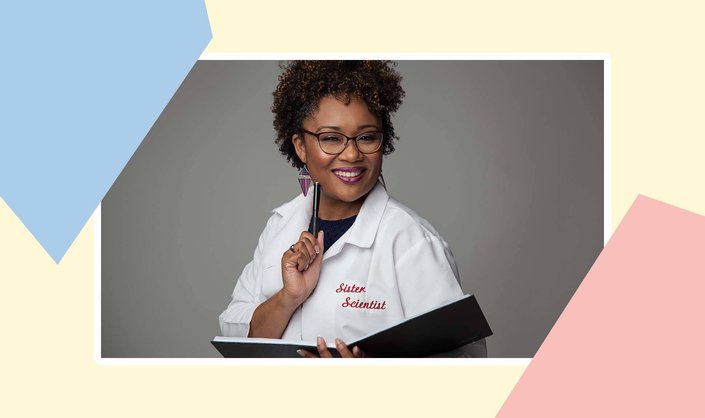 Have you ever wondered who's formulating your favorite beauty products? Maybe you have, or perhaps you haven't given it much thought. Well, afteryou read our interview with the cosmetic chemist taking the beauty industry by storm we promise you'll consider the brains behind your most coveted products — and maybe even consider a career in STEM. Allow us to introduce you to Erica Douglas aka Sister Scientist who has built an online platform that shines a light on the facts when it comes to skincare, hair care and makeup, and actively helps fill the gaps in the beauty industry for the Black community one brand at a time.
Can you tell us about your career journey and how you became Sister Scientist?
As a formulating, cosmetic chemist in the multicultural and clean beauty space for over 15 years, I have been the "brains" behind a number of popular products on the market. I earned my Bachelor of Science degree in Chemical Engineering from Stanford University. Then, I advanced to Northwestern University as a National Institute of Health Research Fellow where I conducted research in Biochemistry and Molecular and Cell Biology. However, it was my personal horror stories as a child who experienced hair and skin issues that motivated me to dedicate my scientific career to developing innovative and quality products in the beauty and personal grooming space. After working for two of the biggest brands in the multicultural hair and skincare space, I successfully ascended the ranks in a male-dominated laboratory to the position of Director of Research & Development at Organic Root Stimulator, all before the age of 30. 
After becoming frustrated with hearing the perpetual inaccuracies regarding ingredients and product claims on YouTube and other social media platforms, I started engaging with consumers as Sister Scientist to debunk myths and set the story straight by educating the masses on the science behind beauty. Using my expertise, experience and outgoing personality, Sister Scientist has become a fun and creative platform for consumers seeking a trusted source for scientific and technical information about their beauty and grooming products. I also like to use this medium to motivate and encourage young women to pursue careers in STEM (Science, Technology, Engineering and Mathematics) related fields by exposing them to the fun side of science.
As I learned more about the inner workings of the beauty business, I started to recognize that building successful brands only relied partially on developing quality products and wanted to see more women and minority-owned companies building long-term wealth in the space. My desire to understand the full scope of building successful beauty brands was the catalyst for me to return to academia, earning an MBA from Northwestern University's Kellogg School of Management, with concentrations in Marketing Management, Business Strategy and Entrepreneurship & Innovation. 
In 2014, I founded mSEED group – a product development, manufacturing and brand development company focused on providing strategic growth solutions to aspiring entrepreneurs and established businesses in beauty and personal care. As of today, we have worked with hundreds of brands that we have scaled from their kitchens to the shelves of popular retailers globally. As the CEO of one of the very few Black/woman-owned contract manufacturing facilities in the personal care space, I see it as my mission to grow a new generation of successful entrepreneurs, and drive innovation and creativity in the beauty space. 
Any challenges you've faced as Black woman on the road to being a cosmetic chemist? What about advantages?
I have had the great fortune of spending most of my career at Black-owned companies, so my ethnicity hasn't been as much of a challenge as my gender. As a woman working in a male-dominated space (i.e. the lab, the manufacturing floor, etc.) I have had to work very hard to prove myself and show others that I can hold my own in these spaces. Oftentimes men like to treat me like I'm fragile, but after they see that I am never afraid to get a little dirty or do some heavy lifting and I often earn their respect. 
As a woman, I not only understand the technical aspects of innovation and operations, but I understand the pain points and behavioral habits of our core consumer (which is mostly women) in intimate ways that men often can't relate to. I like to believe that this gives me an advantage in this space. 
What are your thoughts on how the American beauty industry views Black skin, hair, etc.?
For as long as I can remember, there has always been a separate section for "Black hair," better known as the "ethnic section." We even have exclusive beauty supply stores planted in Black neighborhoods that cater to the needs and trends of the Black hair industry (mostly owned by Asian families). And although it is true that our hair texture and styles may require different types of products than what is commonly found in general market aisles, I do not believe we should be seen or treated as a "lower tier" category, which in many cases, we are. 
As consumers we are just as much of an influence, if not more, than other consumers, seeing that we over-index in our spending in the beauty space. And we want quality, innovative and luxury products just like other consumers. In the last 10 years, there has been a shift to cater to the diverse needs of the Black consumer as well as an exponential growth in Black-owned brands. And I am proud to say that I've played a part in this shift by helping hundreds of brands get to market in this space.
We're seeing a trend in beauty brands re-formulating cult-classic products — Why do you think that is? Have you noticed anything about the reformulations, especially regarding Black skin and hair? 
The industry has had to become more transparent with what is in their products and the consumer is more educated and conscious about what they are using. Therefore, cult-classics brands that want to stay relevant in a world that is becoming more green and clean conscious have had to reformulate to meet these new standards. Brands that predominantly cater to Black hair and skin have started to remove ingredients that are often categorized as problematic. This stems from Black consumers being extremely vocal on social media and demanding what they want. And I'm happy that brands are listening!
What is your favorite part of being a cosmetic scientist?
I have always been a person who has had a very technical mind and skillset, but also loves basking in my creativity. Cosmetic science is the best of both worlds. The foundation of developing any formulation is rooted in scientific properties, but the creativity of making a formula that caters to the unique needs of different consumer groups is where the creativity comes in, and it allows for infinite ways to redefine, recreate and reimagine the same type of product over and over. And I absolutely love when people rave about a product that they can't live without, knowing that I was behind it. It's the best feeling in the world!
What's a beauty practice you can't live without? What about a beauty product you can't live without?
First and foremost, the best beauty product is water! I drink almost a gallon of water a day which helps to keep my skin and scalp clear and moisturized! [I have a few] beauty products I can't live without and one of them is Carol's Daughter Monoi Repairing Hair Mask. When it comes to makeup I love The Lip Bar Cocoa Cooler Lipstick and Exact Arch Brow Pencil.

Photo Courtesy of: Erica Douglas, Design: Juliana Campisi
Read More:
Career Diaries: How the EADEM Founders Are Reframing the Industry's Approach to Melanin-Rich Skin
InMySkin: Skincare Influencer and Esthetician Tiara Willis on How She Takes Care of Her Dry, Hyperpigmentation-Prone Skin
Read more

Back to top