What Actually Happens When You Sleep With Your Makeup On
October 22, 2018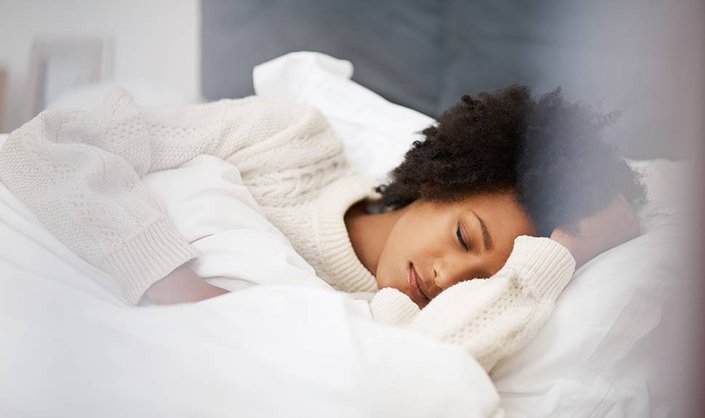 No matter how many times you've been advised to wash off all your makeup before bed, sometimes you just can't seem to make it happen. We've all been there. Maybe you don't believe it's doing anything all that bad to your skin. After all, occasionally you risk it and wake up with skin that looks perfectly fine anyway. Still, you likely harbor a sneaking suspicion that sleeping with makeup on will catch up to your complexion eventually. Since it's better to find out for sure before it really happens, we went ahead and reached out to board-certified dermatologist, and Skincare.com consultant, Dr. Dendy Engelman for her help on this subject. Keep reading to find out what can happen when you sleep with your makeup on, and the products you can use to make removing it a little bit easier.
What Happens When You Sleep with Makeup On
Unfortunately, no matter how much you may wish it weren't true, makeup needs to be removed every night. That means even after a hard day, you don't get a pass on removing your makeup. The American Academy of Dermatology (AAD) recommends washing your face twice a day—once in the morning and once at night. Since it's during deep sleep that the skin renews and repairs itself, it's especially important that you remove your makeup prior to shut-eye. Failing to do so can impede that process, according to Dr. Engelman.
The purpose of washing your face at night is to remove all of the dirt, sweat, impurities, and dead skin cells you've accumulated throughout the day. Leaving that buildup on your skin for an entire night can weaken the skin's barrier and could even affect the appearance of your skin. In addition, Dr. Engelman says that wearing makeup to bed can make your skin more prone to breakouts. The AAD agrees, stating that even if you wear only non-comedogenic makeup, it can cause acne if worn overnight.
What to Do When You Wake Up with Makeup On
You went to bed with your makeup on—now what? If you accidentally sleep with a full face of makeup on, there is no use in beating yourself up over it. Cross your fingers that your complexion doesn't reap the consequences, and try not to repeat this mistake. Dr. Engelman also recommends changing your sheets for the next night. That way, your one beauty blunder won't cause repeat problems for your skin.  
Remember, it's a new day. And that means starting fresh. Once you've tossed the sullied sheets into the laundry, Dr. Engelman suggests starting your skin care routine by double cleansing. That way, you can ensure there won't be any makeup left behind. First, reach for a cleansing oil to gently yet effectively remove impurities from skin's surface. Then, follow with a thorough cleanse and remove any lingering makeup. Rinse off, and you're ready to move onto your next skin care step.
How to Remove Makeup Before Bed
While all hope isn't lost after a single night of sleeping in your makeup, it's always best to be sure to get clean before slipping between your sheets. That way, you won't even have to worry about doubling up on cleansing in the A.M.
To make your face washing routine quick and easy, stow a no-rinse cleansing formula by your bed. That way, even on nights when you're desperate for some shut-eye, you can quickly cleanse your skin without any hassle. Once it's that easy, there's no excuse not to do it.
Products to Help Remove Makeup Before Bed
After all those facts and tips on to how to remove your makeup before you catch those Zzz's, you don't expect us to leave you high and dry by not suggesting a few products, do you? Below, two makeup removers by Lancôme to add to your arsenal. 
Lancôme Bi-Facil Face
Shed even the stubbornest foundation and makeup on your face, along with impurities, with Lancôme Bi-Facil Face. It boasts two phases—water and oil—to gently and effectively remove makeup and dirt without a greasy skin feel. Soak a cotton pad with the elixir and sweep it over your facial contours.
Lancôme Bi-Facil Face, $40 MSRP
Lancôme Bi-Facil Double Action Eye Makeup Remover
If you're wearing eye makeup, reach for Lancôme Bi-Facil Eyes. It takes on the double duty of pampering your eye contour and removing even waterproof eye makeup. Give it a shake, and revel in its comfortable formula right before heading to bed.  
Lancôme B-Facil Eyes, $62 MSRP
Read more

Back to top