The Benefits of a Clarisonic: Why It's Time To Use This Sonic Cleansing Brush
September 09, 2016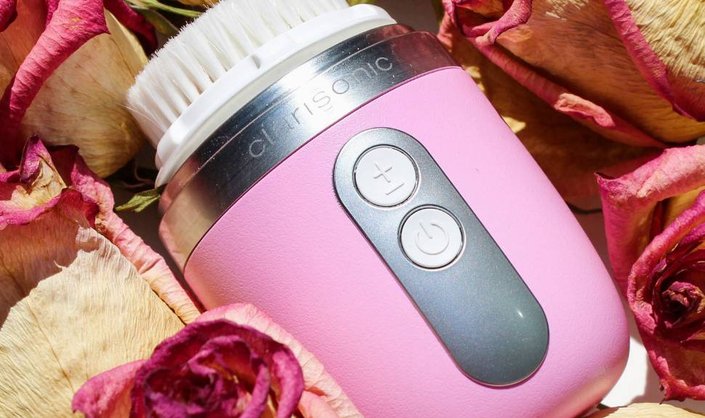 If you don't already use a Clarisonic, well… it's time to start. We spoke to one of the founders of the iconic cleansing brush, Dr. Robb Akridge, to find out the benefits of Clarisonic and more about what makes this sonic cleansing brush stand out in a sea of skin care.
The Clarisonic Difference
There are a lot—a LOT—of cleansing brushes on the market right now, all making big promises about how effectively they cleanse your skin, but only one boasts a proven claim of being able to cleanse six times better than hands alone. Fact is, Clarisonic cleansing brushes are often imitated…but they're never duplicated. "The biggest difference is Clarisonic's patents," explains Dr. Akridge. "Clarisonic devices gently oscillate back and forth over 300 times per second at a frequency that no other device can use. This oscillation causes water to move off the bristles and into the pores to flush them clean for a patented experience that only Clarisonic provides."
This deep pore cleanse is what inspired Dr. Akridge and the other founders to create the cult-favorite device. "The path that led us to Clarisonic started with a pretty simple question: What's the best way to unclog a pore?" he shares "All the dermatologists we spoke with told us that acne was one of the biggest issues their patients struggled with. Our initial group of founders had all come from Sonicare, so we started to explore how sonic technology could be used to help unclog pores. After multiple prototypes and rounds of testing—lucky me, I was the guinea pig for all of them—we landed on what became the Clarisonic device our customers know and love."
What makes Clarisonic such a must-have device—this beauty editor has been dedicated to her brush since she got it as a birthday gift in college—is its versatility. "It's great for all skin types and genders," Dr. Akridge says. "No matter who you are, there's a Clarisonic—and a Clarisonic Brush Head—that's right for you. We have devices and brush heads for dry skin, sensitive skin, oily skin, men's bearded skin, the list goes on!" Clarisonic actually developed some helpful tools to figure out what combination is best for your unique skin type and needs—take the quiz here.
Clever Clarisonic Hacks
Think these cleansing brushes are only good for your face? Think again. "In addition to getting six times better facial cleansing, our Smart Profile offers head-to-toe sonic cleansing," he shares. "The Turbo Body Brush head is great for exfoliating skin and works as a great sunless tanner prep for a more even application. We also offer Pedi implements for Smart Profile that keep feet sandal-ready all year long! Lastly, one of my favorite tricks is to use Smart Profile with the dynamic brush head to prep lips for color application—just dampen your brush head and run your device over your lips quickly. It's far more gentle than the old toothbrush trick." Noted. (Check out even more unexpected ways to use your Clarisonic here!)
Change Your Brush Heads…Really!
To get the most of your device, Dr. Akridge recommends using it every day with a lot of water and cleanser to get a spa-like experience. "We also recommend that people customize their cleanse by choosing the brush head that is right for their skin," he says. "Think of it like a mask—maybe once a week, your skin can use a more invigorating cleanse with our Deep Pore Brush Head, or a relaxing massage with our Cashmere Cleanse Brush Head. With different brush heads, you can really make your device work harder for you!" But, keep in mind, you have to change those brush heads every three months. 
"Changing with the seasons is an easy reminder," he says. "And Clarisonic.com offers subscriptions that can automatically send you a new one when it's time to change. Simply put, you need to change it to keep getting the most effective cleanse possible. If you look closely at your brush head, you'll see it's made up of filaments gathered into small tufts. When you have a brand new brush head, all those filaments move independently, and that is what results in six times better cleansing than hands alone. But over time, the filaments in your brush head will stop moving independently and start clumping up, and moving as one tuft. It's just not as effective. A lot of people will say they've become disenchanted with their Clarisonic, or aren't seeing the results they used to – and most of the time it's because they haven't changed their brush head. Once they get a new one, they fall in love all over again!"
Read more

Back to top