Skin Sleuth: What Is Vitamin C and How Does It Work?
August 26, 2021
Vitamin C, scientifically known as ascorbic acid, should be a staple in your skincare routine. The potent antioxidant has anti-aging benefits, protects your skin from free radicals and helps brighten your overall complexion. To find out just how vitamin C works and what to look for when incorporating the powerhouse ingredient into your skincare routine, we turned to Dr. Paul Jarrod Frank, a board-certified dermatologist based in NYC. 
What Is Vitamin C?
Vitamin C is an antioxidant naturally found in citrus fruits and dark, leafy greens. In general, antioxidants help combat damaging free radicals that can lead to signs of premature aging in the skin like fine lines, wrinkles and discoloration. "When added to your daily routine, vitamin C provides a range of benefits, from evening out your skin tone to reducing pigmentation and shielding skin from the visible impacts of pollution," says Dr. Frank. "It is a powerful antioxidant that when combined with SPF can be an added boost against UV light." According to The Journal of Clinical and Aesthetic Dermatology, using 10% topical vitamin C daily over a 12 week period reduced photaged scores (or measures of sun damage) and improved the look of wrinkles. 
What to Look for When Buying Vitamin C in Skincare
Consider your skin type when determining what kind of vitamin C is best for you, says Dr. Frank. "Vitamin C as L-ascorbic acid is the most potent, but can irritate dry or sensitive skin," he says. "For more mature skin, THD ascorbic acid is fat soluble and can be found in a more hydrating lotion form." 
In order for it to be effective, your formula should contain 10% to 20% vitamin C.  "The best vitamin C formulations also contain other antioxidants like vitamin E or ferulic acid," Dr. Frank says. For oily skin, we recommend the SkinCeuticals C E Ferulic With 15% L-Ascorbic Acid, which combines vitamin C with 1% vitamin E and 0.5% ferulic acid. For dry skin, try the L'Oréal Paris Revitalift Derm Intensives Vitamin C Serum, which combines 10% vitamin C with hyaluronic acid to attract moisture.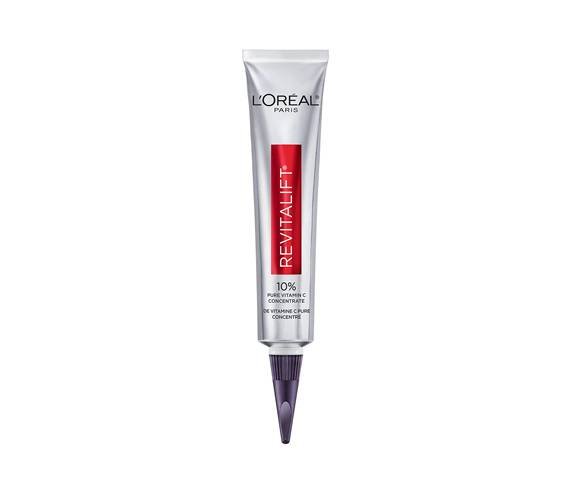 Vitamin C products are sensitive to light, so you should always store them in a cool, dark place. They should come in a dark or opaque package in order to prevent oxidation. If the color of your product starts to take on a brown or dark orange hue, it's time to replace it, says Dr. Frank.
How to Incorporate Vitamin C Into Your Routine
Vitamin C is a great first step to your daytime skincare routine. Start with a vitamin C serum on freshly cleansed skin, top it with a moisturizer, then add your sunscreen to increase UV protection. 
How Do I Know if My Vitamin C Serum Is Working?
"Like any topical, it takes time to see the benefits," says Dr. Frank. "With consistent use and with the right product, you should see a brighter, more radiant complexion with a slight decrease in pigmentation. This will only happen with consistency and pairing a good vitamin C with sunscreen."
Photo: Chaunte Vaughn
Read More: 
Brighten Up With 7 Amazing Vitamin C Serums at Ulta Beauty
Why You Need Vitamin C and Retinol in Your Anti-Aging Routine
What Should I Do If I Can't Tolerate Vitamin C?
Read more

Back to top