Atmospheric Aging Explained: Why It's Time to Use Antioxidants in Your Routine
June 20, 2017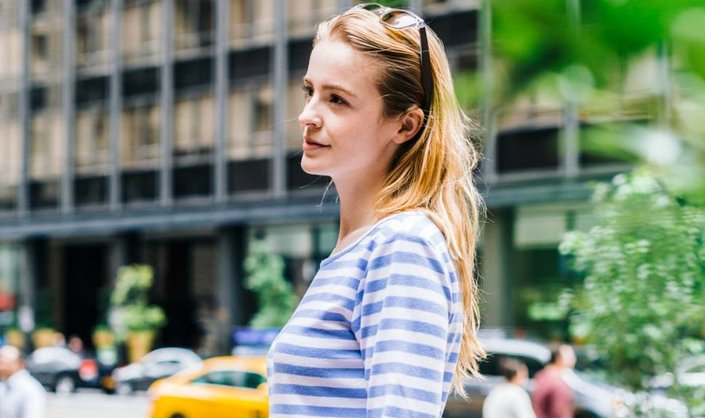 For years we've named the sun as public enemy number one when it comes to our skin. Responsible for skin care concerns ranging from the visible signs of skin aging—read: wrinkles and dark spots—to sunburns and certain skin cancers, the sun's harmful UV rays can wreak some serious havoc. But, did you know that the sun isn't the only environmental factor we need to worry about? Ground level ozone—or O3—pollution has also been shown to contribute to the visible signs of premature skin aging and is being referred to as atmospheric aging. Below we get into the details of atmospheric aging and share how antioxidants can be your greatest ally in the fight against it!
What Is Atmospheric Aging?
While the sun is still one of the leading causes of visible premature skin aging, atmospheric aging—or aging caused by ground ozone pollution—definitely ranks on that list too. According to research published by Dr. Valacchi, ozone pollution can oxidize lipids and deplete the skin's natural antioxidant stores which can subsequently lead to visible signs of skin aging including the appearance of fine lines, wrinkles, and saggy-looking  skin.
Ozone is a colorless gas that is either categorized as good or bad depending on its location in the atmosphere. Good ozone is located in the stratosphere and helps to create protective shield against UV rays. Bad ozone, on the other hand, is tropospheric ozone—or ground level ozone—and can lead to premature skin damage. This type of ozone is created by chemical reactions between sunlight and the oxides of nitrogen and volatile organic compounds—which come from pollution created by automobile emissions, power plants, cigarette smoke, gasoline, the list goes on…and on.  
What does this all mean for the appearance of your skin though? In addition to visible signs of premature skin aging, ground level ozone pollution has been shown to cause noticeable skin dehydration, an increase in sebum production, an increase in skin sensitivity, and a decrease in vitamin E.
How Antioxidants Can Help to Shield Your Skin
Wanting to address this rising skin care concern, SkinCeuticals partnered with Dr. Valacchi to study the effects of ozone pollution in live skin. The research resulted in finding a great tool to help shield your surface skin against pollution—and thereby against atmospheric aging. In fact, this tool may already exist in your current skin care routine: products formulated with antioxidants! SkinCeuticals antioxidants, in particular, were shown to help neutralize free radicals on the surface of the skin to help reduce the impact of ozone damage to the skin.
In the one-week clinical study, the brand and Dr. Valacchi observed 12 men and women with five days of exposure to .8ppm ozone for three hours each day. Three days prior to this exposure, the subjects applied SkinCeuticals CE Ferulic—a favorite vitamin C serum among both editors and experts alike—and Phloretin CF to their forearms. The product was left on the skin for three hours and the subjects continued with this daily application of the serums throughout the entire duration of the study.
What You Can Do
If you don't already, it's time to use antioxidant-formulated products—like C E Ferulic or Phloretin CF—in your daily skin care routine. But for the maximum benefit you'll want to use these antioxidants in tandem with broad-spectrum SPF in order to protect your skin against both atmospheric aging and sun damage.
This combination is considered the dream team in any skin care regimen. "Antioxidants work great [in tandem with your sunscreen] at preventing future skin damage and 'scavenging' free radicals—vitamin C especially does this," explains board-certified dermatologist, cosmetic surgeon, and Skincare.com consulting expert Dr. Michael Kaminer. "So using a sunscreen to help block the damaging sun effects, and then having an insurance plan behind that of antioxidants, to sift any damage that actually sneaks through the sunscreen, is ideal."
Step 1: Layer of Antioxidants
After cleansing, reach for a product formulated with antioxidants—some well-known antioxidants include vitamin C, vitamin E, ferulic acid, and phloretin. SkinCeuticals CE Ferulic is designed for dry, combination, and normal skin types while Phloretin CF should be your go-to if you have oily or problematic skin. We share more tips on how to choose the best SkinCeuticals antioxidants here!
Step 2: Layer of Sunscreen
The golden rule when it comes to caring for your skin is to never skip an application of broad-spectrum—meaning in protects against both UVA and UVB rays—SPF sunscreen. Whether it's a warm, sunny day or it's a cold rainy mess outside, the sun's UV rays are at work so wearing sunscreen is non-negotiable. What's more, you have to remember to reapply regularly throughout the day! We love SkinCeuticals Physical Fusion UV Defense SPF 50. This physical sunscreen is formulated with zinc oxide and a sheer tint—perfect when you want to skip foundation!
Read more

Back to top