What Is Skin Fasting? I Tried It — and I'd Do It Again
August 25, 2022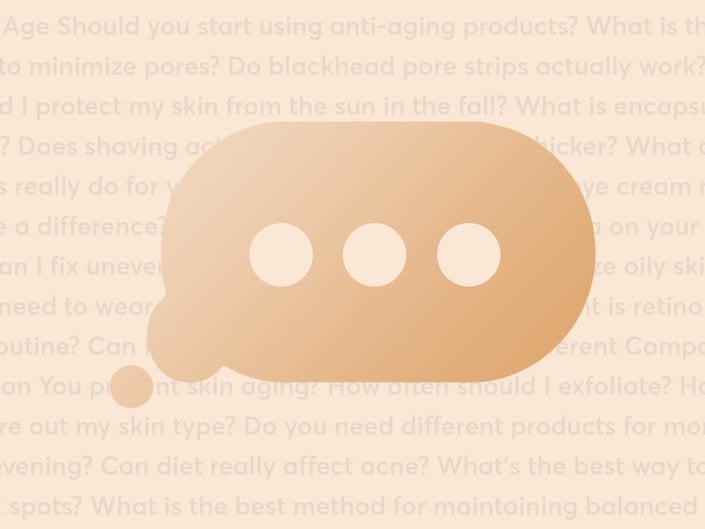 I'll be the first one to admit that I have a skincare obsession. My bathroom cabinets are overflowing with new products that promise smoother, glowier and healthier-looking skin. So when I heard about skin fasting — the concept of forgoing my skincare routine in an effort to "detox my skin" — I was confused. I couldn't understand how or why giving up my perfectly curated personalized skincare routine, which includes a long list of treasured serums and an extensive line up of face masks, could help with achieving skin goals or unblocking clogged pores. Yet, while I knew it was going to be hard, I was willing to try it out for myself.
To help me understand the reasoning behind skin fasting, I also reached out to Ami Dalal, a certified physician assistant at Schweiger Dermatology Group, who is familiar with the practice. Ahead, read on for my two-week skin-fasting journey and see if it is actually one of the best ways to get clear skin.
What Is Skin Fasting?
Like most great (and sometimes outlandish) fads, skin fasting came to my attention via the internet. It's a trend in which people have been giving up their skincare routines for a certain period of time in the hopes of detoxifying their skin. According to Dalal, our skin naturally detoxifies itself through sweat and does not produce any active toxins, which means that, in theory, skin fasting wouldn't be necessary. But recently, she's found that many people are layering on different types of products regularly during the day and night, "which can lead to clogged pores, acne and overuse of some products."
Does Fasting Make Skin Glow?
Dalal admitted that there was no scientific data to back up the purported benefits of skin fasting but says it can be used to give your skin some down time and a break from overuse of products. "The concept of giving your skin a break once in a while could hold some value in terms of really taking a look at what you use and if it is necessary for you," she says.
How Long Should I Do Skin Fasting?
Like all things in skincare, there isn't a checklist that everyone can use to assess if their skin needs a break from products. But there are things you can watch out for. "Usually, your skin will show signs of needing a break from a product," says Dalal. "These signs include abnormal itchiness, dryness, irritation and excess oil production." As for how often you should try skin fasting, she says it's a personal preference, and you should choose what feels right for you and take a break if you have any signs of distressed skin.
Can You Do Skincare While Fasting?
Though skin fasting is all about removing excess products from your skincare routine, it doesn't mean you have to wash your face with nothing but water. Dalal says she wouldn't skip out on daily cleansing, moisturizing or sunscreen — skin fasting or not.
My Skin-Fasting Experience
Admittedly, before going into my skin fast, my skin was showing signs that it may need a break from some of the products I use on the regular. I had large pores due to my oily skin, which isn't new, but I was struggling with extra redness around my cheeks and some random breakouts. I decided to go two weeks without my usual morning and nighttime routines and stuck to Dalal's recommendations: just daily cleansing, moisturizing and sun protection. So I kept my skin-fasting routine limited to the Tula Keep it Clear Acne Foam Cleanser, the Kiehl's Calendula Serum-Infused Water Cream and the CeraVe Hydrating Sunscreen Face Lotion.
Considering I am someone who is always trying new products, these two weeks forced me to give my skin a little bit of a break from the seemingly endless rotation of different formulas and ingredients. After immediately ditching my extensive routine, I could tell my skin began purging all the trapped dirt, oil and impurities, and I noticed more random breakouts than before. I knew it wasn't acne because it was very short-lived — after a couple of days, any breakouts were gone. By the end of it all, I definitely noticed a difference in my skin's appearance. My breakouts were less noticeable, my skin tone was visibly even, and I was shocked to see that my pores even appeared a bit smaller in size as well. Overall, my skin looked and felt pretty good.
Once my skin began to show signs of improvement, I slowly started reintroducing some of my staple items into my routine. I started with gentler products, such as my L'Oréal Paris Hydrafresh Toner, which is dermatologist-tested for gentleness and helps reveal a smoother and brighter-looking complexion. Then, I started working in products that I knew had more active ingredients in them, like my serums with hyaluronic acid and face masks that target congested pores.
Would I do a skin fast again? Probably. I think the idea of limiting the number of products used on the skin is worthwhile. With all the makeup, skincare products, pollution and stressors of everyday life, it can be hard to tell what might be causing your skin to act up. I think skin fasting occasionally could be beneficial and act as a (sometimes necessary) reset for your skincare routine.
If there's anything that I learned after these two weeks, it's that sometimes less is more. If you do try skin fasting, the most important thing to remember is that it's all about your personal experiences and relationship with your skin. As Dalal said, there's no true scientific data that supports this idea of skin fasting — it all has to do with what feels right for you and your skin.
Design: Juliana Campisi
Read more

Back to top