What Is the Skin's Moisture Barrier and How Can You Repair It?
June 17, 2022
Every day, your skin is exposed to irritants (think: environmental pollution, sun exposure, harsh climates) that can make your complexion look dull, dry and tired. The best defense? The skin's own moisture barrier. We asked Dr. Jeanine Eyde, a board-certified plastic surgeon based in Michigan, how to tell if your skin's moisture barrier is damaged and what you can do to help repair it.
First, What Is a Moisture Barrier?
If you don't know what a moisture barrier is, it's exactly what it sounds like: a shield for your skin. As the outermost layer of your skin, the barrier protects it from external assaults that can wreak havoc. "The outermost layer of our skin, called the stratum corneum, serves as a barrier to loss of body water," says Dr. Eyde. "Not only is it a barrier to the outflow of water, but it also serves as protection against the entry of perils such as bacteria and allergens from the environment." So, a healthy barrier can help keep moisture in and bad bacteria out. Think of it as a personal security detail for your skin, there to help protect and shield your body's largest organ.
How to Tell If Your Skin Barrier Is Damaged
If your skin barrier is compromised, you can experience a plethora of unwanted side effects. "Signs of damage to the skin barrier include increased sensitivity such as itching, redness, irritation, breakouts, dryness, tightness, rashes and broken capillaries," Dr. Eyde says. Additionally, it may be more difficult for your skin to heal itself from these side effects.
How to Strengthen Your Skin Barrier
If you suspect that your skin barrier has been damaged — or you simply want to keep it from getting to that point — there are a few things you can do. In order to obtain strong barrier function, Dr. Eyde suggests taking steps to restore balance. "Begin by washing the skin only twice daily with lukewarm water and reducing exfoliation to once a week with a gentle product," she says. "And protect the skin daily with a broad-spectrum sunscreen." Broad-spectrum SPF 30 or higher can help shield your skin from the sun's harmful UV rays, so be sure to apply liberally prior to heading outdoors and reapply at least every two hours — even if it's a cloudy day.
We recommend the Garnier Green Labs Hyalu-Melon Replumping Serum Cream with SPF 30, as it combines a serum, moisturizer and sunscreen in one product.
Keeping your skin hydrated is also vital. Dr. Eyde recommends moisturizers formulated with lipids, ceramides or glycerin to help improve a declining moisture barrier. Try the SkinCeuticals Triple Lipid Restore 2:4:2, a cream formulated with a maximized concentration of pure ceramides, natural cholesterol and omega fatty acids. In addition to helping reinforce and hydrate the skin's barrier, the formula also supports the skin's natural self-repair to reduce visible signs of aging. We also recommend the Lancôme Advanced Génifique Face Serum, which contains hyaluronic acid. Hyaluronic acid is a humectant, meaning it draws much-needed moisture into the skin.
In addition to tweaking your skincare routine, Dr. Eyde advises increasing your water intake, eliminating smoking and excess alcohol consumption to help restore hydration.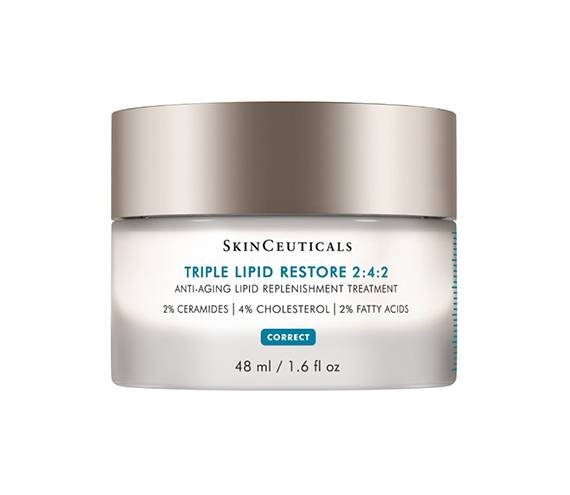 Photo: Chaunte Vaughn
Read more

Back to top