UV Filters 101: How to Find the Right Sunscreen For You
July 12, 2017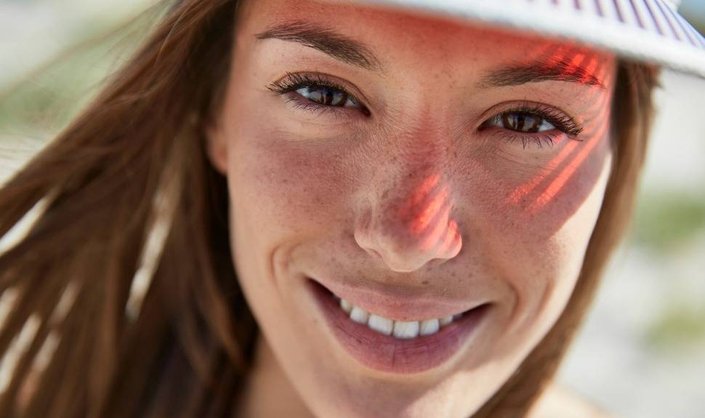 Now that the warmer weather is (finally) here, it's time to get serious—or for many of us, even more serious—about sunscreen as we get set to spend more time outdoors. It's imperative to remember that broad-spectrum sunscreen—as well as other sun-safe habits—should be a part of our daily skincare routine if you plan to be outside in the spring and summer sun. If you're not sure how to find the right sunscreen for you, you've come to the right place. We're explaining the different types of UV filters you may find in sunscreen below!
Types of UV Filters
When it comes to sunscreen you'll often find two types of UV filters that help to shield your skin from the harmful effects of the sun's UV rays—that is, when the sunscreen is used and reapplied as directed.
Physical Filters
Physical filters can sit on top of your skin and help to deflect UV rays. Most often you'll see ingredients like titanium dioxide or zinc oxide on the label of your sunscreen if it features physical filters.
Chemical Filters
With ingredients like avobenzone and benzophenone, sunscreens with chemical filters work by helping to absorb UV rays, thereby reducing penetration into the skin.
You can opt for either type of filter in your sunscreen, but, be sure to always check the label for broad-spectrum, which means the sunscreen will offer effective protection against both UVA and UVB rays. UVAs are known to penetrate the skin deeply and can contribute to the visible signs of skin aging like wrinkles and fine lines while UVB rays are responsible for surface damage on the skin like sunburns. Both UVA and UVB rays can contribute to the development of skin cancer.
How to Find the Best Sunscreen for You
Now that you know what to look for it's time to find the best sunscreen for your needs this summer. We're sharing a few of our favorite chemical and physical sunscreen options below from the L'Oreal portfolio of brands!
Physical Sunscreens We Love
SkinCeuticals Physical Fusion UV Defense Sunscreen – With broad-spectrum SPF 50 and 100 percent mineral filters within the formula, this is one of our favorite physical sunscreens. The sheer fluid is tinted to help to enhance your natural skin tone and the formula is water-resistant for up to 40 minutes. The sunscreen is formulated with zinc oxide, titanium dioxide, a plankton extract, and translucent color spheres. Shake it up before applying liberally to your face, neck, and chest.
CeraVe Sunscreen Stick –This convenient and portable broad-spectrum SPF 50 sunscreen stick is formulated with zinc oxide and titanium dioxide to help deflect the sun's harmful rays. The micro-fine zinc oxide spreads on easily and has a dry to the touch, clear finish. Additionally, the lightweight, oil-free sunscreen is water-resistant and is formulated with ceramides and hyaluronic acid.
Chemical Sunscreens We Love
La Roche-Posay Anthelios 60 Melt-In Sunscreen Milk – This fast-absorbing, velvety finish, with advanced UVA and UVB technology plus antioxidant protection. The sunscreen is fragrance, paraben, and oil-free and is formulated with chemical filters including avobenzone and homosalate.
Vichy Ideal Soleil 60 Sunscreen – This soft sheer lotion—suitable for sensitive skin—boasts broad-spectrum SPF 60 to protect skin against UVA and UVB rays. The sunscreen is formulated with chemical filters like avobenzone, and homosalate, as well as antioxidants white grape polyphenol and vitamin E to help neutralize free radical damage.
No matter which sunscreen you choose this summer make sure you take care to apply each and every day (rain or shine!) and that you reapply as directed!
Read more

Back to top