We Have a Major Skin Crush on @thefantasticmirror — Here's Why
September 25, 2019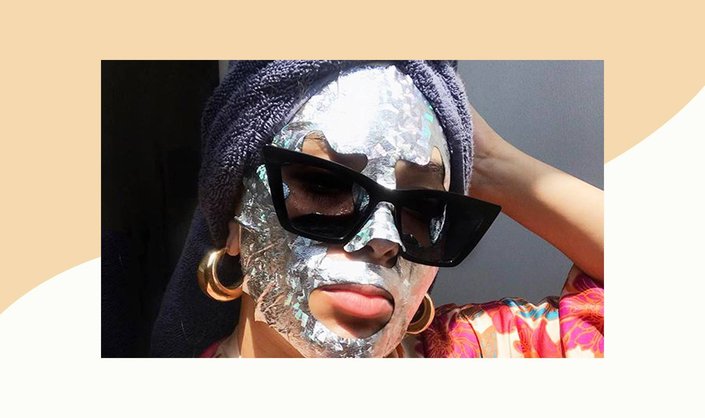 #SkinCrush digs into the routines of people who love skin (almost) as much as we do.
Mexican freelance makeup artist and beauty influencer Fernanda Lucía Navarro runs @thefantasticmirror, a skin-care and makeup Instagram account to be reckoned with. But her pretty photos and beauty recommendations aren't all we love. Ahead, we chatted with Navarro about her holy-grail product, her favorite ingredient of the moment and what skin-care item is totally worth the splurge. 
Name: Fernanda Navarro
What you do: I'm a freelance makeup artist
Skin Type: Combination / Sensitive
We're obsessed with your beauty Instagram account — what inspired you to start it?
Because I'm a makeup artist a lot my close friends always asked me to recommend my favorite beauty products — and sometimes it was the same questions all over again, so I decided to create a space where they could find all the products I like, have tried and recommended.
Tell us about your current skin-care routine.
Double cleansing is a staple, and I love exfoliating, too, because it does wonders. Often, I alternate my routine with a vitamin C products for a radiant and luminous skin as well. 
What's the last skin-care product you finished? Would you buy it again?
The B-Hydra by Drunk Elephant. I fell in love with how hydrating and amazing it felt on my skin.
I will definitely buy it again, and hopefully, during an upcoming Sephora sale!
What's one thing you wished you learned sooner, in regards to skin care?
That moisturizer won't actually make you greasy — I always had the feeling that if I didn't moisturize, my skin would be more matte, and that's such a lie!
What's your skin-care guilty pleasure?
Sheet masks! They don't give long-term results, so I don't use them everyday but I love using them for special occasions.
What's the skin-care ingredient you can't get enough of? 
Vitamin C for sure — it makes my skin so radiant and amazing. I really recommend that you add it to your routine if you haven't already.
What's the most-asked question in your DMs?
I always get asked for my  favorite toners. My favorites are the Glow Tonic, the Rose and Vitamin C Toner from Pixi Beauty, Thayer's Rose Petal and Rose Gold Rescue Toner from Bliss.
What's your favorite thing about skin care? 
When people compliment my skin. It's the way I can tell everything is working and that all the time I spend on my skin care is really all worth it.
Where can we find you on the internet?
On Instagram @thefantasticmirror !
Read More:
3 Dermatologist Hacks for De-Puffing Your Eyes
Our Favorite Products Infused with Coconut Oil
Read more

Back to top