This Charcoal-Infused Scrub Works Wonders on Blackheads
August 27, 2018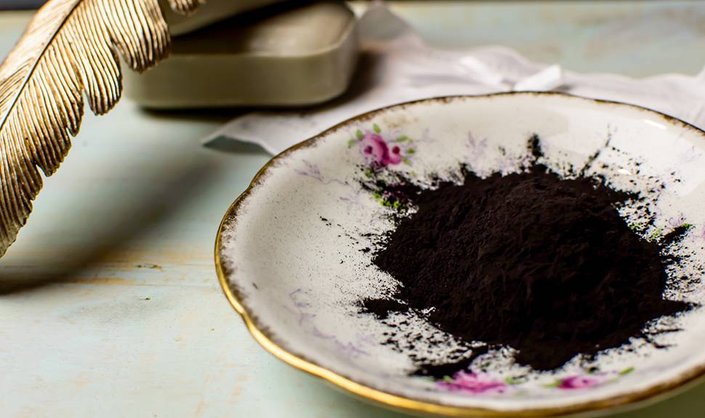 The dog days of summer can be a rough time for our skin. With humidity lingering at every turn, sweating and oily skin are inevitable. Not to mention the fact that pores can get easily clogged by debris, dead skin cells and sebum. When this clog is exposed to air, it oxidizes and turns black—hence the name blackheads. Even though blackheads can be quite stubborn, there are products that can help pave the way to clearer-looking skin.
According to board-certified dermatologist, and Skincare.com consultant, Dr. Joshua Zeichner, some of the best products to help aid your fight against blackheads are those formulated with salicylic acid. "Salicylic acid is a beta hydroxy acid that exfoliates dead cells from the skin's surface," Dr. Zeichner says. "This essentially keeps your pipes clear and allows oil to freely flow out of the follicles."
AcneFree recently launched a scrub that's formulated with—you guessed it—salicylic acid and charcoal as well, which is one of our favorite skin-detoxifying ingredients. Our friends over at AcneFree sent the Skincare.com team a complimentary sample of their new Blackhead Removing Scrub to review, and we couldn't wait to put it to the test. Read on for our review of AcneFree's Blackhead Removing Scrub!
The Benefits of AcneFree Blackhead Removing Scrub
Did you know blackheads are a form of acne? While they don't appear as the characteristic red, pus-filled bumps, they are a type of blemish and are incredibly common. The key to keeping blackheads at bay is to keep your pores clear of gunk that can form a clog. To help prevent blackheads from popping up, the recommendation is to cleanse your skin twice daily.
But even with a diligent cleansing routine, blackheads can still rear their ugly heads. That's when you should look to a salicylic acid acne treatment for help. AcneFree's Blackhead Removing Scrub is a 2% salicylic acne treatment that treats acne and blackheads and exfoliates the skin. The maximum strength of salicylic acid paired with charcoal is a force to be reckoned with, able to help clear blackheads, deeply clean the skin of dirt, oil, and impurities,
AcneFree Blackhead Removing Scrub Review
Recommended for: Oily and/or acne-prone skin types.
Why We Love It: Blackheads often appear on my skin regardless of the season, but they're especially more prominent in the summer when I'm sweating more often and spending time outdoors exposing my skin to pollution and dirt. While I have a few go-to scrubs and cleansers that can help keep my blackheads under control, I'd never turn down the chance to add in another. When AcneFree's Blackhead Removing Scrub landed on my desk, I immediately volunteered to give it a try. After scanning the packaging and taking note of the ingredients—salicylic acid, charcoal, jojoba oil, and more—my expectations were set pretty high, and I'm happy to say the scrub did not disappoint.  
Final Verdict: After using this scrub once daily for a week, I noticed a visible reduction in the number of blackheads on my nose, I love the gentle exfoliation of salicylic acid, which not only helps eliminate dead skin cells that can clog pores but helps prevent future blackhead breakouts as well. 
If you are struggling to remove blackheads, give this scrub a try. With a name like AcneFree, you can rest-assured that the brand is committed to serving up products that can deliver a positive action for acne-prone skin types.
How to Use AcneFree Blackhead Removing Scrub
Step 1: Wet your hands and face.
Step 2: Squeeze out the scrub into your hands and rub your fingers together.
Step 3: Gently massage scrub into skin, avoiding contact with your eyes.
Skin 4: Rinse your face thoroughly with lukewarm water.
For best results, AcneFree recommends pairing their Blackhead Removing Scrub with their new Kaolin Clay Detox Mask twice per week.
Read more

Back to top