This Witch Hazel Toner Can Help Address Your Oily Skin Woes
August 20, 2018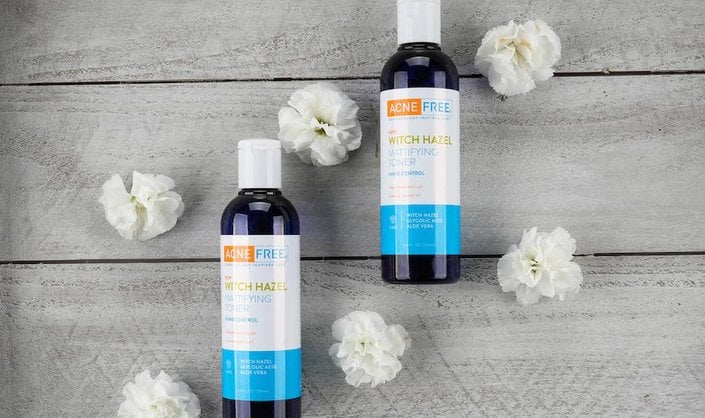 Witch hazel has rapidly become one of the most popular ingredients hitting beauty store shelves. You can find pure witch hazel, along with products formulated with the botanically-derived ingredient. "Witch hazel is  commonly used in toner preparations," says Arash Akhavan, MD, FAAD, founder of Dermatology & Laser Group. "I like witch hazel-based toners for acne-prone skin." 
And so do we! Which is why we were thrilled when our friends at AcneFree sent over a complimentary sample of their new Witch Hazel Mattifying Toner to review. Keep reading for our full review of AcneFree's Witch Hazel Mattifying Toner!
WHAT IS WITCH HAZEL?
Before we dive into the review, we know that some of you may be in the dark on witch hazel. While this ingredient has only recently hit the skin care world by storm, the United States Department of Agriculture notes that the history and use of witch hazel goes back quite some time. As an astringent derived from the bark and leaves of the witch hazel shrub, witch hazel can help soothe itching associated with bug bites or stings, as well as soothe skin irritation associated with abrasions. To learn more, check out our in-depth look at witch hazel's benefits.
WHY YOU SHOULD TONE YOUR SKIN
There's no denying that toner is often overlooked in a skin care routine, but there's a good reason why you should tone your skin on a regular basis if you don't already. Toners can help ensure that pore-clogging impurities are whisked off your skin following a cleansing routine. Even if you use a powerful cleanser, there could still be a few spots, or lingering residue, that a toner can help remove from your skin before you move on to the rest of your skin care routine. Oily and acne-prone skin types can especially benefit from the right toner, since it is that leftover debris that can eventually manifest as blackheads, whiteheads, pimples, and more, if not properly removed from the skin's surface.
ACNEFREE WITCH HAZEL MATTIFYING TONER
Now that we know the basics of witch hazel and toning, it's time to take a dive into one of AcneFree's latest products: the Witch Hazel Mattifying Toner. If you have oily skin like me, then you know that controlling shine can be a real struggle. Many products promise oil-control benefits, but I'm still left with that awful midday shine on my T-Zone.
What first intrigued me about this product is its formula. While many toners on the market have just a simple base of witch hazel, this one is formulated with a whole cocktail of skin-loving ingredients. In addition to witch hazel, this toner is formulated with exfoliating glycolic acid and soothing aloe vera. Since witch hazel is an astringent, I appreciate that this toner is formulated with aloe vera as well to create a gentle balance. As for what it can do? This toner can help remove excess oil and dirt, and reduce shine while refreshing the skin and rebalancing its pH levels.
Why We Love It: After washing my face, I swept a cotton pad soaked with Witch Hazel Mattifying Toner across my skin and instantly felt a cooling sensation. The formula has a light, refreshing scent. After letting my skin dry, I was left with a clean feeling but not tight. My skin also looked mattified!
HOW TO USE ACNEFREE WITCH HAZEL MATTIFYING TONER
AcneFree recommends using this product every morning and night after cleansing. Just apply some of the toner onto a cotton pad, and evenly sweep it across your whole face, avoiding the eye area. You can also use this toner on your chest and/or back. 
Editor's Note: Since this product contains alpha hydroxy acid (commonly known as AHA), your skin may undergo increased sensitivity to the sun and have a heightened risk of sunburns when using this product. When using this toner, make sure you practice proper sun protection techniques: wear broad-spectrum sunscreen and protective clothing, and limit your sun exposure while using this product and a week afterwards.
Read more

Back to top