I Gave Myself an At-Home Facial Massage With the Clarisonic Firming Head Every Day for Two Weeks
October 18, 2019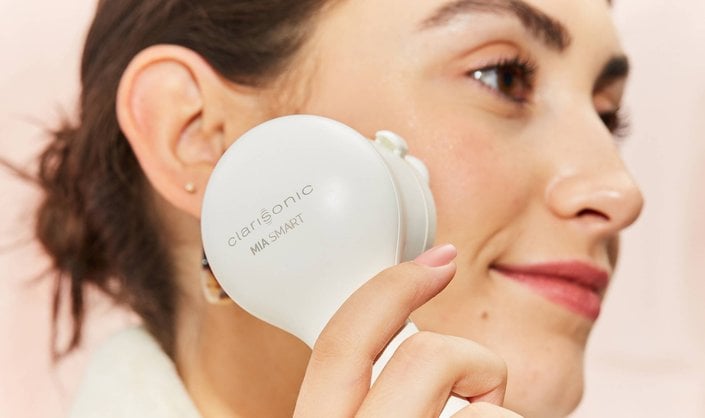 Remember when I tried jade rolling every night for two weeks straight to see what it would do to my skin's appearance? Well, the results were pretty great all around, and I found the experience to be a major self-care opportunity. To kick things up a notch, I decided to try the same experiment with a little help from my Clarisonic Mia Smart Device and Firming Massage Head for a full at-home facial massage. 
The Clarisonic Firming Massage Head
If you're new to the world of Clarisonic devices, first let me fill you in. They come with the option to add on a variety of brush heads to help you customize your skin-care routine. There's an attachment for makeup application, different cleansing brushes, an exfoliating head, an eye roller and, yes, a massage head. I've used it before for one-off massages every now and again — when I was in the mood for a luxe skin-care experience or felt stressed and wanted to unwind — but this time around I was determined to commit to using it every night for two whole weeks to see if it made a noticeable difference in the appearance of my skin.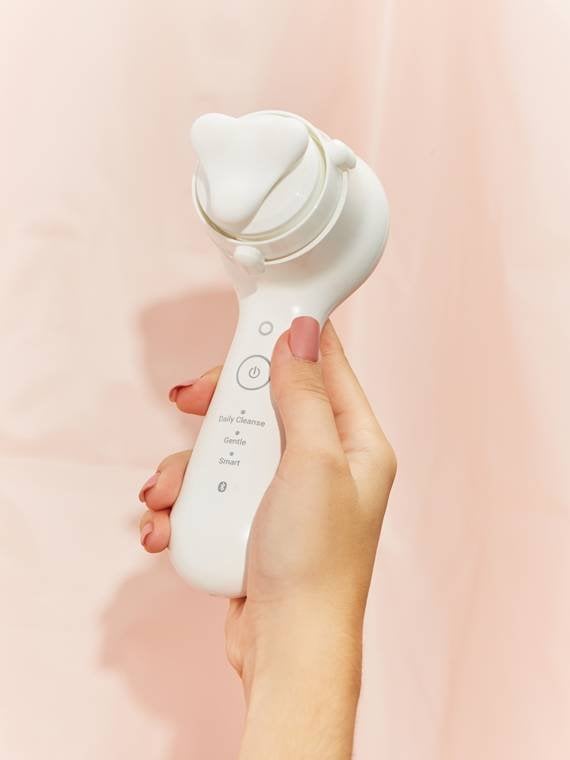 The Skin-Care Benefits of Facial Massages
There is some science behind the skin-care benefits of facial massages. According to Stalina Glot, Senior Esthetician & Creator of Facialates at Haven Spa in NYC, "A facial massage accelerates blood circulation (to help your skin-care products absorb into skin's surface), tones facial muscles, works on superficial wrinkles, helps with lymphatic drainage and helps get rid of puffiness." There are a number of ways you can perform a facial massage on yourself using beauty tools or just your hands (like the professionals do at a spa), but if you're new to the practice, you'll want someone to demonstrate the correct technique. "Don't be too aggressive with your skin," says Glot. "It's delicate, so treat it that way — especially around your eyes." 
With all of that in mind, I dove right into the routine. Every night I cleansed, toned and then applied an oil or serum to help the massage head glide across my skin's surface. For beginners, the Clarisonic app has step-by-step instructions that tell you which way to move the device, like across your forehead, along your jaw and so on. The Mia Smart device even beeps when you're supposed to move onto the next area making it really simple to follow along. The entire process only added about five minutes to my nightly routine — nothing too outrageous — and it felt delightful. 
The Results
Instantly, after the massage I could tell that something was happening to the look of my skin. My face was a little flush and warm to the touch, and after applying the rest of my skin-care products my complexion had a nice glow to it. Fast forward two weeks later and I could definitely tell my face looked perkier. According to the brand, longer-term results can include anti-aging benefits like noticeably firmer, more elastic skin and less prominent looking wrinkles, but I'll need to give my new ritual more time to see if those happen for me. Overall, I found the entire routine pretty calming and looked forward to it to relieve some stress from the day. 
*I received the Clarisonic Mia Smart Device and Firming Massage Head courtesy of Clarisonic to try and review.
Read More:
4 Ways to Address Skin Redness Without Covering It Up
How to Exfoliate Your Legs For Smooth Skin This Season
How to Determine Your Skin Type: A Dermatologist's Guide
Read more

Back to top