The Best French Drugstore Products That You Can Find Stateside
July 05, 2017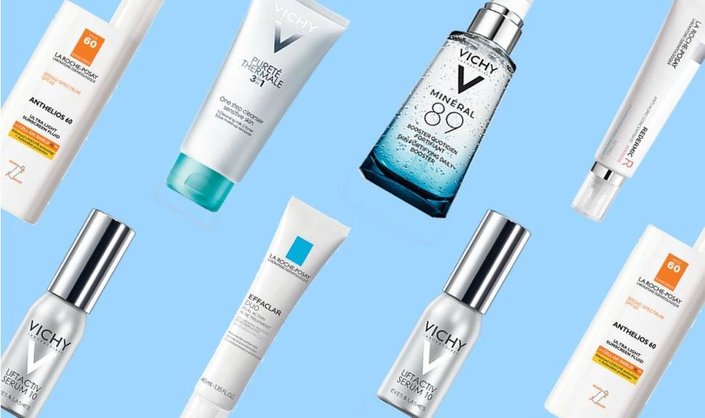 Looking for the best French drugstore products? Don't pack your bags and jet off to France just yet. We're giving you a breakdown of our favorite French pharmacy staples that you can buy right here in the U.S., below!
Forget what you've been told. You don't need an international plane ticket to get your hands on popular beauty products stocked in French pharmacies. Anything from micellar water to eye cream from French beauty brands are available in drugstores right here in the U.S.! (Dreams really do come true.) Read on to discover a few of our favorite skin care buys from two French brands of the L'Oreal portfolio that we love—Vichy and La Roche-Posay—that you can also snag Stateside. No vacation days required.
VICHY MINERAL 89
Is your skin in need of a hydrating boost? Reach for Vichy Mineral 89, a fortifying and hydrating daily skin booster. This serum—formulated with Vichy's Mineralizing Thermal Water and hyaluronic acid—fortifies skin to help protect against external aggressors like pollution while boosting hydration to replenish the skin's moisture barrier. As a result, skin feels more hydrated, plumped, and tone. Day after day, skin radiates with a healthy-looking glow.
Vichy Mineral 89, $29.50 MSRP
LA ROCHE-POSAY REDERMIC R

 
Looking to add retinol to your routine? Give La Roche-Posay Redermic R a try as it's formulated with pure retinol, and can help address marked lines, deep wrinkles, premature sun damage and other signs of aging.
Top tip: Retinol is powerful! If you're new to retinol, it's best to start out with a lower concentration of the ingredient while your skin builds up a tolerance. When in doubt, follow the instructions listed on the product package. If you notice any irritation or a negative reaction, switch to a lower amount of the ingredient and use it with less frequency. Always consult with your dermatologist. 
La Roche-Posay's Redermic R Anti-Aging Concentrate, $56.00 MSRP
VICHY IDEAL BODY BALM
There's no denying that we love to pamper the skin on our faces, but don't let the rest of your body feel left out! To keep your body skin feeling hydrated and looking radiant, it's important to moisturize it often with a lotion or body butter. One formula in particular worth using? Vichy Ideal Body Balm! The skin conditioner helps keep your body's largest organ looking and feeling its best. Smooth it on over skin that's slightly damp post-shower.
Vichy Ideal Body Balm
, $27.00 MSRP
LA ROCHE-POSAY ANTHELIOS ULTRA LIGHT SPF 60 SUNSCREEN
Sunscreen often gets a bad rap for being greasy and heavy, but not all sunscreens are created equal!  There are plenty of lightweight sunscreens out there that won't leave behind an unwanted residue. (And you better believe French women are applying sunscreen day in and day out!) Case in point? La Roche-Posay's Anthelios Ultra Light SPF 60 Sunscreen for the face. The ultra-light fluid formula—perfect for normal to combination skin—absorbs quickly and leaves the skin with a matte finish. To use, shake well and apply generously fifteen minutes before sun exposure. Be sure to reapply at least every two hours or immediately after swimming, sweating, or toweling dry.
La Roche-Posay Anthelios Ultra Light SPF 60 Sunscreen, $29.99 MSRP
VICHY LIFTACTIV SERUM 10 EYES & LASHES
Many say the eyes are windows into the soul but according to board-certified dermatologist and Skincare.com consultant Dr. Dendy Engelman, they are also one of the first places to show signs of aging. Give the delicate area around your eyes the TLC it needs with an eye cream, like Vichy Liftactiv Serum 10 Eyes & Lashes. Not only does the product help give the effect of illumination and lift, it can also help fortify the lashes for a rejuvenated, wide-eye look. Who doesn't love a good double-duty product?
Vichy Liftactiv Serum 10 Eyes & Lashes, $35.00 MSRP
LA ROCHE-POSAY EFFACLAR DUO 
Acne can affect anyone—even French girls! Instead of popping your pimples—which can aggravate and potentially lead to scarring—reach for a spot treatment, like La Roche-Posay Effaclar Duo formulated with benzoyl peroxide and micro-exfoliating LHA. The formula can help reduce the number and severity of acne blemishes while clearing blackheads and whiteheads.
To use, clean the face and cover the entire affected area with a thin layer of product one to three times daily. Note: Excessive drying may occur, so it is best to start slowly in order to avoid irritation. Also, the formula may cause skin sensitivity to sunlight, which is why it's important to pair your applications with Broad Spectrum SPF daily.
La-Roche Posay Effaclar Duo Dual Action Acne Treatment, $36.95 MSRP
VICHY PURETE THERMALE 3-IN-1 ONE STEP CLEANSER
Looking for a cleanser that can tone skin and remove makeup all at the same time? Look no further! Vichy's Purete Thermale 3-in-1 One Step Cleanser can cleanse skin while toning and removing makeup. It's a great multi-tasking product to help save space in your luggage when you're heading out of town.
Vichy Purete Thermale 3-in-1 One Step Cleanser, $19.50 MSRP
Read more

Back to top