11 Hydrating Skincare Products Editors Rely on in the Winter
November 01, 2021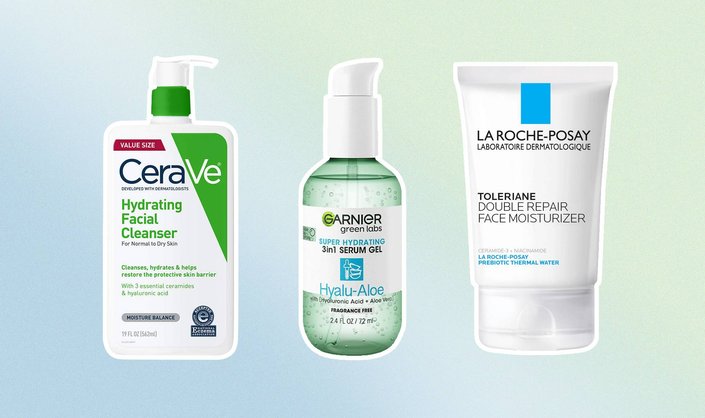 Colder weather brings the joys of comfy sweaters, warm beverages and holiday spirits, but it also comes with the lingering possibility of dry skin. You're more likely to experience dryness during winter because cold weather sucks moisture from the air — but you can stay one step ahead by incorporating ultra-hydrating skincare products into your routine before the first frost settles in. Below, our editors share their go-to hydrating products — from rich facial moisturizers to whipped body washes — that are winners at keeping skin soft and happy no matter how low the temperature dips. 
Mary, Associate Editor
Growing up, my mom always stocked up on this moisturizer during the colder months to keep dry, cracked skin at bay for the whole family. The rich, lightweight formula utilizes hydrating ingredients like squalane, glycerin and a glacial glycoprotein to lock in moisture for up to 24 hours and reveal softer, smoother skin. It always did the trick to restore my windburned, dehydrated skin and to this day, it's the first thing I reach for as soon as I start to feel dryness creep in. 
I can usually get away with using a lightweight gel cleanser in the summer, but as soon as the weather starts to cool down I need to switch to a creamier cleanser to give my skin an extra boost of hydration. I recently started using this luxuriously creamy formula made with aga-glow — a fermented baby rice native to Korea that is known to brighten and moisturize the skin. After cleansing my face with it, my skin feels rejuvenated, supple and prepped to layer on the rest of my hydrating routine.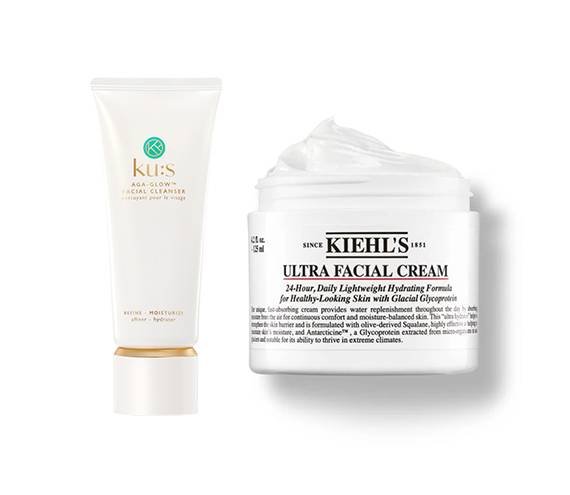 Jaz, Senior Editor
Garnier Green Labs Hyalu Aloe Super Hydrating Serum Gel
I don't necessarily always want a thick moisturizer. On some winter days stuck inside the house, I prefer a lighter formula that doesn't compromise on hydration like this one. In just one step, this serum gel replaces your hyaluronic acid serum, daily moisturizer and eye cream.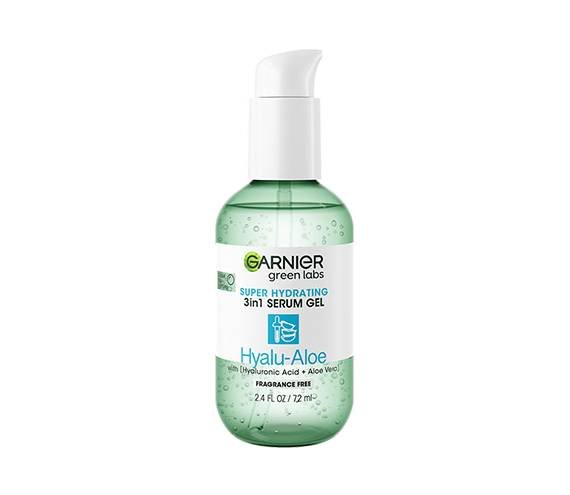 Caitlyn, Assistant Editor
La Roche-Posay Toleriane Double Repair Face Moisturizer
Taking care of my oily, acne-prone skin isn't fun, but the Toleriane Double Repair Face Moisturizer makes it just a little bit easier. From time to time, I find myself stuck in a cycle of breaking out and accidentally over-drying my breakouts, which leads to irritation and even oilier skin than before. When this happens, I rely on this oil-free moisturizer to help get my skin back on track. The lightweight cream nourishes, comforts and soothes my skin immediately without making it look or feel greasy. 
Youth to the People Adaptogen Deep Moisturizer Cream
Truth be told, I'm afraid of most moisturizers. I've always thought that thick, deeply hydrating ones would clog my pores and make me look greasy. This was until I tried the adaptogenic extract-infused option from Youth to the People. I feel at ease knowing that the formula — which contains ingredients like squalane, jojoba oil and shea butter — actively calms irritation, dryness and redness and won't cause breakouts.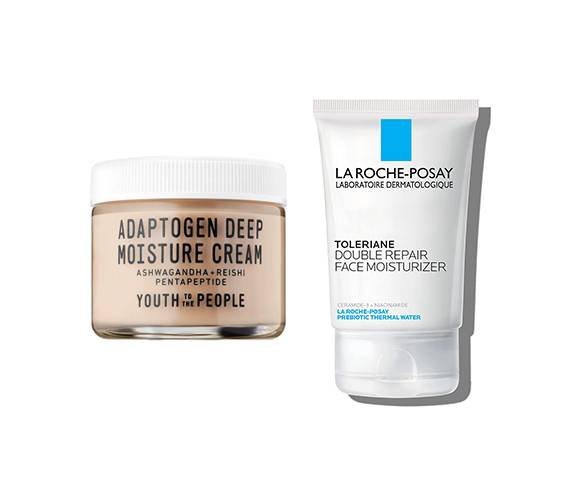 Ariel, Associate Editor
CeraVe Hydrating Facial Cleanser
As someone with dry, sensitive skin, a hydrating cleanser is a must for me to keep my complexion from feeling stripped. That's why I've stuck to this classic, fragrance-free option for years. It's formulated with ceramides to help restore the skin's natural moisture barrier and hyaluronic acid to hydrate. And while it feels incredibly gentle, it does a great job of taking off my makeup. 
Irene Forte Triple Level Hyaluronic Acid Serum
This incredibly luxe serum comes in a sleek gray stone bottle that looks gorgeous on my bathroom counter — but it's the triple-weight hyaluronic acid formula inside that really counts. I apply it morning and night, and it makes my skin feel significantly softer and more hydrated after each application. The gel-like consistency sinks in quickly and instantly leaves my skin feeling refreshed.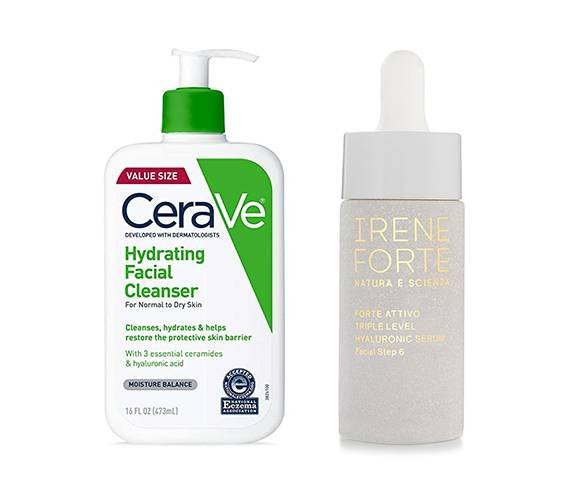 Alanna, Assistant Managing Editor
L'Oréal Paris Revitalift Derm Intensives with 1.5% Hyaluronic Acid, 1% Caffeine Eye Serum
When cold weather rolls around, dryness creeps up around my under-eye area. To help soften and hydrate, I opt for this super cooling and soothing eye serum with hyaluronic acid and caffeine. It helps dissolve flakes and leaves my under-eye area looking brighter, smoother and incredibly moisturized. 
There's not much I love more than an innovative and hydrating body product, and this whipped formula hits the nail on the head. It can be used as wash or shaving cream in the shower and it instantly zaps dry or ashy skin. It also smells glorious and will leave your skin silky smooth.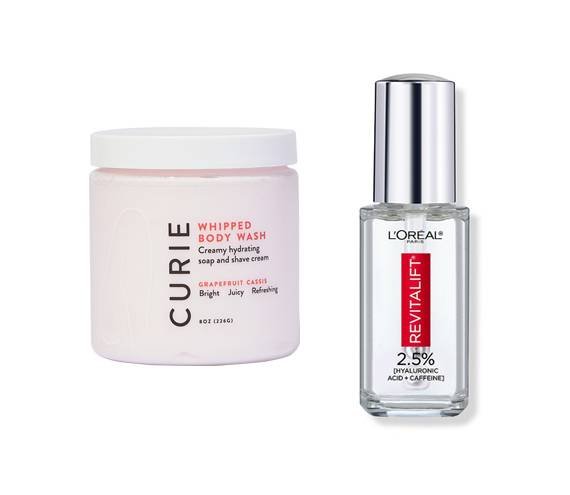 Alyssa, Assistant Editor
CeraVe Moisturizing Cream Daily Face and Body Moisturizer for Normal to Dry Skin
Despite having oily skin, I like to apply rich, deeply hydrating moisturizers in the winter 一 especially at nighttime. I love that this face cream is fragrance-free, has a velvety texture and provides the perfect amount of hydration to my skin without entering the greasy territory. 
Summer Friday's Heavenly Sixteen All-In-One Face Oil 
Whenever I'm having a dull skin day, I like to remedy it by applying a face oil. I've been loving this one lately because it's extremely lightweight and non-greasy. I mix one or two drops in with my moisturizer or apply it on top of moisturizer — it adds the perfect amount of radiance to my skin.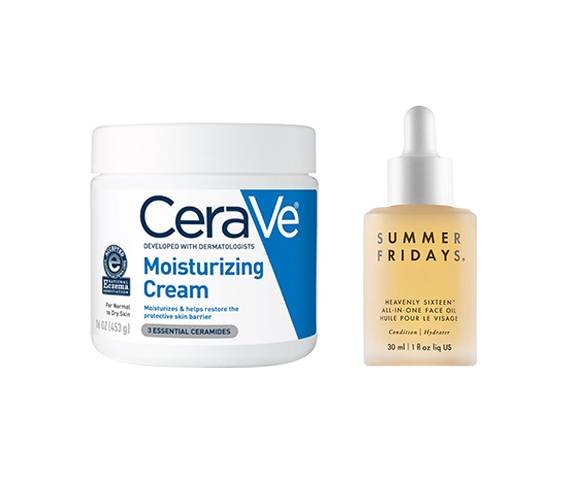 Design: Hannah Packer
Read More: 
When Is the Best Time to Use a Face Mask?
7 Caffeinated Skincare Products That'll Give Your Face a Wake-Up Call
6 Moisturizing Products With Glycerin
Read more

Back to top