Overnight Products You'll Actually Want to Sleep In
March 01, 2017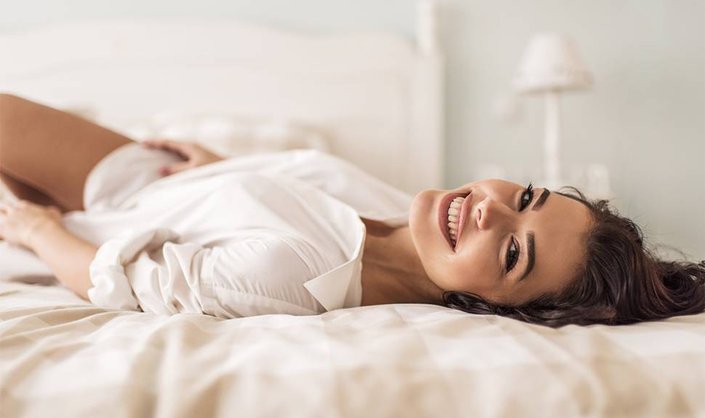 You've heard it time and time again. Get your beauty sleep. Catching extra zzz's is reason to rejoice in and of itself, but doing so can also improve the look of your skin at the same time. While you'd assume that the opportunity to sleep longer and achieve better-looking skin would have nearly everyone reaching for the snooze button, many still suffer from sleep deprivation and its majorly unattractive skin side effects such as dark circles, puffy under-eyes, and dullness. Since it's during deep sleep that our skin undergoes natural repair and regeneration, consistently stripping that time away with too few hours of shut-eye can result in a tired (and tired-looking!) you.   
Knowing this to be true, the beauty industry is abounding with overnight products that promise to help your skin even if you didn't get enough Zzz's. The result? Waking up to a gorgeous complexion, but of course! We know, we know—it sounds like a gimmicky trick. With some products, it certainly might be. But you'd be happy to know that a good portion of these buys can actually make a difference for the appearance of your skin while you snooze, without irritation and without creating a mess on your pillowcase. These overnight formulas are the ones you'll actually want to invest your time and money in. To make things easier, we went ahead and listed them out for you, below. Keep reading to discover a few of our favorite overnight skin care products from the L'Oreal portfolio of brands!
Kiehl's Ultra Facial Overnight Hydrating Masque
Looking to up your skin's hydration ante overnight? Look no further than this nighttime formula by Kiehl's. In just one application, this ultra-moisturizing mask—formulated with Ophiopogon Japonicus Extract, Glacial Proteins, and Desert Plants—fills skin's "hydration reservoir" to help reduce moisture depletion. You'll fall in love with how smooth, soft, and supple your skin feels by morning!
Editor's tip: Allow the formula to soak into your skin for about 10 minutes before laying your head down on your pillow. Once the clock runs out, use a tissue to remove any excess formula beyond just a thin layer.
Kiehl's Ultra Facial Overnight Hydrating Masque, $35 MSRP
Decleor Aromessence Ylang Ylang Purifying Balm
This 100% natural, dry-finish balm is concentrated in essential oils to help deeply cleanse skin, tighten the appearance of pores, revive skin's radiance, reduce imperfections, and soothe skin. The result? Skin that's soft and purified upon waking. Night after night, skin recovers its natural balance.
Decleor Aromessence Ylang Ylang Purifying Balm, $42 MSRP
Lancôme Énergie de Vie Night Mask
Reawaken tired, dull-looking skin with this antioxidant-rich sleeping mask. Enriched with goji berry, lemon balm, gentian, and vitamin E, this anti-fatigue formula helps intensely hydrate skin for a softer, fresher, more comfortable look and feel come morning. In addition to its skin benefits, you'll appreciate how the mask leaves behind no oily film or stickiness while absorbing into your skin quickly.
Lancôme Énergie de Vie Night Mask, $65 MSRP
As much as we love overnight products, they should never act as a replacement for actual sleep. If you're notorious for pulling all-nighters ahead of exams or staying out late with friends, consider the ramifications those actions can have on your appearance. 
Have trouble getting a good night's rest? We share helpful tips, thanks to the National Sleep Foundation, here. Sweet dreams! 
Read more

Back to top