We Tried It: The Biotherm Aquasource Aura Concentrate
July 20, 2020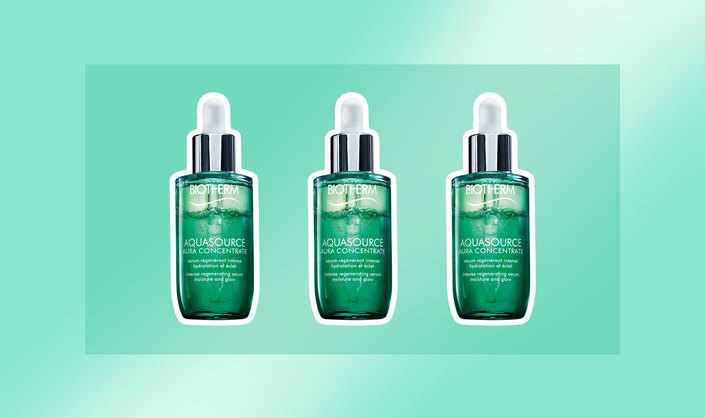 Dull, radiance-starved skin is no match for the Biotherm Aquasource Aura Concentrate. A cross between a serum and an essence, this liquid concentrate features a dual texture — part watery and part oily — that is quickly absorbed and can restore the skin's glow. It can be used in a variety of ways to achieve this, and any time we discover a multitasking product, consider us first in line to try it. After all, it's not uncommon for our preferences and concerns to vary day by day. 
We were lucky enough to receive a sample of the luxe elixir to put to the test, and not to give too much away, but the formula is truly one to covet. Find out why in one editor's review of the glow-inducing serum, ahead.
Biotherm Aquasource Aura Concentrate Review 
Upon application, I immediately noticed how the formula blanketed my skin with moisture. It absorbed quickly and left behind a subtle glow in return. What's more, my skin stayed hydrated for hours. The star ingredient in the serum is pure thermal plankton extract which is packed with nutrients that support skin function and health. It also contains moisturizing squalane and macadamia ternifolia seed oil.
One of my favorite aspects of this liquid serum is that you aren't limited to using it a single way. First, you can use it twice a day as you would any serum by applying a few drops onto your skin every morning and night. You can also mix a few drops with your moisturizer when your skin needs a hydration and radiance boost. Finally, you can use it as a highlighter. Apply it on the high points of your face and gently blend. You can opt to use this serum under and/or on top of makeup.
Ready to test the innovative serum for yourself? If you're using the formula as a day and nighttime serum, here's how it's done:
Step #1:
Shake the bottle to mix the two phases.
Step #2:
Put four drops (or as many as your skin needs) onto your fingertips.
Step #3:
Apply the serum onto your skin with light, gentle strokes.
Step #4:
Drum your fingers over your entire face from the forehead down to the jawline like rainfall.
Read More:
I Tried the L'Oréal Revitalift Line and Watched My Fine Lines Disappear
Dry Skin in Summer? It Happens — Here's How to Deal
The Best Moisturizers for Acne-Prone Skin, According to Our Editors
Read more

Back to top