We Review Biotherm's Best-Selling Life Plankton Essence
September 23, 2019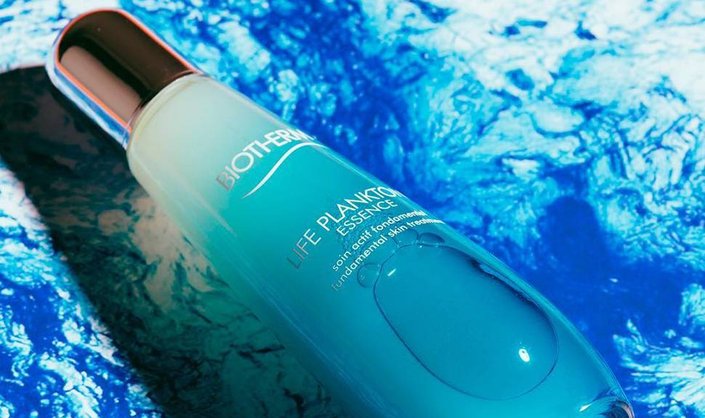 Looking to elevate your skin care routine with a burst of hydration? Here's an easy fix: Add an essence to your routine. Our favorite essences can help deliver a soft and supple complexion; it's no wonder the product remains a key step in the 10-step Korean skin care routine. No need to take a trip overseas though, there are plenty of essences you can get your hands on right here in the States, including Biotherm's best-selling Life Plankton Essence. The brand sent over a complimentary sample of Life Plankton Essence for the Skincare.com team to try and review, and we're sharing our thoughts with you ahead.
WHAT IS ESSENCE?

 
You can't appreciate this particular essence if you have no clue what an essence is to begin with, so allow us to provide some clarity. Known for being the heart of the Korean skin care routine, essence gets its stellar reputation for acting as a skin prep for hydrators and serums. Think of it as the primer equivalent to makeup in the world of skin care. It's typically meant to be used on a fresh canvas after applying toner, and right before following up with a serum. You can expect it to offer the skin with an extra dose of moisture, as well as promoting a brighter-looking complexion. In terms of its texture and formula, essence often feels like a toner and performs like a less-concentrated serum.
WHY YOU NEED ESSENCE IN YOUR ROUTINE
Essence is a great way to target skin concerns to help maintain a healthy-looking complexion. Especially in the wintertime when skin tends to get dry, applying a hydrating essence can make a big difference. Just make sure to choose one that's formulated for your skin type, or safe for all skin types and ages to use.
WHAT IS LIFE PLANKTON?
Found in the French Pyrenees hot springs, plankton is a living micro-organism endowed with extraordinary renewing properties. This resilient micro-organism is the inspiration behind Biotherm's entire Life Plankton range, including Life Plankton Essence. After Biotherm biologists discovered the benefits of plankton, they were able to recreate its purest form—Life Plankton—thanks to a state-of-the-art bio-fermentation process. 
THE BENEFITS OF BIOTHERM LIFE PLANKTON ESSENCE
Life Plankton Essence can make a difference in your skin in just eight days. What should you expect to see? Eight key visible signs of skin quality to be improved. In addition to seeing the results right in front of you in the mirror, you can also feel it under your fingertips. The skin will seem ultra-soft, quenched with hydration, more resilient, and appear visibly younger. What's more, Life Plankton Essence is suitable for use on all skin types. 
With benefits like that, we're sure you'd like to stock up on Life Plankton Essence ASAP.
BIOTHERM LIFE PLANKTON ESSENCE REVIEW
After trying Life Plankton Essence myself, I can see why it's one of Biotherm's best-selling products. Before I applied the essence to my face, I could feel the essence softening the palms of my hands almost instantly, without leaving behind a greasy residue. Once I applied it to my face and neck I felt like my skin was instantly refreshed and hydrated. With continued use for just over a week, I noticed my skin appearing softer and more youthful-looking.
To use: Use Life Plankton Essence morning and night on freshly-cleansed skin after moisturizing. Shake the bottle and put a few droplets on the palm of your hand. Apply with dabbing movements over your forehead, cheeks, chin, and neck. Using both hands, tap your face and neck with your fingertips gently. Next, take about 2 more drops on two fingers and apply onto areas of the face that are particularly dry, or could use additional attention. Lastly, finish with "wave" movements to promote the circulation of fluids from the inside of your face outwards and upwards. 
Read More: 
3 Dermatologist Tips to De-Puff Puffy-Looking Eyes
15 Water-Based Moisturizers for Combination Skin
5 Products Infused With Coconut Oil That We Can't Get Enough of
Read more

Back to top