Editor's Pick: Biotherm Life Plankton Sensitive Emulsion Review
October 20, 2017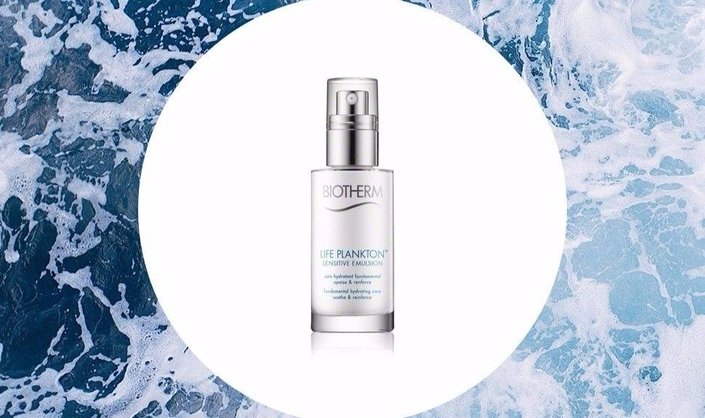 With Fall in full swing, the leaves are starting to change, the weather is cooling down, and we've been reaching more and more frequently for our favorite knit sweaters that were shoved in the backs of our closets all summer long. Although it's not winter just yet, it's never too early to start thinking ahead, especially when it comes to skin care. 
If you're reading this, there's a big chance you've lived through a winter season, so you're probably familiar with how exposure to wind and brutally cold temps can do a number on the skin. From dry patches to irritation, there's a long list of woes that can leave your skin feeling less than ideal. To that end, what better way to brace yourself (and your skin) for the impending cold temps than with a hydrating skin care product? That's where Biotherm Life Plankton Sensitive Emulsion comes in. We received a complimentary sample, courtesy of Biotherm, to take for a test drive. Read on for our review of Biotherm Life Plankton Sensitive Emulsion, its benefits, how to use it, and more!
What's Life Plankton, Anyways?
It is not uncommon for nature to inspire skin care; we've seen our favorite cleansers enhanced with charcoal, face mists enriched with mineral-heavy Thermal Spring Water, and the list goes on. Similar to these trends, Biotherm's Life Plankton range was inspired by the resilience of plankton—a living micro-organism endowed with extraordinary renewing properties—found in the French Pyrenees hot springs. As the story goes, these hot springs have long been lauded as a "fountain of youth," capable of soothing wounds of Roman warriors and helping preserve women's youthful skin. After centuries of quest, Biotherm's biologists have discovered the secret to the water to be the extraordinary benefits of plankton. And now, thanks to a state-of-the-art bio-fermentation process, those very biologists have managed to recreate its purest form: Life Plankton.
So without further ado, let's dive into the benefits of Biotherm Life Plankton Sensitive Emulsion, and why it's an arsenal must-have during the frigid, rough-on-skin winter months and beyond!
The Benefits of Biotherm Life Plankton Sensitive Emulsion
Meet: Biotherm's first product formulated for sensitive skin that's infused with the highest concentration of Life Plankton. That's right! Not only can this concentrated emulsion soothe dryness and discomfort, it can also hydrate the skin to better protect it against external aggressors. Day after day, skin appears reinforced, healthier, and its beauty seems recreated.
How to Use Biotherm Life Plankton Sensitive Emulsion
Biotherm Life Plankton Sensitive Emulsion can be used as a daily moisturizer. After cleansing your skin and applying your serums of choice, reach for Life Plankton Sensitive Emulsion and apply three pumps to clean fingertips. Massage into your skin from the center of the face outwards, focusing on dry areas. One of the best parts about this emulsion is that it can be used around the eye area, so feel free to massage it gently using your ring finger around your eye contour. For best results, use up to twice daily.
Biotherm Life Plankton Sensitive Emulsion Review
In all honesty, I've never heard of Life Plankton—or knew of its benefits—prior to now. After learning more, I couldn't wait to give this emulsion—formulated with the highest concentration of Life Plankton—a try. Besides, I'm never one to shy away from moisturizing my skin daily!
After showering and washing my face as usual, I carried out my evening skin care ritual: toner, essence, serum, and eye cream. Next, it was time to reach for a moisturizer, and that's when I whipped out my complimentary sample of Biotherm Life Plankton Sensitive Emulsion. I applied three pumps of the formula to my fingers and began massaging it onto my face, starting at the middle and working my way outwards. I could immediately feel the hydration, but not in a greasy way. The formula felt lightweight on my skin, and absorbed without leaving behind an oily residue. Best of all? My skin felt adequately hydrated for an extended period of time! And while my skin is not particularly sensitive, I appreciate that Biotherm Life Plankton Sensitive Emulsion is free of parabens, ethyl alcohol, and colorants. I will definitely be reaching for this product morning and night, and well into the winter season.
Read more

Back to top