Editor's Pick: Biotherm Skin Best Liquid Glow Review
October 25, 2017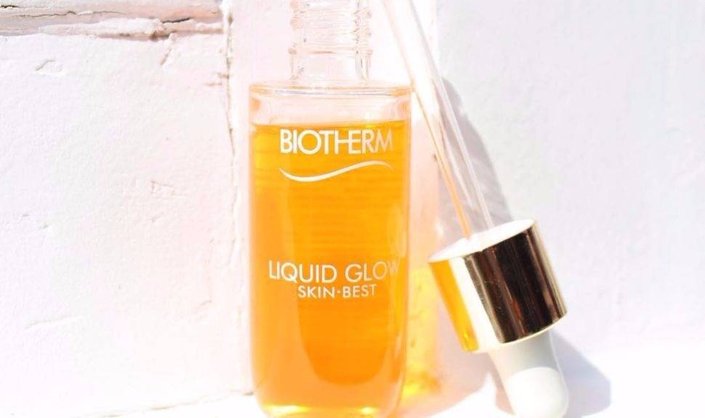 The Benefits of Biotherm Liquid Glow Skin Best 
Onto what you really want to know—what is this product and what can it do? The name doesn't give too much away. The Biotherm Liquid Glow Skin Best is none other than a facial oil, and yes it helps give your skin a healthy-looking glow. The instant complexion reviving oil is formulated with antioxidant algae extract and works to illuminate, nourish, and protect skin. With a light, fresh scent, and eye-catching orange hue, it's also a pleasure to use before you ever see the effects.
Who Can Use Biotherm Liquid Glow Skin Best
Good news, no one needs to steer clear of the Biotherm Liquid Glow Skin Best. It's suitable for all skin types. Can we get a hallelujah?
How to Use Biotherm Liquid Glow Skin Best
Don't you just love a good multi-tasking product? This oil can be used in more ways than one. In fact, once you add it into your skin care regimen, the options are seemingly endless. Give these different application methods a try:
1. Add Touches of Glow
No one says you have to cover your skin entirely in oil, you can pick and choose where it goes. Press the oil into your skin, focusing placement on the highpoints of your face—i.e. your cheekbones and the center of your forehead—for a well-placed glow.
2. Give Yourself a Face Massage.
It's never a bad time for a massage, and facial oils are ideal for DIY-ing one. For a detoxing effect, massage your face with the Biotherm Liquid Glow Skin Best.
3. Mix the Oil Into Your Skin Care Products
Here's your chance to get creative. Makeover the other products in your skin care collection by mixing them with the oil. Try adding a drop of the oil into your moisturizer to give it a boost of antioxidant power. 
4. Use it As a Face Mask
 You can never have too many face masks, right? To turn the oil into a face mask, simply apply it to your skin in a thick layer and leave it on for 10 minutes. Wipe off the excess, and that's it!
Biotherm Liquid Glow Skin Best Review
As a beauty editor and lover of all things skin care, I've slathered my skin with an oil or two in my day. Sure I have my staple facial oils, but it's always nice to come across other formulations that I can swap into my repertoire.
With Biotherm Liquid Glow Skin Best, I was surprised to find—upon placing a few drops of oil in the palm of my hand—that it wasn't as oily as I expected. I know, it's hard to believe a facial oil could be anything but oily, but the super smooth, non-greasy texture, almost struck me as more serum-like. Of course, as much as I could wax on about the texture, that's not all there is to love. The illuminating effect is nothing to dismiss. In fact, it had me obsessed. Smoothing the brightly-colored oil onto my cheekbones (don't worry, it doesn't leave a tint), I was left with a natural-looking glow that met all my radiance requirements. From there, I began imagining layering an oh-so-shimmery highlight overtop for a high-shine "no makeup, makeup" look, and I was pretty much sold, sold, sold.
Biotherm Liquid Glow Skin Best, $50 MSRP
Read more

Back to top