I Used My Clarisonic for Every Step of My Skin-Care Routine — Here's How It Went
April 05, 2019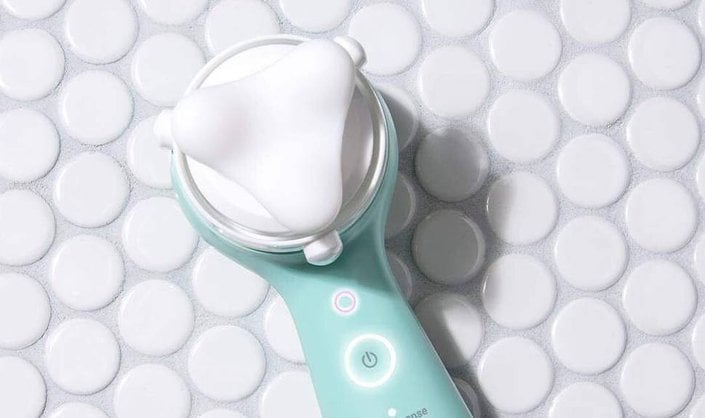 Fun fact: My daily and nightly skin-care routine is of the utmost importance to me. It's one of the few (and sometimes the only) moments of the day when I can fully indulge in an act of self-care after sprinting to the subway in heels or racing to meet a deadline. Nevertheless, these ten or 15minutes in the morning and evening have become my designated testing time — to try that new face mask I snagged from our skin-care closet or a new tool that people are raving about. Following the launch of the Clarisonic Sonic Exfoliator Brush (a new exfoliating brush-head for smoother, more radiant skin), I found myself wondering how I could use my Clarisonic for more  — after all, the brand prides itself on having the ability to be used for every step in your skin-care and makeup base routine. So why hadn't I given that a try before? Ahead, learn more about my experience using my Clarisonic Mia Smart as part of my morning and evening routine.
MORNING
STEP 1: Cleanse
I'm generally not a huge cleanse-in-the-morning person (these all-in-one moisture pads are my main go-to). I realize some of you might find that problematic, so for the sake of this story (and probably the health of my skin in general), I committed to a thorough A.M. cleanse. Using my Clarisonic Cleansing Brush paired with the Sonic Exfoliator, I dispensed a dime-size amount of Radiance Foaming Milk Cleanser directly onto the brush, wet it, and then moved it around my skin for a minute, starting on my forehead and finishing on my cheeks.
STEP 2: Address the Under-Eye Area
As mentioned previously, my morning skin-care routine is generally pretty simple. Right after cleansing, I apply toner, which I leave pretty damp and then immediately apply my next product. One problem I do tend to have from time to time is puffiness under my eyes, though, so I was excited to discover the Clarisonic Sonic Awakening Eye Massager. After applying Kiehl's Creamy Eye Treatment with Avocado, I ran the massager along the contour of my eye for 60 seconds. The cooling sensation left my under-eyes feeling refreshed and visibly less swollen.
STEP 3: Apply Sunscreen
By this point in my routine, I realized things were about to get kind of weird. I swapped out the Sonic Eye Massager Brush with my Clarisonic Foundation Brush, grabbed my favorite sunscreen of the moment, applied a big dollop of sunscreen and then hit "gentle" on the device. If I'm being really honest, I enjoyed this part of my routine so much more than I thought I would. Applying the sunscreen was satisfying because I could ensure that the SPF hit all areas of my face.
STEP 4: Foundation
To apply my foundation, I dabbed foundation onto my face, using less foundation than I normally would with a beauty sponge. This process was a bit of trial and error because the first time I tried it, I applied too much foundation, which caused brush lines to appear in my foundation and thus, I gave up and opted for a sponge. For this more successful experience, I'd say I applied about half the amount of foundation I normally would and then I moved the brush in circular motions, applying gentle pressure to blend. The whole process took just one minute and left me with an airbrushed finish
EVENING
STEP 1: Take It Off
Disclaimer: I took off my eye makeup by hand using an oil-based cleanser and a cotton pad (the Clarisonic Daily Radiance Brush Head — or any brush head for that matter — doesn't belong close to your eyeballs). After that, I used an oil-based cleanser to remove makeup and hydrate my skin with the help of the Daily Radiance Cleansing Brush. I followed my oil-based cleanser with a foaming cleanser to ensure a deep clean.
STEP 2: Massage (Again)
OK, by this point in the day, I was getting kind of sick of  swapping out brush heads, but I kept at it. After applying my toner, overnight serum and moisturizer, I used the Clarisonic Firming Massage Head to help my products absorb, to contour my face (no intensive treatment required) and to get me in zen-mode before bed. I gently massaged my forehead, cheeks, jawline and neck for 30 seconds.
Key Takeaways
I originally approached the Clarisonic Cleansing Brushes with some hesitation, but after testing them out for both my morning and evening skin-care routines, but I was pleasantly surprised by how much I enjoyed the experience — especially applying sunscreen with my Clarisonic Foundation Brush, using the Firming Massage Head to sculpt my jaw line and turning to the Eye Massager for when I just couldn't resist that late-night pizza. Overall? My Clarisonic is so much for versatile than I thought!
Read More:
How to Change Your Skin-Care Routine for Dry Climates 6 Fancy Face Cloths to Add to Your Skin-Care Routine in 2019
Why Aloe Is a Good Addition to Your Skin-Care Routine
Read more

Back to top