Take Your Cleanse to the Next Level With the Clarisonic Mia Smart
May 11, 2020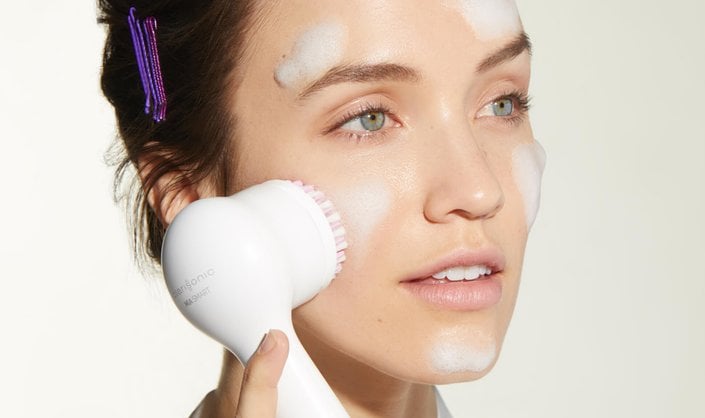 If you're a true skin-care fanatic, then you must already have a Clarisonic facial cleansing brush in your arsenal. These sonic cleansing devices are wildly popular for making the process of cleansing not only easier, but way more enjoyable and effective. As a reminder, Clarisonic facial cleansing brushes can remove makeup up to six times better than washing with hands alone. 
While we've never met a Clarisonic device we didn't love (we're big fans of the Mia Prima, for example), our latest obsession is the Mia Smart.
Dubbed the brand's "one device that does it all," Mia Smart is everything you could ever want from a facial cleansing brush and then some. Its benefits don't stop with cleansing, though. The device is super versatile. Here are all the ways it can be used.
Function #1: Cleansing.
 Pair your Mia Smart with any of Clarisonic's existing cleansing brush heads to remove surface dirt, oil, and impurities, as well as makeup. Choose from two customizable cleansing programs: Daily Cleanse Mode and Gentle Cleanse Mode. 
Function #2: Makeup Application.
 Pair your Mia Smart with the Clarisonic Foundation Brush Head to apply your makeup without using your fingers. The result? An airbrushed makeup look in just one minute.
Function #3: Firming.
 Pair your Mia Smart with the Clarisonic 3D Face Sculptor to help target 15 signs of aging on the face, neck and décolletage for noticeable results after 12 weeks of use.
Function #4: Wake Up Tired Eyes.
Pair your Mia Smart with the Clarisonic Sonic Awakening Eye Massager to help reduce the appearance of puffiness, fine lines and wrinkles. The eye massager boasts a cooling tip that feels incredibly refreshing.
The device has "smart" in its name for a reason. It can auto-detect which brush head has been locked in and can adjust the frequency accordingly. Other features include an LED light indicator that displays which mode is currently active, a waterproof handle that's designed to comfortably fit all hand sizes,  Bluetooth compatibility with the brand's mobile app where you can truly personalize your experience and a soft start option that gradually climbs to full power as your skin gets acclimated to the device. "Some people's skin tends to get overstimulated," says Clarisonic co-founder Dr. Robb Akridge. "So there's this ramp up process now; as soon as you turn on your Clarisonic for the first time it starts off at 80 percent of the power and over a two-week period, it slowly builds up to full speed."
When we first heard about this device, we were seriously impressed by its claims and couldn't wait to give it a try. Luckily, our friends at Clarisonic provided a complimentary sample for road-testing. Spoiler alert: It's even better than imagined.
Our Review of the Mia Smart
From the get-go, I was drawn to the device's sleek design and unique handle that allowed me to grasp onto it comfortably. As mentioned, you can choose from a number of different settings, including Daily Cleanse Mode, Gentle Cleanse Mode and versatile Smart Mode.
To start, I paired my Mia Smart with the brand's Daily Radiance Brush Head for a gentle cleanse. With just a few pumps of cleanser, my skin was clean and felt refreshed.
OK, so there's no doubt that Clarisonic's devices are incredible at cleansing the skin, but I was really eager to try the Sonic Awakening Eye Massager. It boasts 18,000 cooling massages per application, and can visibly reduce the look of under-eye puffiness in just one week. After eight weeks, it can visibly smooth the look of crows' feet, fine lines and wrinkles around the eye contour. I have to admit that the Sonic Awakening Eye Massager was incredibly gentle, which is important because the skin around the eyes is thinner and more delicate than other areas of the face. The cooling sensation was an unexpected but appreciated bonus. I typically store my eye products and tools in the fridge, so I was really excited about this perk. I do have some fine lines starting to appear, so I'm looking forward to using the device for two months to see even more results.
My overall opinion on Clarisonic's new Mia Smart is that it's a winner. Just the fact that it can work with the entire portfolio of brush heads makes it worth it, because there is truly so much this device can do for your skin. For anti-aging benefits, you can choose the Sonic Awakening Eye Massager or 3D Face Sculptor. For flawless-looking makeup, switch on the Sonic Foundation Brush. And to cleanse your skin, take your pick from a wide-range of cleansing brush heads.
Clarisonic Mia Smart, $199 MSRP
Read more

Back to top