Wish Your Clarisonic Could Exfoliate Your Skin? Now It Can
November 14, 2018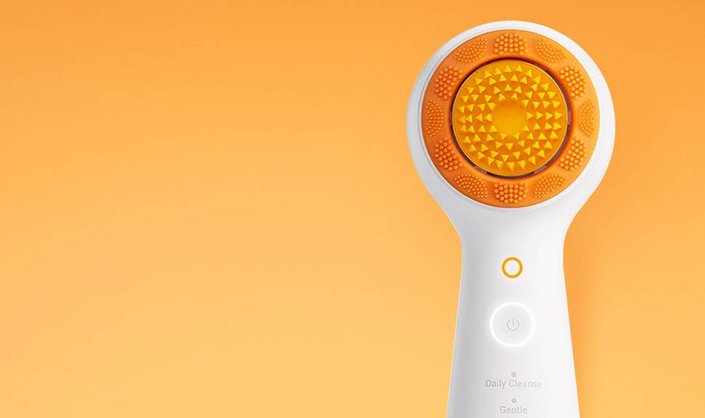 For years, Clarisonic has mastered sonic technology to cleanse your skin better than hands alone. With a wide range of devices and brush heads in its portfolio, investing in a Clarisonic meant investing in the cleanliness of your skin's surface. Recently, the brand expanded its brush head offerings to tap into new areas and skin concerns. This includes massaging your eye contour with the Sonic Awakening Eye Massager, applying foundation and cream-based makeup with the Sonic Foundation Makeup Brush Head, and targeting key signs of aging with the Firming Massage Head. While these new additions have added a new level of versatility to owning a Clarisonic device, one area the brand has yet to tap into is exfoliation. 
Contrary to what you may otherwise assume, Clarisonic devices can cleanse your skin's surface but they do not offer exfoliation benefits. Well, all that is about to change. Clarisonic has unveiled a new Sonic Exfoliator Brush Head, which can now help remove pore-clogging dead skin cells from skin's surface. We get down to the bristle by explaining what the new Clarisonic Sonic Exfoliator is, and what it can do for your skin, ahead. 
WHY IS EXFOLIATION IMPORTANT?
For years, many have fallen for the myth that Clarisonic devices can exfoliate the skin. Part of that may have to do with a confusion between what constitutes as cleansing vs. exfoliating. Cleansing your skin's surface is the process of removing a buildup of dirt, makeup, impurities, and debris that may eventually clog your pores and cause breakouts. Since your skin is exposed to this level of grime on a daily basis, cleansing twice per day (morning and night) is one of the best ways to ensure a clean complexion.
No less important than cleansing is exfoliating. Exfoliating your skin is the process of sloughing away a buildup of dead skin cells on the surface, which may be causing a rough texture or dulled appearance. There are two ways to exfoliate your skin—mechanically with a tool (like the Clarisonic Sonic Exfoliator) or chemically with an acid. Depending on your skin type and tolerance levels, you can exfoliate a few times per week. One of the best benefits of exfoliation is that it can reveal a bright, healthy-looking complexion. What's more, removing a buildup of dead cells can make your skin feel soft and smooth as a result. 
WHAT IS THE CLARISONIC SONIC EXFOLIATOR?
The Sonic Exfoliator is the latest brush head to join the Clarisonic family. The device's triangularly-shaped elastomers—those bristles you see that make the "hair" of the brush head—are purposefully designed to make the brush head gentle enough to be enjoyable, but firm enough to make sure it's providing the optimal level of exfoliation. When paired with a daily cleanser, Clarisonic Sonic Exfoliator can gently polish away dead skin cells to reveal a brighter, healthier-looking complexion.  
WHAT ARE THE BENEFITS OF THE CLARISONIC SONIC EXFOLIATOR?
Why, exfoliation, of course. A self-assessment test was conducted on 49 females who used the Clarisonic Sonic Exfoliator for four weeks at an interval of 3 times per week, and the results were incredible. Ninety-eight percent of testers saw smoother and brighter skin, 96% saw more even and clearer-looking skin, and 100% of testers agree their skin looks healthier and feels comfortably balanced.
HOW TO USE THE CLARISONIC SONIC EXFOLIATOR
Exfoliating may come off like a relatively easy process, but along with the different types of exfoliation that exist, there's also a right way and a wrong way to exfoliate your skin. The Sonic Exfoliator is compatible with four Clarisonic devices: Mia Prima, Mia 2, Alpha Fit, and Mia Smart. Once you have wet and locked your Sonic Exfoliator in to your device, wet skin and apply your favorite cleanser onto your skin. The brush head can exfoliate your face, neck, and décolleté areas. Once you're done, rinse off and follow with your typical skin routine after cleansing.
You can use the Sonic Exfoliator daily. Depending on your skin's tolerance to exfoliation, you may want to start at a lower frequency and work your way up. 
Clarisonic Sonic Exfoliator, $39 MSRP
Read more

Back to top