A Definitive Guide to the Best Full-Coverage Concealers From Dermablend
March 12, 2020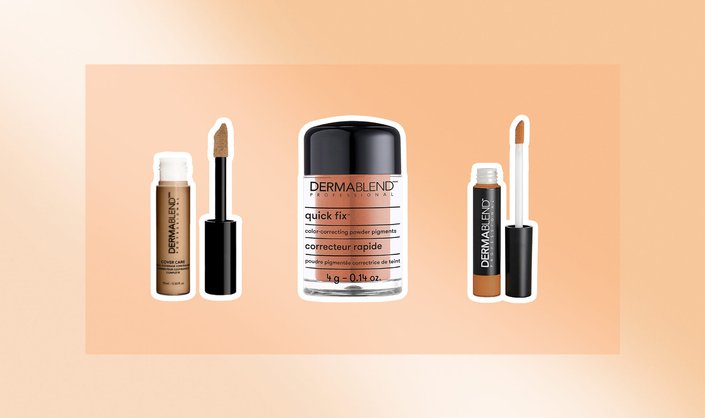 Dermablend has a lineup of concealers that are quick to cover our most pressing skin-care concerns. From dark circles and breakouts to scars and age spots, the brand's full-coverage concealers are the best line of defense when it comes to hiding imperfections on our complexions. With liquid, color-correcting and cream formulas to choose from, it can be tricky to figure out what product is best for you. To help you narrow down which concealer to add to cart for your specific concerns, our editors reviewed the Dermablend Cover Care Full-Coverage Concealer, Quick-Fix Color Correcting Concealer, Smooth Liquid Camo Hydrating Concealer and Quick-Fix Concealer. Find their thoughts, ahead. 
Under-eye circles, meet your match. The Dermablend Cover Care Full-Coverage Concealer is great for counteracting darkness on the delicate, under-eye skin. Its formula provides complete coverage and 24-hour wear in just one swipe. Plus, it's hydrating thanks to vegetable glycerin and will leave your  skin feeling soft with a matte finish. The concealer is also approved for use post-procedure on healed skin, so if you've had a laser treatment and are looking to cover some residual redness, this is the pick for you. 
Why We Love It 
My under-eye areas are not only really dark and blue, but they're also extremely sensitive. I've found that some concealers leave them feeling dehydrating and looking flaky at the end of the day. The Cover Care Concealer, however, was super hydrating, creamy and breathable when I applied it. I loved how it neutralized my unwanted under-eye tones without having to layer on piles of product. I've also been using it to spot-treat acne that needs a little extra coverage. 
How to Use It 
A little goes a long way with this product. Swipe the applicator across the area you would like to cover and blend out the product with either a blending brush, a beauty sponge or your fingers. We recommend applying concealer to the under-eye area after foundation. While you can use setting powder, it's not necessary with this product — you'll get 24-hour wear either way.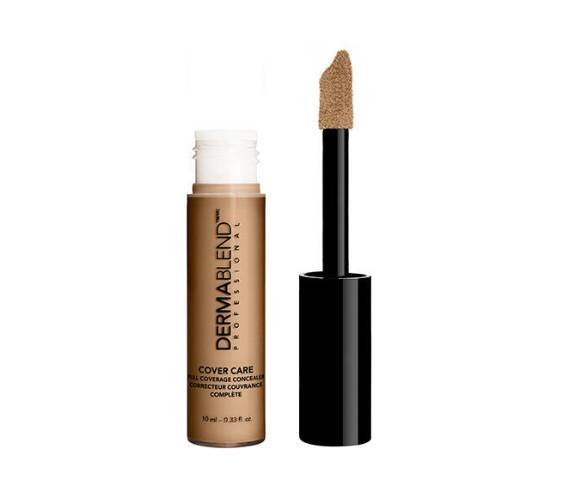 If you're looking for a full-coverage concealer in an easy-to-use stick that can temporarily mask scars, bruises and age spots, give the Dermablend Quick-Fix Concealer a go. It has a blendable formula that can camouflage blemishes and provide coverage for up to 16 hours when used with the Dermablend Loose Setting Powder. This option is ideal for on-the-go touch ups and, as the name suggests, quick fixes.
Why We Love It
Finding a concealer that neutralizes the redness in blemishes and evens out the appearance of scars can be tricky, as many full-coverage options can appear  cakey and thick. That's why I was excited to give this Dermablend concealer a try. I have some scars on my hands that are typically difficult to cover, but after using just a few swipes of the stick concealer, my scars nearly vanished. Plus, it's easy to throw in my work bag for touch-ups throughout the day. 
How to Use It
To use the Dermablend Quick-Fix Concealer, simply apply the stick concealer directly on your face or body. Once your blemish is concealed, gently pat your fingers to diffuse the edges and camouflage the concealer with your complexion. Follow up with a generous amount of the Dermablend Setting Powder. Allow it to set for two minutes and brush off excess powder with a clean makeup brush.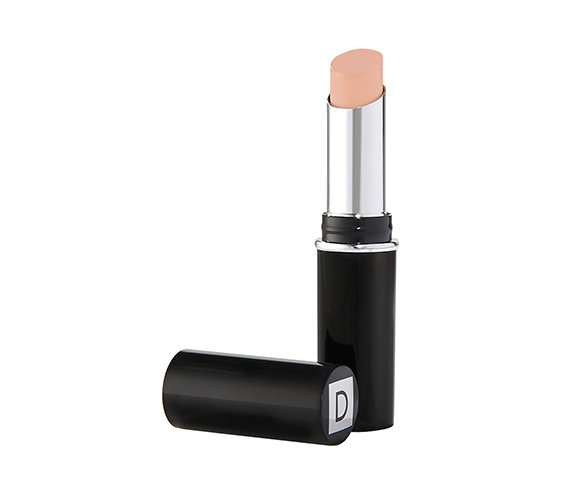 If you have dry, flaky skin and are looking for a hydrating concealer to smooth out your complexion, try the Dermablend Liquid Camo Concealer. Formulated to temporarily conceal and camouflage redness, uneven skin tone and dark under-eye circles, this liquid concealer can provide the skin with customizable coverage for up to 16 hours. It's highly pigmented and buildable, so you can use as much or as little coverage you need. It's also non-comedogenic, fragrance-free and is suitable for sensitive skin types.
Why We Love It
As someone with melasma on her upper lip, I am always on the lookout for the next best concealer for my uneven skin tone. When Dermablend sent us the Liquid Camo Concealer, I was especially excited to see what it could do for my skin condition. After applying a few dabs with the easy-to-use applicator, I am happy to report that I was able to conceal my discoloration and seamlessly blend the liquid formula into my skin with just a few quick swipes. Plus, the hydrating formula looked smooth and felt lightweight on my dry skin. 
How to Use It
To use the Dermablend Liquid Camo Concealer on your complexion, dab the concealer directly onto your face. Next, use your fingertips or a beauty sponge to gently blend the concealer over problem areas or spots where you want added brightness. Follow up with a generous amount of the brand's Setting Powder and allow everything to set. Wipe away the excess powder with a clean makeup brush.
Whether you have underlying redness, under-eye circles, veins, blemishes or are simply trying to neutralize your skin's undertone, color correcting concealers can help. Dermablend offers four shades: green, orange, yellow and red. The green option is great for targeting redness, the orange helps with unwanted blue tones, the yellow neutralizes dullness and the red helps with dark circles and spots on deeper skin tones. While the concealers are great for combating hyperpigmentation, they also leave a smooth finish and work well under makeup. 
Why We Love It
I always keep a color-correcting concealer on hand. Got dark under-eye circles? There's a color corrector for that. Bright red pimple? There's a color corrector for that, too. While there are so many different shades to choose from, I decided to give the green one a try because I have a generally rosy undertone and hold redness in my pimples. As soon as I applied the product to a nasty cystic pimple on my cheek, the powder-turned-cream formula took away all signs of redness. What's more, it dried down quickly so I didn't have to waste time before applying the rest of my complexion products. Not only did it look great once applied, but it held up well throughout the day, didn't separate and kept my foundation looking smooth and fresh. 
How to Use It
First, pick the color-correcting concealer of your choice. Then, tap lightly on the bottle to sprinkle some of the powder onto the back of your hand. Rub your finger against the product until it turns into a cream consistency. Use either your fingers or a small brush to apply concealer where needed. No setting powder or wait-time is needed, just go ahead and start with the rest of your makeup. 
Read More:
How to Care For Combination Skin the Right Way 
What Does SPF Mean? A Crash Course in Sunscreen and Sun Safety
6 Reasons Your Skin Looks Dull, Plus What You Can Do to Restore Radiance
Read more

Back to top