These Award-Winning Foundation Drops Will Shake Up Your Beauty Routine
August 23, 2017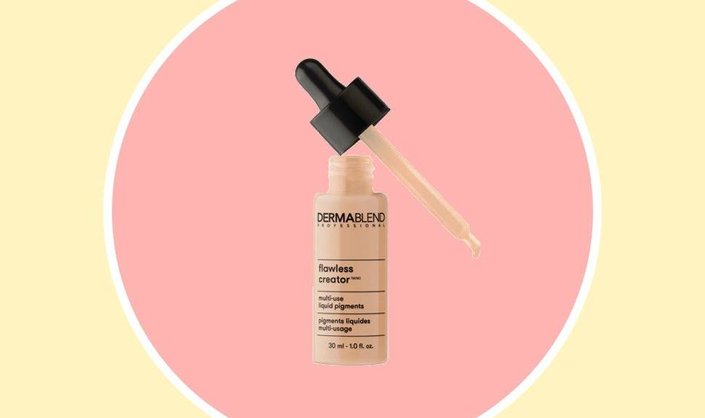 Dermablend recently launched a range of drop foundations—dubbed Flawless Creator Foundation Drops—and we couldn't be more excited! Below, we're sharing the perks of the lightweight formula—plus, a few fun ways to incorporate it into your beauty routine!
If you suffer from acne, discoloration, or even unwanted tattoos, it's likely you've spent hours of time—and lots and lots of money—searching for the right foundation to cover up what you don't want the public to see. Is it too much to ask for a foundation that delivers full coverage without irritating your skin or blocking your pores? Short answer: no. But finding the ultimate foundation that crosses off all the boxes for both acne-prone and sensitive skin types is no easy feat…until now. One of our favorite brands from the L'Oreal portfolio, Dermablend, recently launched foundation drops that deliver the best of both worlds: customizable coverage in an oil-free, non-comedogenic, and non-acnegenic formula. Needless to say, you'll want to get your hands on them ASAP.
Dermablend Flawless Creator Foundation Drops
Liquid- and drop-makeup formulas—whether it be foundations, highlighters, or blushes—have been surfacing again and again within the beauty sphere, at all price points and for all skin tones. Dermablend's Flawless Creator Foundation Drops—available in 20 (yes, 20!) different shades—are the new kids on the block, and we're welcoming the range with open arms. Formulated with liquid makeup pigment, this lightweight foundation boasts a unique weightless and silky texture, making it easily customizable and blendable on the skin.
Who Can Use Dermablend Flawless Creator Foundation Drops
Many products in Dermablend's range are suitable for sensitive skin types, and Flawless Creator Foundation Drops is no exception. The foundation— formulated without parabens, fragrance, and oil—is a suitable option for those with and without sensitive skin. One drop will deliver light coverage, and four or more drops will deliver full coverage.
Top tip: Don't hesitate to pick up more than one shade of Flawless Creator Foundation Drops! You can mix various shades together for customizable coverage year-round.
How to Use Dermablend Flawless Creator Foundation Drops
One of the things we love most about this product is that it can be used in many different ways. First things first, shake the bottle well before use. Now, it's time to get creative! We're sharing a few of our favorite ways to use Dermablend Flawless Creator Foundation Drops, below.
On Its Own
Keeping things simple is never a bad idea. Use Dermablend Foundation Drops on their own for coverage that's weightless and buildable. Apply a few drops to the face using clean fingers or your favorite foundation brush. Need more coverage? Layer it up! The more you use, the more coverage you can achieve.
Mix It With Moisturizer

 
Don't feel like wearing a full-face of makeup? No problem. For a sheer hint of color, try mixing a few drops of Flawless Creator Foundation Drops into your favorite moisturizer.
Mix It With Serum
Another way to incorporate Dermablend's Flawless Creator Foundation Drops into your skin care routine is to mix a couple drops into your serum of choice. You'll reap the benefits of your anti-aging routine while achieving instant lightweight coverage. 
If you weren't already on your way to the nearest beauty depot to get your hands on Dermablend's Flawless Creator Foundation Drops, we'll bet you're considering it. Supplies are limited, so we recommend scooping up your ideal shade(s) as soon as possible!
Dermablend Flawless Creator Foundation Drops, $40.00 MSRP
Read more

Back to top