A Beauty Editor Reviews Dermablend Leg and Body Cover
October 03, 2019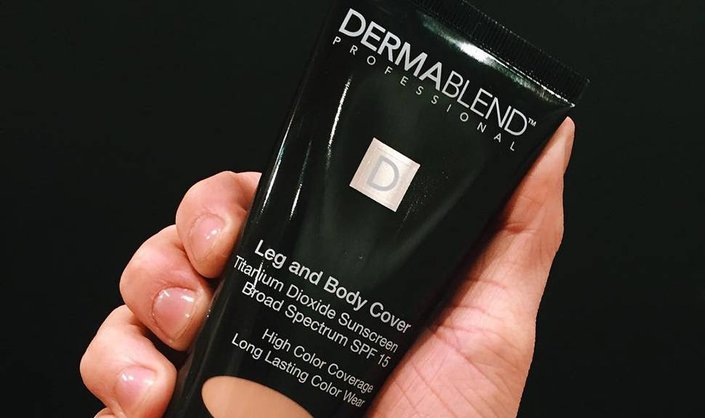 A body concealer that can cover up unwanted blemishes and imperfections —  think: old scars, bruises, pesky spider veins — and doesn't smudge or transfer onto clothing seems too good to be true. But, it does exist and it is just as good — well, actually, it's great — as you can possibly imagine. Dermablend gifted us their high-coverage Leg and Body Cover and I am happy to report that it exceeded all of my expectations. Keeping reading to find out why I now consider the Dermablend Leg and Body Cover to be a body concealer game changer, plus how to use it, how to remove it, and more.
THE BENEFITS OF DERMABLEND LEG AND BODY COVER
When it comes to using makeup to conceal everything from body blemishes, bruises, or even tattoos, you need something that is highly pigmented and effective—something like Dermablend's Leg and Body Cover. In addition to having the ability to cover and conceal visible blemishes—such as bruises, spider veins, scars, and uneven skin tones—the Leg and Body Cover from Dermablend glides on easily to provide skin with a natural-looking finish that is never cakey or masky. Smudge- and transfer-resistant, the Leg and Body Cover can last up to 16 hours when used with the brand's setting powder and is formulated with SPF 15 for added protection from the sun's harmful UV rays. On top of all that, the Leg and Body Cover is dermatologist tested, allergy tested, non-comedogenic, non-acnegenic, fragrance-free, suitable for sensitive skin types, and can provide the skin with comfort and hydration.
Now that we've got all that covered—no pun intended—let's move on to how you can use Dermablend Leg and Body Cover foundation to conceal unwanted blemishes and imperfections on your skin.
HOW TO USE DERMABLEND LEG AND BODY COVER
To use Dermablend Leg and Body Cover, simply dab a small amount of the product—a little goes a long way!—directly over the skin imperfection, body blemish, or tattoo you're hoping to hide. Using your fingertips or a beauty blending sponge, feather the excess product outwards and onto the surrounding area of skin. Allow the cover up to dry before applying additional layers, if needed. Follow up with a generous amount of Dermablend Setting Powder, allowing it to set for about two minutes before brushing off the excess Setting Powder with a makeup brush.
HOW TO REMOVE DERMABLEND LEG AND BODY COVER
Long wear makeup like Dermablend's Leg and Body Cover can be tricky to remove, as it is specifically formulated to last. To remove the Leg and Body Cover, apply a generous about of the brand's Long Wear Makeup Remover to your fingertips or a damp washcloth and gently massage over the skin in upward circular motions. Rinse off with a lukewarm water or a washcloth and follow up with moisturizer. Dermablend's Long Wear Makeup Remover is a non-greasy, non-drying, non-comedogenic (meaning, it won't clog pores) cream-based makeup remover formula that is gentle yet effective and suitable for all skin types— including sensitive skin! Upon application, the skin feels cleansed, hydrated, and conditioned. Use it to remove your stubborn eye makeup, face makeup, and Dermablend's Leg and Body Cover.
WHO SHOULD USE DERMABLEND LEG AND BODY COVER
Dermablend Leg and Body Cover is specifically formulated for anyone looking to conceal unwanted blemishes on their body and legs— like breakouts and bruises— hide tattoos for a job interview or from a family member (sorry mom!), or hide body skin imperfections such as spider veins and scars.
Editor's tip: Dermablend Leg and Body Cover is an excellent tool for makeup artists to keep in their kits in case they need to cover up unwanted tattoos, imperfections, and blemishes on models' bodies.
DERMABLEND LEG AND BODY COVER REVIEW
Recommended For: All skin types— including dry and sensitive skin.
As someone with tattoos, scars, and a few pesky bruises on their body that are seemingly impossible to mask, I am a total skeptic when it comes to concealers and foundations that claim to conceal three of what I believe to be the hardest things to cover up. That being said, I have heard a lot of wonderful and promising things and seen some mind blowing video tutorials on Dermablend's Leg and Body Cover. So, when the brand sent over a few tubes of their highly coveted leg and body cover up foundation to the Skincare.com offices to review, I nearly jumped at the opportunity to give it a true test drive. 
Dermablend Leg and Body Cover For Scars Review: If I'm being completely honest, I don't actually hate any of my scars and would never put forth the effort to cover them up—except for one. I have a dime-sized circular scar on my hand that I wish more than anything would disappear into thin air. Fortunately, with Dermablend's Leg and Body Cover I was able to make that happen—temporarily speaking of course. After just two layers of foundation, the pesky scar that stares into my soul while typing on my computer all day long was completely masked and unnoticeable. In addition to my disappearing scar, once dried, the formula felt sort of like a second skin— I could hardly tell I had any on!— and stayed put throughout the day (even after a couple hand washes).
Dermablend Leg and Body Cover For Tattoos Review: While I've never really shown an interest in covering up my tattoos, I have always wondered what my arms would look like if they were concealed. And with Dermablend's Leg and Body Cover, I got my wish! I followed the instructions (above) for how to apply the highly pigmented tattoo cover up using my damp beauty blending sponge and after a few layered coats, the dark black ink from my tattoos completely vanished.
Dermablend Leg and Body Cover For Bruises Review: I don't know about you, but it seems as though I am always finding random bruises on my body and legs. Now, this might not be so horrible in the fall and winter months when my legs and body never see the light of day, but when I want to frolic around in shorts and dresses in the summer sun, they definitely pose as an unwanted blemish. With that being said, I have a few holiday events coming up and plan on showing some leg—so, I was particularly excited to try Dermablend's Leg and Body Cover on some of my most recent bruises. I'm happy to report that Dermablend's Leg and Body Cover worked on some of my darkest bruises, completely covering them up without making it look like I had applied a drop of foundation. The best part? The Leg and Body Cover really is smudge and transfer resistant!
Read More:
Do Pore Strips Actually Remove Blackheads? Find Out!
6 Things That Age Your Skin Prematurely — And How to Avoid Them
The Best Cleansers to Use With a Clarisonic Brush
Read more

Back to top