Editor's Pick: Essie Nail Polish Reviews
December 06, 2016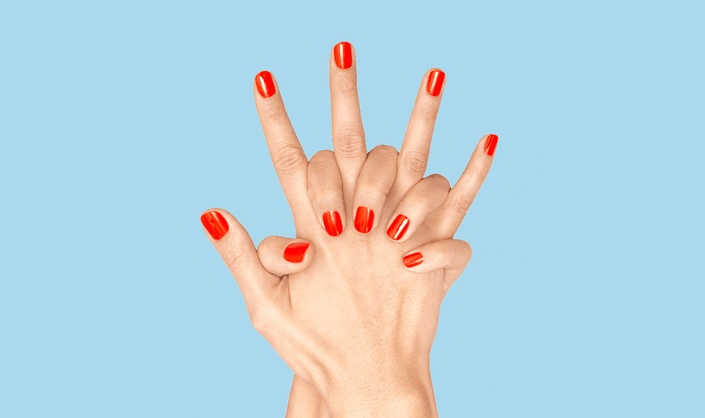 Whether you go to the nail salon or prefer to get your manicure on at home, essie nail polishes, primers, top coats, and more are some of the most popular options around. Skincare.com was recently sent complimentary samples of some of the brand's top-rated products as well as the newest essie nail polish collection to test and review. See the lineup—and the full product reviews—below.
ESSIE APRICOT CUTICLE OIL REVIEW
Recommended For: Dry cuticles that are in need of a little love.
Formulated with cottonseed oil, soybean oil, vitamin A and vitamin E, the Apricot Cuticle Oil from essie can quench dry, parched, drab-looking cuticles, revitalize the nails, and provide all-over moisture with each application. And unlike most other nail polish products, the Apricot Cuticle Oil smells nice and sweet—just like a fresh apricot!
Why We Love It: Cuticle oil is my jam—no seriously, I hoard bottles of it at my desk and reapply throughout the day to ensure that my nails and cuticles appear in tip top shape. One of my favorite things about essie's Apricot Cuticle Oil—aside from it being one of the most hydrating cuticles oils I've ever tried—is it's amazing  yet subtle scent… because no one (not even my fellow beauty editors) wants to sit next to a girl who is constantly reapplying a stinky, chemical-smelling, cuticle oil all day long. Upon application, my cuticles look and feel replenished and nourished.
How To Use It: Using the applicator brush, apply the Apricot Cuticle Oil to the tops of your cuticles and the skin around your nail beds. Gently massage the oil into your nail beds and follow up with a hydrating hand cream. For maximum results, apply two times a day.
ESSIE MILLIONAILS PRIMER REVIEW
Recommended For: Protecting nails from breaking and peeling.
Shield your nails from breaking and peeling with essie's Millionails primer. Enriched with a fiber shield and iron strength, this nail care treatment helps promote visibly stronger, better-looking nails in just a few strokes of the applicator brush. After you've hydrated your cuticles with Essie's Apricot Cuticle Oil, prime and protect with Millionails! 
Why We Love It: If I'm being honest, before Essie sent us a complimentary care package of some of their most coveted nail polish and nail care products, I hardly ever used primer in my nail care routine. I thought all I needed was cuticle oil, base coat, nail polish, and top coat. Boy, was I wrong. Typically, my naturally long nails don't stand a chance against the wear and tear I put on them when typing all day long. They eventually start to peel and break. After applying Essie's Millionails to my claws, I noticed that their strength and durability changed completely!
How To Use It: After sprucing up your cuticles with Essie's Apricot Cuticle Oil, use the applicator brush to apply a coat of Essie's Millionails to each nail. Allow it to dry and follow up with a base coat and nail polish color of your choice.
essie Millionails, $10
ESSIE FIRST BASE BASE COAT REVIEW
Recommended For: Protecting nails and creating an adhesive base for nail polish.
Looking for a base coat that can smooth, protect, and prep nails for nail polish application? Look no further! Not only can essie's First Base base coat protect nails, it can create an adhesive bond for longer-lasting nail polish, too!
Why We Love It: If you want your nail polish to last longer—read: not chip as easily—base coat is key. One of the reasons why I love essie's First Base base coat (aside from the adorable name) is because in addition to smoothing and protecting my nails, it is formulated with adhesive-promoting ingredients that work together to bond nail polish to the surface of the nails.
How To Use It: After nourishing your cuticles with Essie's Apricot Cuticle Oil and treating your nails to some Millionails, apply a thin layer of Essie's First Base base coat to your nail beds. Allow the base coat to try before following up with one of Essie's festive winter 2016 colors (reviewed below!).
essie First Base, $9
ESSIE WINTER 2016 NAIL POLISH COLLECTION REVIEW
Recommended For: Holiday parties, New Year's Eve celebrations, at-home manicures, and more!
From metallic gold to deep teal to the perfect holiday red, essie's Winter 2016 collection is the ultimate way to add a little winter flare to your every day beauty look. 
Why We Love Them: When it comes to chic seasonal nail polish colors, I can always count on essie to deliver. Seriously, just when I think it can't get any better… it always does! This winter, treat your nails to one of the brand's fun, flirty, and festive holiday lacquers. Here's the lineup:
How To Use Them: After starting with an application of Apricot Cuticle Oil, Millionails, and First Base base coat, apply one coat of nail polish to each nail bed. Allow your nails to dry before applying a second coat and following up with essie's Gel Setter Top Coat (reviewed below!).
essie Winter 2016 Nail Polish Collection, $9 (each)
ESSIE GEL SETTER TOP COAT REVIEW
Recommended For: Giving nail polish a high-gloss gel effect, without the use of harmful UV nail salon dryers!
Gel manicure addicts, listen up! essie's Gel Setter top coat is a foolproof formula that can deliver stellar shine without the hassle (or dangerous UV light nail dryers) of removing a gel manicure. With this high gloss top coat, you can give yourself a gel manicure-inspired mani/pedi without leaving the comfort of your own home!
Why We Love It: Anyone who has ever given themselves an at-home manicure/pedicure knows that top coat makes the mani/pedi. No matter how stellar your lacquer color may be, if you choose a lousy top coat the look of your nails can suffer the consequences. With that being said, a gel-inspired top coat, such as essie's Gel Setter, is hands down my favorite kind of top coat. High-gloss and fast-drying, the Gel Setter top coat can give your nails that gel-look without exposing your skin to the harsh UV nail dryers used to set gel polish.
How To Use It: After going through your full nail care routine—cuticle oil, primer, and base coat—and applying two coats of your favorite essie nail polish lacquer, give your nail beds some high shine by applying one layer of essie's Gel Setter top coat to each. Allow your nails to fully dry and voíla!
essie Gel Setter, $10
Read more

Back to top