Bid Farewell to Clogged Pores With This Charcoal Peel-Off Mask
October 11, 2019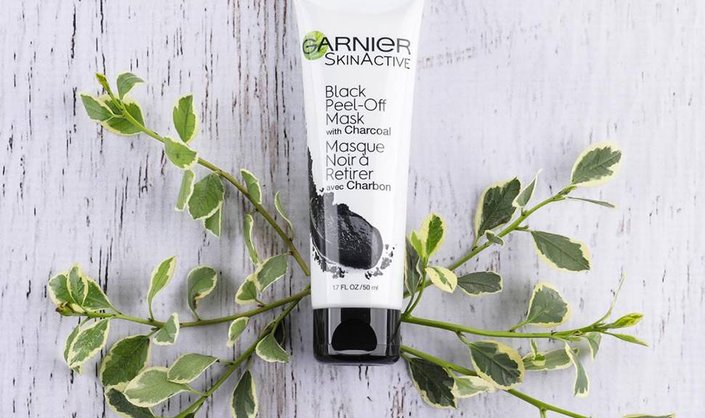 There's something so satisfying about peeling impurities off your skin and out of your pores. When we use pore strips or peel-off masks, oftentimes we can see what has been lifted off your skin's surface with our own eyes. It's one thing to cleanse and exfoliate your skin daily and know you're removing dirt and grime, but it's another to actually see the removed dirt and grime up close. And that's precisely why products you can peel off your skin after a certain amount of time, like masks for instance, are so incredibly popular in the beauty sphere.
Many of the black peel-off masks you may have noticed on Instagram are formulated with charcoal. The superstar ingredient works like a magnet to lift impurities out of pores, so it's a seamless fit in a peel-off mask. One of the latest brands to join the charcoal peel-off mask trend is Garnier with their recently-launched Black Peel-Off Mask with Charcoal. Our friends over at Garnier sent the Skincare.com team a complimentary sample to try and review—and we did just that, in the name of healthy-looking skin and a few good selfies. Below, check out our review of the Garnier SkinActive Black Peel-Off Mask with Charcoal!   
How Can Charcoal Benefit the Skin?
When your pores are clogged with dirt and impurities and come in contact with bacteria, a breakout can ensue. That's why the best way to reduce the risk of experiencing a breakout is to keep your pores clear. As far as ingredients go, charcoal is one of the best ones to help draw out dirt, toxins, and grime like a magnet before they have a chance to wreak havoc. By using charcoal formulated skin-care products, you can help pave the way to clean, radiant-looking skin.
Is a Peel-Off Mask Right for Me?
Unless you've shunned yourself away from YouTube and Instagram, chances are you've witnessed a peel-off mask in action before. And you've probably also noticed that not every experience is the same. Some peel-off masks—when applied incorrectly—can be painful to remove. The key is to use the right product for your skin type and to follow the instructions. Some peel-off masks aren't meant to be applied to the entire face at once. Garnier's Peel-Off Mask with Charcoal, for instance, should be applied on the t-zone or nose only.
Garnier SkinActive Peel-Off Mask with Charcoal
Garnier's Peel-Off Mask with Charcoal is a liquid to peel mask that can visibly remove deep pore impurities and reduce the appearance of pore size. The result? A fresh, healthy-looking complexion. All skin types with clogged pores can enjoy the formula. What's more, it's formulated without parabens, oil, and silicones.
How to Use: Start by applying a thick layer to freshly washed and dried off skin. Make sure to avoid your lips, eye area, and hairline. Leave on for 20 minutes, or until all areas have completely dried. Gently peel off the mask, starting at the outer edges. Continue peeling until fully removed. Rinse thoroughly and pat dry.
Garnier SkinActive Black Peel-Off-Mask with Charcoal Review
After a long night out with friends, my skin desperately needed some TLC so I reached for this black peel-off mask after removing my makeup and cleansing my skin. I decided to concentrate the application to my t-zone (forehead, nose, and chin) where I felt the most congested and oily. After 20 minutes, I carefully removed the mask without any harsh pulls or tears. Once the mask was off, my skin felt smooth and clean. Best of all, my t-zone looked decongested and healthy.
Read more

Back to top