The Sheet Mask You Need to Help Minimize the Look of Your Pores
November 23, 2017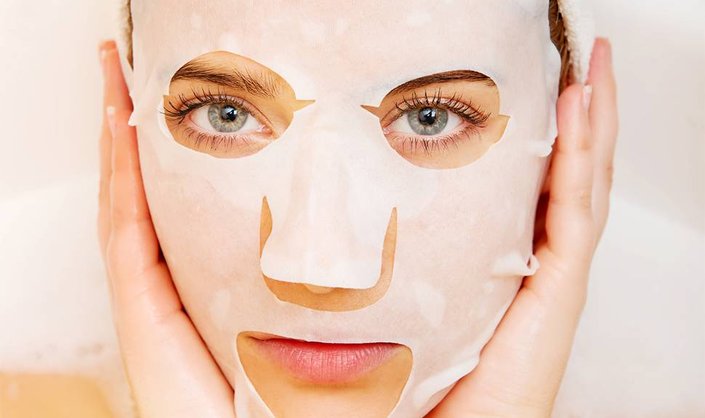 WHY SHEET MASKS? 
Sheet masks are an incredibly popular way to mask, and it's easy to understand why. These sheet fabrics—introduced to us by none other than K-Beauty—are shaped to fit your facial contours, and are often soaked in a concentrated serum that can help deliver a range of beauty benefits. There are sheet masks that can help hydrate the skin, improve skin texture, reduce visible signs of skin aging, and—in the case of Garnier's newest addition—minimize the appearance of your pores over time. Unlike traditional face masks which get rinsed off after a period of time, most sheet masks are worn for up to 15 minutes and don't require any rinsing. As such, they're a great, mess-free masking pick for frequent travelers (yes, you can sheet mask at 30,000 feet) and gals on the go. We like to pop ours in our gym bags, carry-ons, and purses for easy and convenient access whenever we have 15 minutes of downtime.
THE BENEFITS OF GARNIER SKINACTIVE SUPER PURIFYING CHARCOAL FACE MASK
In just 15 minutes, this non-greasy mask—with charcoal and algae extract—helps draw out impurities that can clog pores to deliver a deeply-clean skin feel. After one use, skin can breathe easier and feels purified, as if detoxified. Expect your complexion to look more even, smoother, and refreshed. After one week of continued use, your pores will look tightened and less visible, and skin will look healthier, less shiny, and more refined. What's more, the product is free of parabens and mineral oils.
HOW TO USE GARNIER SKINACTIVE SUPER PURIFYING CHARCOAL FACE MASK
As far as applying sheet masks goes, the process is pretty straightforward across the board. The first step is cleansing your skin to remove impurities, dirt, and grime. Next, remove the mask from the pouch and gently unfold it. Apply the sheet mask onto your cleansed skin and smooth out any bumps so your full facial contour has contact with the product. Leave it on for 15 minutes. During this waiting period, you can multi-task by crossing additional to-dos off your list, be it washing the dishes or folding your laundry. (Just be careful not to move your head around too much as the sheet mask may accidentally slip off your face.) Once 15 minutes is up, remove the mask and gently massage any remaining product into the skin. And you're done—no need to rinse.
GARNIER SKINACTIVE SUPER PURIFYING CHARCOAL FACE MASK REVIEW
If I had to choose, I'd say face masks are among my top three favorite skin care products. They're a convenient, quick, and easy way to give my skin a little extra TLC, depending on its needs that day.
I will admit that I was excited about this new launch for a few reasons. For starters, I'm a big fan of the existing portfolio of Garnier sheet masks. Prior to this launch, there were three hydrating sheet masks that I would turn to regularly, so naturally I was thrilled to hear about the potential to add another to my rotation. I was also intrigued by this sheet mask's inclusion of charcoal in its formula. I've never tried a sheet mask infused with charcoal before, so this would be a first for me. This product combines my love of charcoal skin care with my love of sheet masks, so needless to say I was ready to give it a whirl.
After cleansing my skin, I unwrapped the sheet mask and applied it onto my skin and left it on for 15 minutes—as per the instructions. Immediately I noticed my skin felt clean and fresh. With consistent use for one week, my pores were visibly reduced in size, and my skin looked healthy with a radiant glow. And at just under 3 dollars a pop, I can stock up on these sheet masks—and gift them to my friends and family—without fear of putting a big dent into my skin care budget. 
Garnier SkinActive Super Purifying Charcoal Face Mask Review, $2.99 MSRP
Read more

Back to top