We Tried It: Garnier Glow Boost Illuminating Moisturizer
November 28, 2018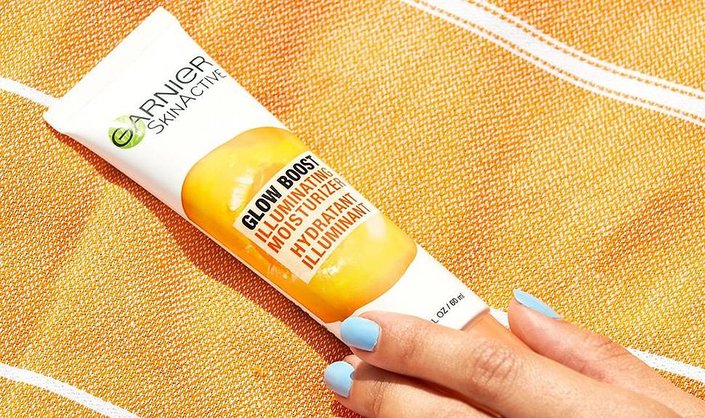 At the conclusion of each summer, and among the dawn of a new year, we find renewed enthusiasm (with the resolutions to match) for a healthier lifestyle and healthier-looking skin. Not only does that include swapping sugary drinks for green juices, and spending more time at the gym, but it also includes curating the ultimate skin care routine for a healthy glow. The goal? A glowing complexion that could stand on its own without makeup. After months of dead skin cell accumulation, along with dirt, impurities, and other damage, reversing the look of those effects won't happen overnight. So while you're getting to work on transforming your skin in time for the new year, introduce a moisturizer into your routine that can reveal an instant, natural-looking glow. And not just any moisturizer, but rather Garnier's SkinActive Glow Boost Illuminating Moisturizer. After receiving a complimentary sample from our friends at Garnier, we took Glow Boost Illuminating Moisturizer for a spin. Read on for our review of Garnier SkinActive Glow Boost Illuminating Moisturizer, ahead!

Garnier SkinActive Glow Boost Illuminating Moisturizer Review
Healthy-looking skin can be achieved over time, not overnight. After all, it took months for all of that damage to accumulate, so you can't expect it to fade away in just a few hours. Committing to a proper skin care routine can help you achieve those long-term results, but in the meantime you can achieve temporary radiance with the help of glow-boosting moisturizers such as Garnier's SkinActive Glow Boost Illuminating Moisturizer. 
THE BENEFITS

 
So, what can Glow Boost Illuminating Moisturizer do for your skin? Formulated with apricot extract and illuminating pearls, this formula can deliver an instant, natural-looking glow, as well as skin that's plumped with hydration and makeup-ready. With continued use, expect more even, healthier-looking skin.
Another benefit? The formula's sheer, universally flattering tint works well on all skin tones, leaving behind a natural-looking luminous finish. What's more, the formula contains no mineral oil, parabens, silicones, or dyes. What it does contain is 96% naturally-derived ingredients. Garnier considers an ingredient to be naturally-derived if it is unchanged from its natural state or has undergone processing yet still retains 50% of its molecular structure from its original natural source.

HOW TO USE IT

 
There are several glow-boosting ways you can use Garnier SkinActive Glow Boost Illuminating Moisturizer in your everyday skin care routine. 
As a daily moisturizer:

Apply evenly to clean skin for an instant glow. You can follow with makeup or wear it on its own!

As a primer:

Apply evenly before makeup as a primer for seamless makeup application.
As mentioned, the moisturizer's universally flattering tint blends perfectly into all skin tones.
MY REVIEW
I opted to try Garnier's SkinActive Glow Boost Illuminating Moisturizer on the weekend since that's when I like to let my skin breathe and ditch makeup, yet still have a fresh, dewy complexion. After cleansing my skin and applying this moisturizer, I noticed by skin boasted a subtle, healthy-looking glow. My skin felt instantly plumped with hydration—which lasted all day—looked dewy, and felt incredibly smooth. I opted not to give myself a full face of makeup. I look forward to keeping this glow-boosting moisturizer on rotation in my skin care arsenal.
Garnier SkinActive Glow Boost Illuminating Moisturizer, $11 MSRP
Read more

Back to top