This Facial Mist Is So Hydrating It May Replace Your Moisturizer
August 15, 2018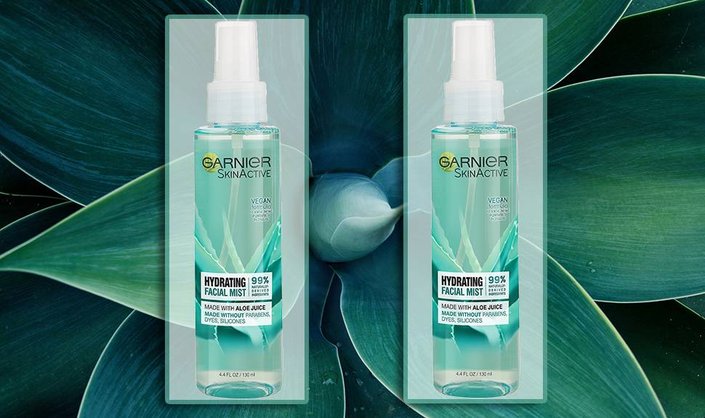 In the world of skincare, few things are quite as satisfying as spritzing your face with a hydrating facial mist. Though they may not be entirely essential to your skin's health and well-being, they're still a welcomed addition to a skin care routine, especially on a particularly hot day.
Most facial mists are refreshing, a way to cool your skin down or provide a quick pick-me-up after a long day. Bonus points if you can find a formula that can hydrate your skin in addition to refreshing it. Face mists are also incredibly versatile, at least that's the case for Garnier's new SkinActive Hydrating Facial Mist with Aloe Juice. This mist can be used four (yes, four!) different ways. Read on to find out why this aloe-infused facial mist is the next affordable product to pick up during your drugstore haul.
Garnier SkinActive Hydrating Facial Mist with Aloe Juice
If you are a fan of Garnier's SkinActive Soothing Facial Mist with Rose Water, you'll be equally impressed with its sister mist: SkinActive Hydrating Facial Mist with Aloe Juice. One of the main differences between the two products is, of course, the formulation. One is formulated with rose water, the other with aloe juice which comes from the aloe vera plant. This popular succulent barely needs an introduction, but beyond dressing up our side tables and living spaces aloe vera is a hydrating skin care ingredient. It's also known to be rich in antioxidants and vitamins.
 As such, it's no real surprise that the main benefit of this facial mist, formulated with aloe juice, is its ability to hydrate the skin. The result is skin that feels smooth and refreshed. What's more, the formula made without parabens, dyes, and silicones, and is suitable for sensitive skin. What it is made with is 99% naturally-derived ingredients. Garnier considers an ingredient to be naturally-derived if it is unchanged from its natural state or if it has undergone processing yet retains greater than 50% of its molecular structure from its original plant or mineral source. This formula consists of 99% naturally-derived ingredients, with the remaining 1% dedicated to ingredients that can help ensure the formula's sensoriality and preservation.
How to Use Garnier SkinActive Hydrating Facial Mist with Aloe Juice
As mentioned earlier, Hydrating Facial Mist with Aloe Juice can be used in four different ways.
1. To hydrate skin before makeup: There's no denying that makeup looks better on skin that feels hydrated and plumped with moisture versus skin that's dry and flaky. To help boost your skin's moisture levels before applying foundation and concealer, mist this spray across your facial contours and allow it to absorb into your skin.   
2. To prime your skin before makeup: Instead of applying your cosmetics directly onto your skin, take a few extra seconds to prime your skin first with this hydrating mist. You could do this even if you choose not to wear makeup that day.
3. To set your makeup in place: Once you've finished applying your makeup look, spritz this hydrating mist onto your skin to help lock your look in place. You'll love the dewiness the mist leaves behind!
4. To refresh your skin by midday: Don't let that 3 p.m. slump keep you feeling tired. To help wake up your skin, spritz on this facial mist for a quick and easy (not to mention, refreshing!) treat. There's no limit to how often you can spritz!
To use, mist, in one continuous press, 12-15 inches from the face while keeping your eyes and mouth closed. No need to rinse!
Garnier SkinActive Hydrating Facial Mist with Aloe Juice, $8 MSRP
Read more

Back to top