These Micellar-Infused Pads Take Eye Makeup Removal to a New Level of Convenience
September 20, 2018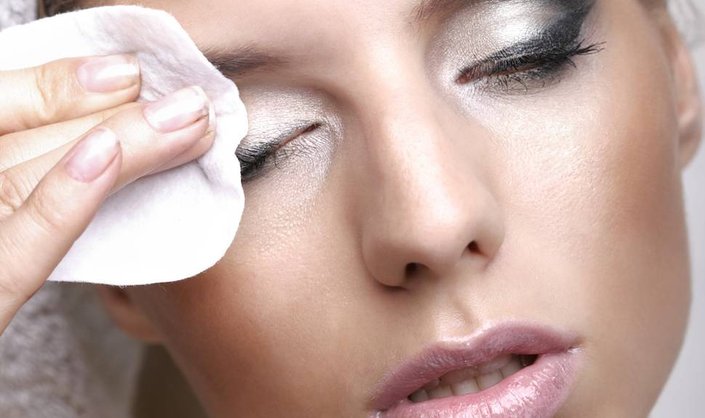 Makeup is fun to apply and even more so to wear—that is, until it's time to take it off. No matter how vigorously we tend to wash our faces, stubborn eyeliners and mascaras can still linger around our eye contour, leaving behind a sticky residue and stained skin. It's enough to make you want to give up, go to bed and try again in the morning but that's not the best choice. Going to sleep with makeup on your skin can lead to a weakened skin barrier, clogged pores, breakouts, and more.
Many makeup removing towelettes require harsh rubbing and tugging to get every last trace of makeup off, which can lead to irritation and even premature wrinkles. Since the skin around the eyes is thin and delicate, this action can be particularly damaging. What's more, some makeup-removing facial cleansers strip our skin of natural oils, leaving our skin feeling tight and dry rather than comfortable and hydrated. 
So, what are the other options? Well, you could reach for Garnier's new Micellar Eye Makeup Remover Pads. Formulated specifically for the delicate eye area, these micellar cotton pads are perfect for easy, one-the-go eye makeup removal. Read on to learn more about the latest addition to the brand's SkinActive portfolio! 
WHAT IS MICELLAR WATER?

 
Since landing Stateside, micellar technology has been cropping up in a wide range of skin care products. Once a French secret skincare weapon, micelle technology involves gentle micelles which cluster together to capture and lift dirt, oil, makeup, and other impurities from your skin's surface like a magnet. Most formulas don't require rinsing or harsh rubbing, which is why these convenient products have become such a fan-favorite for all. To learn more about micellar water, check out our micellar benefits guide. 
GARNIER SKINACTIVE MICELLAR EYE MAKEUP REMOVER PADS
Garnier is no stranger to micellar water, or micellar-infused products. The latest addition to their micellar range is Micellar Eye Makeup Remover Pads, which are about to revolutionize the way you remove cosmetics around your peepers. These ultra-gentle pads are formulated with aloe, and can soothe and comfort the delicate eye area in addition to removing eye makeup without harsh rubbing. In one easy step you can remove your eye makeup and soothe your skin—no rinsing, no greasy residue, no discomfort. The pads are also free of fragrance and mineral oil. It's the perfect product to use to wipe away any unwanted makeup when you're on the go or in need of a quick touch-up, and they're gentle enough for sensitive eyes and contact lens wearers.
To put things simply, these makeup removing pads are an essential to both beauty junkies and makeup novices alike. To use, smooth one pad over a closed eyelid and lashes. If you're wearing a lot of eye makeup, hold the pad over closed eyes for a few seconds then gently wipe away makeup. Follow the same routine on your other eyelid until the pad runs clean. That's it! There's no need to rinse or hover over a sink.
Garnier SkinActive Micellar Eye Makeup Remover Pads, $8.99 MSRP
Read more

Back to top