The Drugstore Sheet Masks Everyone's Talking About
March 06, 2017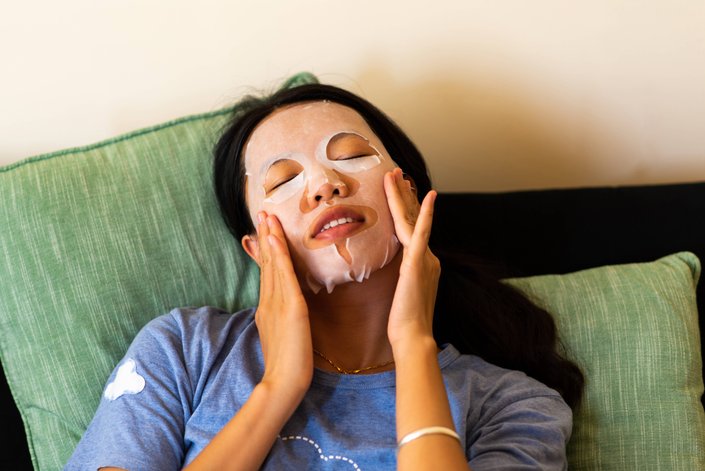 What Are Sheet Masks?
If you haven't already tried a sheet mask, now is the time to give this product a shot. Unlike traditional face masks, which are typically formulated with clay and need to be removed with water—and a little elbow grease!—sheet masks don't require nearly as much effort. A sheet mask is a sheet (hence the name) typically soaked in serum—often half a bottle—with holes for the eyes and mouth. It is fitted to the contours of the face, remains in place while you do something else for 15 minutes or so and then peeled away. Instead of rinsing off the excess product you'll rub it onto your skin, so it's really a two-in-one skin care product!
Sheet masks offer a great mess-free option and one of our favorite ways to mask on the go—in fact, most beauty editors keep a few in tow during air travel! Some sheet masks are designed to help brighten the appearance of skin while others address some of the visible signs of aging skin, the one thing they almost all have in common is that they are hydrating and the Garnier sheet masks are no exception!
Garnier Moisture Bomb Sheet Mask Reviews
While sheet masks in the past have typically been available through luxe brands—with high price tags—or indie brands—read: really hard to find—now thanks to Garnier they are available at your local drugstore for a suggested retail price of just $2.99 each! What's more, the new Moisture Bomb Sheet Masks—three in total—are each formulated to address unique skin types and skin care concerns, so there's an option for everyone!
Depending on which mask you choose, it can help to soothe dehydrated skin, boost radiance, or visibly reduce the appearance of pores. They are each infused with a unique antioxidant blend to address the specific needs of different skin types. While each mask has its unique benefits, they are all formulated with hyaluronic acid—a potent humectant with the ability to attract and hold onto up to 1000 times its weight in water—making each of them, as their name implies, super hydrating. Pick your favorite, leave it on for 15 minutes, and enjoy a more moisturized complexion!
The first Moisture Bomb sheet mask we tried was the Hydrating Sheet Mask. This mask is formulated to provide deep moisture for instantly softer, more radiant skin. In addition to hyaluronic acid its formula boasts pomegranate extract—a unique antioxidant that's gaining buzz in the skin care world. After just one use our skin felt super hydrated, appeared fresher and softer, and looked much more radiant than before, a huge plus after the toll winter took on our complexion.
Next up we gave the Mattifying Sheet Mask a try. This unique mask is designed to deeply hydrate and balance the skin while visibly reducing the appearance of pores. In addition to hyaluronic acid, it is formulated with antioxidant green tea extract. We loved that this sheet mask was made for those with combination skin in mind, since often sheet masks are formulated for dry skin types. We also loved this mess-free mask option helped to reduce the look of our pores.
Finally, we reached for the Soothing Sheet Mask. Ideal for skin that feels tight and uncomfortable after washing, this mask deeply hydrates, comforts, and soothes skin. It's formulated with hyaluronic acid and antioxidant chamomile extract. Since this winter has thrown our skin for a loop—with one day being sunny and mid-60s and the next being snowy and below-freezing—this mask was truly heaven-sent. This mask in particular is officially our carry-on must-have since the effects of air travel always cause our complexion to feel and look less than stellar.
How to Incorporate Moisture Bomb Sheet Masks Into Your Routine
To use the masks, start with clean skin­—we recommend cleansing with Garnier's micellar water which we share more about here! Next, remove the mask from the pack and press it onto the face with the blue side up. Peel off that blue film and adjust the mask to fit to the contours of the face and allow it to sit for 15 minutes. Catch up on your social media feeds, read a magazine, or stream your fave TV show while you wait for the mask to do its thing. After the 15 minutes is up, remove the mask and then gently massage the remaining product onto the skin for added moisture!
We love to use these sheet masks during our Skin Care Sunday routines, when we're traveling, and any time our complexion feels a little parched. We're obsessed with how convenient and affordable it is to snag a few from the drugstore and definitely recommending giving these sheet masks a try in your routine!
Read more

Back to top