How to Master the No-Makeup Makeup Look
November 19, 2018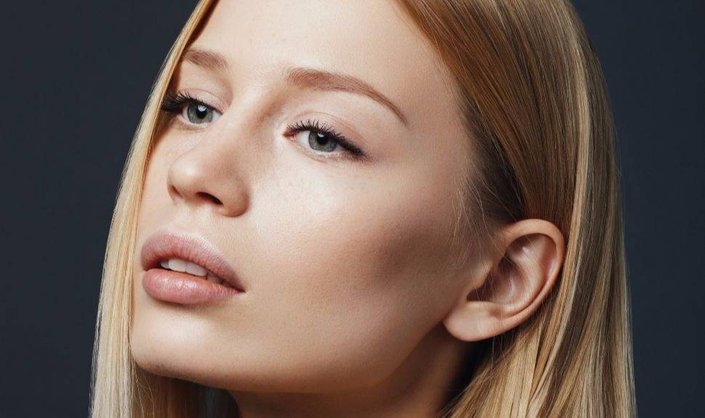 While the au naturale look is the talk of the town, many have found that it's not as easy to achieve as one might think. The trend sounds like a minimalist's dream, but that doesn't necessarily mean it's a breeze to master. But don't fret because we're here to help. Ahead we're walking you through the step-by-step process of creating your most beautiful, makeup-free look yet. Ready to master the no-makeup makeup look? Follow along. 
How to Master the No-Makeup Makeup Look
You're just eight simple steps away from achieving a makeup-free look!
STEP 1: CLEANSE
To achieve a barefaced look, it's essential that you're barefaced to begin with. Prior to getting started, make sure you go into the process with a clean palette. Attempting to go for a makeup-free look with last night's eyeliner lingering about won't end well. In order to make sure your face is clean and impurities are removed, we recommend the Kiehl's Ultra Facial Oil-Free Cleanser. This lightweight, oil-free formula won't weigh your skin down and can help to remove pore-clogging impurities and dirt. 
Interested in seeing what other cleansers Kiehl's has in store? We review them by skin type right here!
STEP 2: APPLY MOISTURIZER
Before reaching for any makeup products, it's essential to moisturize your skin (especially if you just cleansed it). By moisturizing before applying makeup, you'll be able to promote that healthy, dewy visage you're craving and keep unwanted dryness at bay. Much like your cleanser, we also suggest you pick up a moisturizer that's lightweight without skimping on hydration. We recommend Vichy Mineral 89. Formulated with the brand's Mineralizing Thermal Water and hyaluronic acid, this skin booster delivers a heaping dose of hydration. 
STEP 3: FOLLOW UP WITH PRIMER
Now, even though a makeup-free look makes you think you won't be using much makeup (or any at all), we highly recommend priming your skin anyway. Why? Because some primers can also help smooth out the look of uneven skin, blur pores, illuminate the skin, and neutralize the appearance of imperfections. Take the L'Oréal Paris Magic Lumi Light Infusing Primer for example. This weightless primer blends effortlessly into skin to not only help even out skin's tone, but also boost radiance too. You're just a few dabs away from the dewy, runway-ready skin of your dreams.  
STEP 4: COVER UP IMPERFECTIONS
This is obvious, but dewy-looking skin doesn't look quite as lovely when blemishes are blocking its view. If you're battling pesky pimples or dark circles, reach for a color-correcting concealer, like the Urban Decay Color Correcting Fluid. Available in Green (to help neutralize redness), Yellow (to help correct the appearance of dullness), Peach (to help mask the look of dark circles), Lavender (to help balance sallowness), Pink (to help brighten dark areas), and Deep Peach (to help mask dark circles on darker skin tones), there's truly something for everyone. To use, simply dab some of the fluid onto your problem area and lightly blend with a beauty sponge for natural-looking coverage.
Once you've blended your non-natural hue into your skin to neutralize any flares, top it off with a dab or two of skin-colored concealer for a complexion that looks virtually free of imperfections.    
STEP 5: DITCH FOUNDATION FOR TINTED MOISTURIZER
Makeup-free looks are meant to look, well, free of makeup. This means that a full coverage foundation simply isn't going to cut it. Instead, you want to use a tinted moisturizer. If you have oily or acne-prone skin, reach for La Roche-Posay Effaclar BB Blur. The formula helps minimize the appearance of large pores, visibly cover imperfections, and absorb excess oil for a flawless-looking finish.
STEP 6: HIGHLIGHT STRATEGICALLY
Your complexion is almost runway ready—there's just one thing missing: glowing cheekbones. To get the look, lightly dab the L'Oréal Paris True Match Lumi Liquid Glow Illuminator along your cheekbones, brow bones, and the bridge of your nose using a makeup sponge. Since this pretty little tube of highlighting magic comes in three shimmering shades, be sure to swatch them all to find your perfect fit. 
STEP 7: SHAPE YOUR BROWS
Remember, makeup-free looks are characterized by natural-looking brows. Blend a slightly lighter shade into the front of your brow, followed by a slightly darker shade into the tail. Use a spoolie to blend and fall in love with your new favorite, super simple arch update. 
STEP 8: FLUSH YOUR POUT
All that's left is a natural-looking, flushed pout. Instead of reaching for a long-wear, high pigment matte lipstick, use the It Cosmetics Vitality Lip Flush 4-in-1 Reviver Lipstick Stain. Formulated with a handful of oils and just enough color, you're looking at natural-looking lips full of hydration. If your lips are feeling a little dry beforehand, treat them to a brief exfoliation session. For this you can use the L'Oréal Paris Pure-Sugar Resurface & Energize Kona Coffee Scrub, a double-duty scrub that can be used both on your face and lips to remove dead skin cells.
THE BEST TIMES TO WEAR A NO-MAKEUP MAKEUP LOOK
Now that you know how to master a no-makeup makeup look, maybe you're at a loss as to when to show it off. Below, we're sharing a few suggestions as to when you can (and should) rock a no-makeup makeup look. 
For Brunch Dates
Headed to a brunch date with your closest friends? Show off your makeup-free look and see if your friends pick up on it. If you do it correctly, your skin should look simply radiant. Plus, you don't have to spend extra time in the morning applying foundation, concealer, blush, eye-shadow, eyeliner, etc. 
On Monday Mornings
The weekend is over, and you're gearing up for the week ahead. Don't have time (or energy) for a full makeup routine on Monday morning? Opt for a no-makeup makeup look. It's the look that will start the week off right, keeping your skin looking great with a minimal amount of work invested behind it.  
Before an Event
Family functions and events are things you have to look nice for, but it shouldn't take you all day to get ready. Play up the refined casual look with a makeup-free face.
When the Weather Is Warm
When things heat up outdoors, some layers are lost while others are gained. Flowers and trees, for example, regain their petals and foliage. But when it comes to skin care routines and products, many like to opt for lightweight and minimalist routines. Try stripping your makeup routine down to the makeup-free look. Just add some SPF into the mix, and you're set.
Read more

Back to top