How to Fix a Spray Tan Gone Wrong
May 23, 2023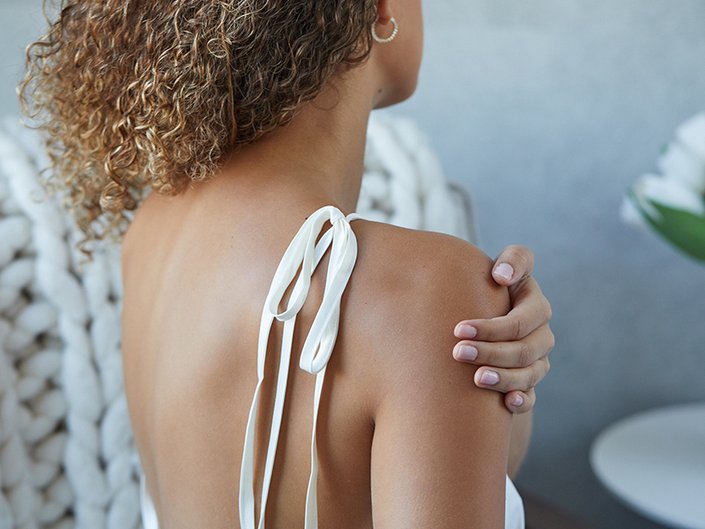 A spray tan is a great sunless tanning method if you're looking to achieve glowier, more even skin fast without exposing yourself to the harmful rays of the sun. It instantly gives you a sun-kissed look — minus the UV damage — and can give you a boost of confidence before a big event. That is, unless you accidentally end up with a streaky, patchy or orange-hued spray tan. If this happens to you, even though it may be hard not to resist the urge, try not to panic.
Believe it or not, it's surprisingly easy to fix a spray tan gone wrong using
skincare products
you likely already have. To find out how to correct an unfortunate spray tan at home, we spoke to
Sophie Evans
, St. Tropez skin finishing expert and celebrity self-tanner.
How Long Does a Spray Tan Last?
The duration your spray tan will last depends on factors like how you prep your skin for the tan and how you care for it in the days following. According to Evans, your spray tan can last as long as 12 to 14 days with the proper aftercare. "However, after about five to six days your glow would have faded a little and may need a boost, particularly if you have an event," she says.
To maintain your tan's longevity, she recommends using a gradual tanning lotion, like the St. Tropez Gradual Tan Classic Daily Firming Lotion, for a midweek boost. This tanning lotion "goes on as easy as a body lotion, can be applied in the morning before work with no worry about product transfer and you can get dressed immediately," explains Evans. "What a gradual tan lotion will achieve is a boost of color about two to three shades deeper [than your skin tone] and a surge of hydration to make the skin glow."
As the days go on, you may notice that your face and hands are fading faster than the rest of your body due to frequent washing and use of products like hand sanitizer. "Invest in a good facial self-tanner that can also be used to tan the hands as well," advises Evans. "You may find the face and hands will need reapplication every three to four days."
Luckily, tanning your face is easier than ever with tan drops like the
L'Oréal Paris Sublime Bronze Self-Tanning Facial Drops
. Just add a few drops to your favorite moisturizer at night and wake up looking freshly bronzed.
Evans also likes using a tanning water mist or spray for the face and hands since application is as simple as a couple of quick spritzes. When touching up your tan on your hands, be sure to apply moisturizer first and wipe your nails and cuticles after to avoid staining.
How to Remove a Spray Tan
Fully removing a spray tan if you're not happy with the results is not the easiest thing to do, but you can take steps to ensure that your spray tan fades faster and more evenly. Moisturizing every day and using a gentle exfoliant all over your body every other day will help your tan fade evenly and naturally, notes Evans. You can also speed up the fading process by taking frequent warm baths and showers, as this diminishes the color.
If you're trying to remove your tanner in specific areas where maybe the tan developed darker than other spots, Evans recommends using the St. Tropez Remover Mitt. Use the mitt "on damp/wet skin whilst in the shower or bath, working in flat circular motions to lift off darker color and reveal an even tan tone," she says. "Lightly exfoliating over an area will also help, but the use of an exfoliating mitt will really allow you to lift the darker patches and be more precise."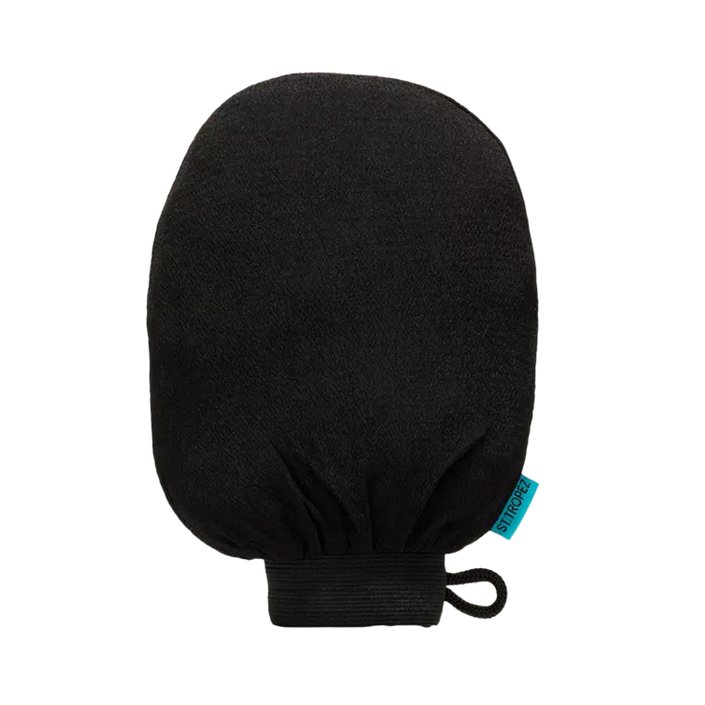 Finally, you should also make sure that any remnants of an old spray tan or sunless tanning product are completely removed before you get a new one. An exfoliating mitt is the most thorough way to do this.
How to Fix an Uneven Spray Tan
If your spray tan is looking streaky, blotchy or otherwise uneven, Evans says it can still be easily fixed. Basically, you're going to use self-tanner to fill in lighter patches and a moisturizer and exfoliator to address darker patches.
Once again, she suggests scrubbing the skin with an exfoliating mitt to really help lighten those too-dark patches. While regular exfoliating will also help lighten your tan, Evans recommends using a mitt in small, circular motions for added precision. Then, you can go over these areas of your skin with body lotion "to act as a barrier and prevent any [further] deepening." (Remember to opt for an oil-free moisturizer, since oils break down to the color. The CeraVe Moisturizing Cream is one of our go-tos.)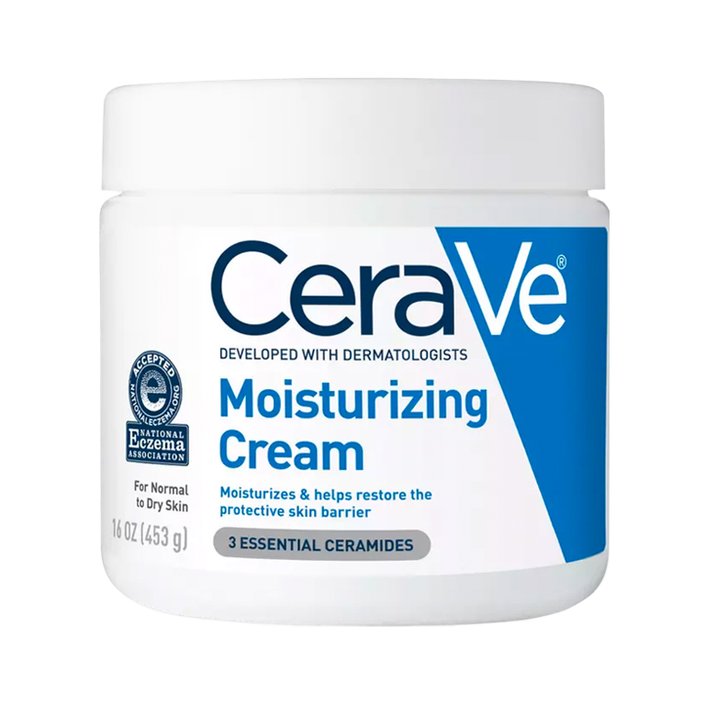 To further even out your spray tan, you're going to want to reach for a self-tanner — specifically one that goes on bronze instead of clear. "If your spray tan is in a mess with light patches, you will need a self-tanner, preferably with a guide color (built-in bronzer), that way we can precisely see where we need to apply," says Evans. Pro tip: Apply your self-tanner with a makeup brush for ultimate precision. And you don't have to worry about staining your makeup brushes — the tanner will wash out completely with soap and water.
"To fill in serious light patches, I like to use St. Tropez Luxe Whipped Crème Mousse, as the built-in bronzer looks amazing from the get-go," says Evans. Another great option is the L'Oréal Paris Sublime Bronze Self-Tanning Water Mousse. Just be sure to apply a regular body lotion to the darker patches first to prevent them from deepening, too.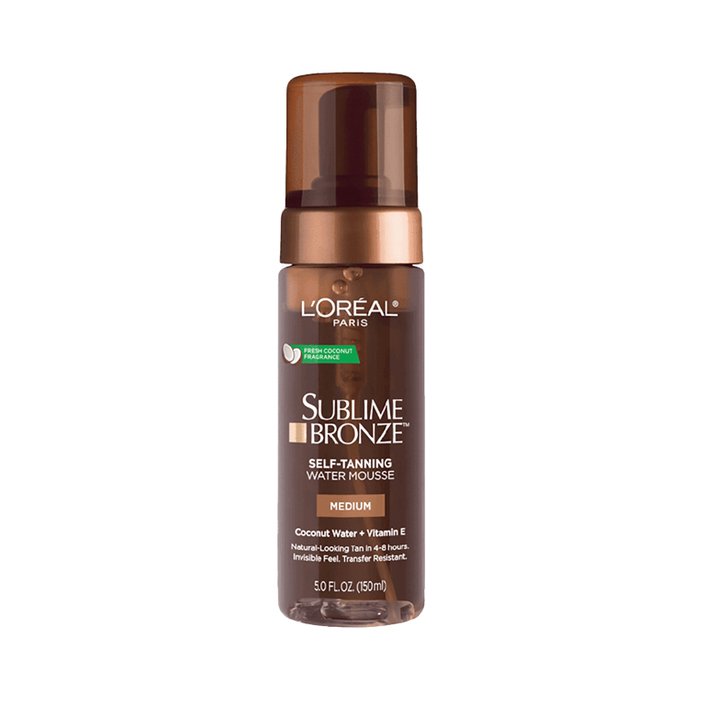 How to Fix a Spray Tan That Is Too Dark
A too-dark spray tan can end up looking orange, rather than naturally bronzey and sun-kissed. Fortunately, Evans says this is also easy to fix. "The fastest way to do this is by applying a true body oil, I like using baby oil or coconut oil," she says. "Drench the skin in oil and leave on for about five to ten minutes before taking a warm shower with exfoliation. You will see your spray tan instantly drop a few shades." Note: If you leave the oil on for any longer, "it will cause the color to lock in more and do the reverse of what we wanted to achieve."
After letting the oil sit, it's time to exfoliate in the shower. "Drenching your skin in body oil prior to showering will allow your skin to be more susceptible to exfoliation, as oils instantly plump the skin's surface making exfoliation more effective and allowing you to remove the very top layer of the epidermis," says Evans. "Use a gentle exfoliator, not a gritty, heavy scrub which can rip or tear at your tan." It's essential to exfoliate after about five minutes if you want to noticeably lighten your tan.
We love the Aesop Redemption Body Scrub, which will gently exfoliate and polish the skin with finely-milled pumice.
What to Do Before a Spray Tan for the Best Results
For the best results, you should start prepping for your spray tan a few days in advance of your appointment. "The best way to prepare your skin before your spray tan is to start exfoliating a few days out, with ideally your last exfoliation being eight hours before the actual spray tan," says Evans. "This will give your skin the opportunity to be at its most neutral pH level. Sometimes exfoliating immediately before a spray tan can lower [your skin's] pH level, which can achieve a slightly lighter depth of tan." She notes that some tanning salons may also apply a pH-balancing product immediately before your spray tan to help transform your skin into the perfect canvas for an even sunless tan.
Another thing to keep in mind is when to wax or shave prior to your spray tan. As a general rule of thumb, waxing should be done at least a full day before your appointment. "When you've waxed, your hair pores are slightly open, so applying a spray tan shortly after can lead to darkened, spotty pores," says Evans. "Always wait 24 hours [after waxing] for your hair pores to settle." Meanwhile, since shaving is a gentle form of exfoliation, it should be fine to shave the morning of or the day after your spray tan.
Lastly, there are a few things you should avoid the day of your appointment. Skip applying thick creams or lotions, perfumes and oils for the day. It's also important to remember to remove any deodorant or makeup right before your tan — the salon will likely provide cleansing wipes at your appointment and remind you of this step.
Read more

Back to top