5 Genius Ways to Remove Lipstick
March 13, 2018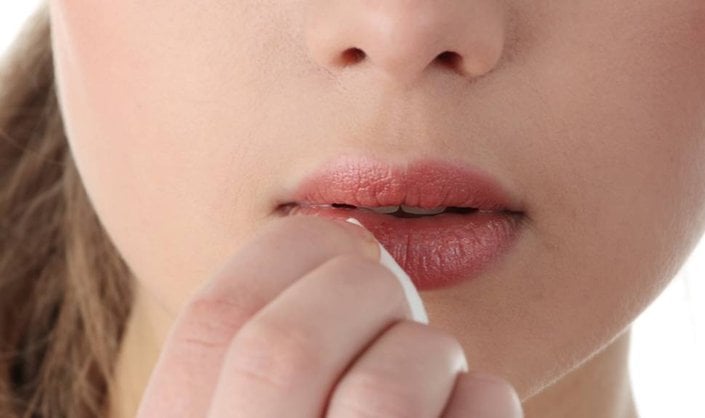 No makeup look is truly complete without a fresh coat of lipstick. That's why we always carry our favorite lippies in our beauty bags—from bold reds to subtle nudes—for quick and easy touch-ups on the go. Recently, we found ourselves swapping our trusty glosses and sheeny lipsticks in favor of long-wear varieties like mattes and stains. Aside from being trendy, these flat pigments stay put all day long when applied correctly. The need to add an extra coat by midday is practically eliminated—plus, there's no mess left on cups and clothes. But like all good things, there's a downside. These no-smear colors are often notoriously—and infuriatingly—hard to remove. If you want to switch up your lip color throughout the day, well, it's no easy feat. Heck, sometimes the removal process can take upwards of 10 minutes. Not to mention, lips are left feeling raw and chapped after all that intense rubbing. Thankfully, we've found a fix—or five. The truth is, while your regular makeup remover might not cut it when it comes to long-lasting liquid lipsticks, removing them doesn't have to be a harrowing process. Read on for five genius ways to remove stubborn lipstick.
1. Try a Microfiber Cloth
In case you weren't aware, microfiber cloths are good for more than cleaning off phone screens and wiping down mirrors. While you won't want the same ones you use around the house to serve double duty, micro fiber cloths can also be a skin care tool. Try holding one under the sink until it's damp, then massage it against your lips in slow circles to remove your lipstick. No cleanser or makeup remover necessary. 
Editor's note: This tip isn't reserved for lipstick—you can use a microfiber cloth to remove face and eye makeup too.
2. Wipe Away with Micellar Water
There are already a million and one reasons for you to love micellar water—no rinsing and no greasy residue, to name a few—but we have another one you can add to that list: most are suitable to use on your lips. While most facial cleansers aren't formulated to remove lipstick on top of cleansing your face, micellar waters often are. That means all you need to do is saturate a cotton pad with the Garnier Micellar Cleansing Water All-In-1 Waterproof and hold it to your lips. Give it a few seconds to begin breaking down your lipstick, then wipe.
3. Use a Clarisonic
Often, if you're having an issue with a skin care product, the problem could be due to the fact that the product you're using isn't meant for the specific situation at hand. For example, if you have oily skin and are using a moisturizer for dry skin to poor effect, it isn't a hint to skip moisturizer altogether. It's likely that switching to a moisturizer meant for oily skin would make a major difference. The same principle can be applied to makeup remover. If you're rubbing away at your lips with a regular makeup remover to no avail, it doesn't mean your lips are doomed to be coated in old lipstick forever. It can, however, be a sign that a deeper clean is needed. That's where Clarisonic's Prep & Cleanse Lip Kit comes in. The kit is equipped with the brand's Radiance Brush Head and Refreshing Gel Cleanser to make removing lipstick, stains, and glosses from delicate lip skin a total breeze. The kit even includes a bold red lippie, specifically the NYX Professional Makeup Epic Ink Lip Dye.
4. Scrub Off Lingering Lip Color
While it isn't recommended to roughly scrub a lip color off your lips, using a gentle lip scrub isn't such a bad idea. First, remove as much of your lipstick as possible with another makeup removing method (any from this list should do the trick). Then, when all that's left on your lips is a slight stain or a few specks of lipstick, break out a scrub. (We're fans of the L'Oréal Paris Pure-Sugar Nourish & Soften Face Scrub, which can be used on your face and lips.) Use wet fingers to gently massage the scrub into your lips and when you rinse off, the remaining lipstick should go with it. 
5. Layer on Lip Balm
Adding another lip product on top of your already covered lips may not seem like the smartest solution, but hold off on judging it just yet. Layering a lip balm onto your lips, directly over a liquid lipstick, can start to soften the lipstick underneath—making it easier to wipe off. Plus, it doesn't hurt that the lip balm can help to combat any dryness the removal process might instigate.
Read more

Back to top