The HydraFacial Perk Treatment Left My Skin Glowing For a Week
March 28, 2022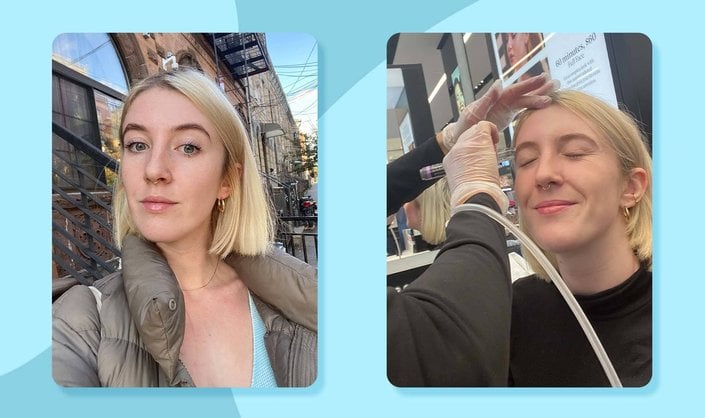 As much as I love to pamper myself with the latest skincare products, sheet masks and DIY spa days, it wasn't until I started working as a beauty editor that I actually got my first facial. It was in a tiny spa tucked away in Sunset Park, Brooklyn, where I experienced 45 minutes of steamy, moisturizing bliss. I left feeling refreshed and eager to indulge again. A few months later, I was invited to the Sephora on 5th Avenue to try out the HydraFacial Perk Treatment free of charge, and decided to review my experience. HydroFacial markets Perk as a way to exfoliate dead skin cells and perk up your skin with a deeply hydrating treatment for glowing skin. Keep reading to learn more about the treatment and see pictures of my results. 
What Is the HydraFacial Perk Treatment?
The HydraFacial Perk Treatment is a two-step service using a handheld device about the size of a marker. According to HydraFacial, step one exfoliates and sucks dirt and debris out of your pores. The suction device is plugged into a huge metal box that looks like something you would find at an airport kiosk, which helps control the pressure of the suction. 
Step two uses a similar massaging tool to deliver an antioxidant- and peptide-rich serum all over the face and lips. 
My Experience With the Perk Face + Lip Treatment by HydraFacial
When I first saw the suction device, I was afraid it might be too harsh for my dry, sensitive skin. I've experimented with handheld pore vacuum devices before and they left red spots on my face. However, my HydraFacial technician, Lisa, assured me that the pressure would be gentle enough to lift impurities without rubbing my skin the wrong way. Of course, if your skin is sensitive or if you have skin concerns, it's best to check with your dermatologist before embarking on any new skincare regimen.
Starting with the face treatment, she held up the pen-like tool and started moving it around my face in small, circular motions. It tickled, but the suction was light enough that it didn't leave a mark on my skin. Lisa told me the exfoliating treatment she used contained lactic acid, which gently sloughs away dead skin cells. After exfoliating, she went over my face with another suction tool. This one contained a serum with peptides, antioxidants and oat kernel extract to make skin appear firmer and more moisturized. I definitely noticed that my skin felt tighter and more taut after the serum portion, which Lisa attributed to the oat kernel.
Next, we moved onto my lips. We started by exfoliating the lips with the same light suction tool, then coated them with a tingly, peppermint and hyaluronic acid-infused serum. With all the dead skin lifted off, my lips felt smoother and had a healthy, rosy color. I was also able to take home the pen that contained the serum, which lasted me a little over two weeks when I applied it every night. 
My Results
I left with smoother, more moisturized lips and a face that felt softer, albeit dry and tight from all the exfoliating. By the next day, however, my skin didn't feel dry at all. In fact, all of my skincare products, from serums to moisturizer, seemed to sink in easier and leave my skin looking glowy and refreshed. Even my foundation seemed to glide on in the following days — my skin definitely seemed smoother. This lasted for a full week before I noticed my usual dryness return. Below, you can see my foundation-free skin the day after the treatment.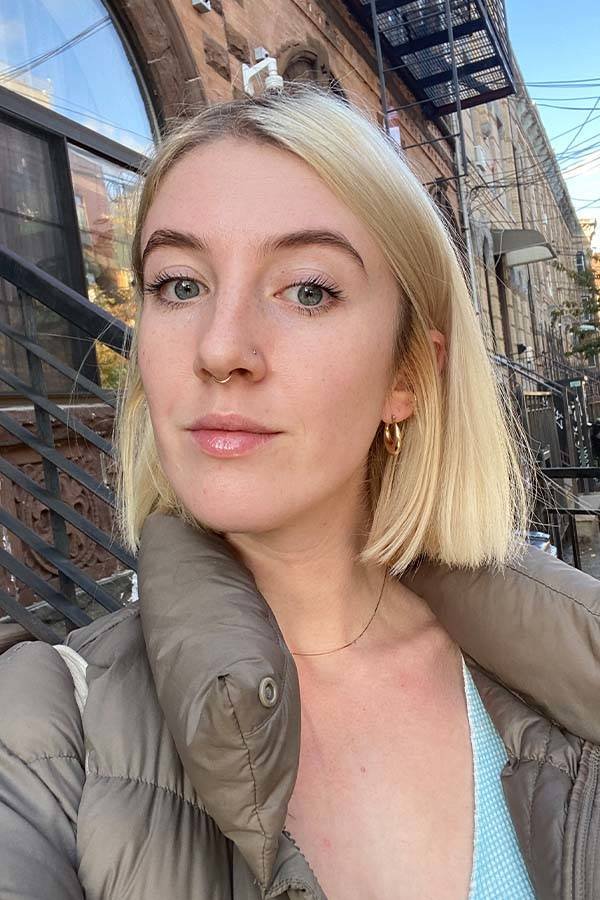 Where Can You Get The Perk Face + Lip Treatment by HydraFacial?
The Perk Face + Lip Treatment by HydraFacial is available at select Sephora locations. It costs $95 and is a 45-minute service, during which you'll also receive a personalized skin consultation and regimen based on your skin concerns. You can also find the HydraFacial Perk Treatments at select dermatologist offices — click here to find a provider near you.
Photo: Ariel Wodarcyk, Design: Juliana Campisi
Read More:
What Is an Ice Facial, and Can It Minimize Pores?
How Often Should You Get a Facial?
What Is a Butt Facial and Do You Need One?
Read more

Back to top