I Wore It Cosmetics' New CC+ Matte for 12 Hours...Here's What Happened
October 18, 2019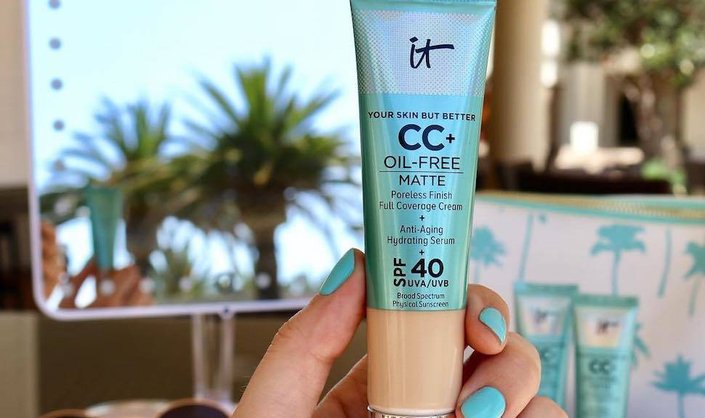 If you have oily skin like me, then you know how hard it can be to achieve a matte complexion in the dead of summer. No matter how many mattifying products I layer on, my skin looks slick and shiny by the time 5 o'clock rolls around. Blotting papers and translucent powder help temporarily, but it's never too long before my sebaceous glands show me who's boss. Arguably the worst part is the way this excess oil impacts my makeup. By end of day, my foundation is often running down my face and ultimately ruining my look.
But these complaints are not simply a way for me to vent about my skin. Friends of mine can attest that I've searched long and hard for a product that can keep my skin's oil production under control, especially in the summertime. So when It Cosmetics launched a new, oil-free matte finish product to their Your Skin But Better collection, I really hoped it would be the solution to my long battle with a greasy-looking complexion. To find out, I gave it a-go after receiving a complimentary sample from the brand for review purposes. Does IT Cosmetics Your Skin But Better CC+ Cream Oil-Free Matte with SPF 40 really provide all day shine control? Keep reading to find out in our full product review!
IT COSMETICS YOUR SKIN BUT BETTER CC+ CREAM OIL-FREE MATTE WITH SPF 40
After the wild success of their Your Skin But Better™ CC+™ Cream with SPF 50+, the brand is showing oily skin types some love with this mattifying twist on the original formula. This full coverage formula has been tested in a clinical study and it boasts seven benefits all in one. You can use this product as a full-coverage matte foundation, SPF 40 UVA/UVB broad-spectrum physical sunscreen, brightening color corrector, hydrating anti-aging serum, minimize the look of pores , dark spot concealer, and/or moisturizing day cream. Much to my delight, the formula reduces the look of shine and helps control excess surface oil for up to 12 hours. 
If that's not already enough reason to rejoice, here's another: there are 12 different shades to choose from. That may not seem like a lot in comparison to the 20-40+ shades available from some foundations, but for the most part BB and CC creams typically don't boast all too many shades, making IT Cosmetics' wider range a stride in the right direction of inclusivity. 
IT COSMETICS YOUR SKIN BUT BETTER CC+ CREAM OIL-FREE MATTE WITH SPF 40 REVIEW
So, does this mattifying CC cream hold up? On a hot summer day in New York City, I personally put it to the test to find out.
One of the first things I noticed about this CC cream is its thick consistency, similar to what you would expect from a foundation. Instead of turning into a liquid mess before application, it held together and had a cooling, moisturizer-like feel to it. Using a makeup blending sponge, I applied an even layer of product across my complexion. The cream is definitely full coverage, but not in a way that makes your skin look cakey or feel heavy. A little bit definitely goes a long way. Two of my biggest skin concerns were noticeably improved when I applied this CC cream, the first being excess oil. The second was my skin's appearance. The appearance of my skin tone was visibly improved and my skin looked even and matte.
To really put this product to the test, I kept the cream on my skin for a full 12 hours without reapplying. In fact, I barely looked in the mirror to check for smudging or fading, in fear that it would make me want to cut the challenge short. Once the 12 hours were over, I was floored by the results. I expected my skin to look like a disco ball, but it didn't. Aside from a slight sheen on my T-Zone, my skin looked the way it did when I first applied CC+ Cream. Was it a miracle, or just sheer luck? It was neither,  just a really good product. So, my fellow oily skin types, my recommendation is that you absolutely need to try this CC Cream.
HOW TO USE CC+ CREAM OIL-FREE MATTE WITH SPF 40
Achieving an oil-free finish has never been simpler: Just apply this CC cream over moisturizer or onto clean skin, either alone or underneath makeup, for your coverage needs.
Read More:
Derm DMs: Does Shaving Really Make Hair Grow Thicker?
I Gave Myself an At-Home Facial Massage With the Clarisonic Firming Head Every Day for Two Weeks
5 Eye Creams With Retinol to Add to Your Arsenal
Read more

Back to top