Editor's Picks: Kiehl's Microbead-Free Body Scrub Review
February 09, 2017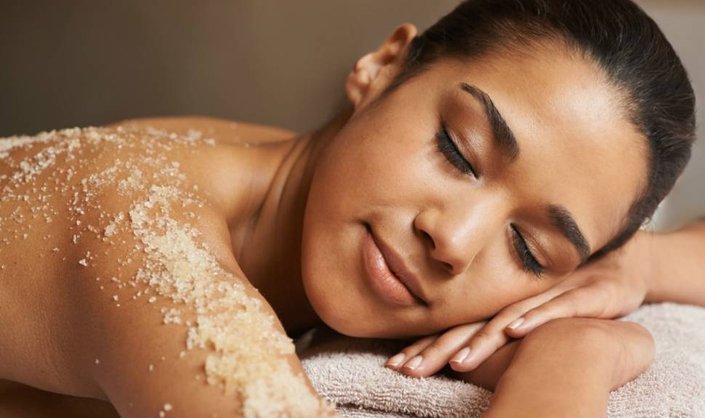 After the microbead ban went into effect, Kiehl's reformulated its beloved body scrubs to be microbead-free. We recently were sent a few complimentary samples of the new-and-improved Kiehl's Gently Exfoliating Body Scrubs to review. Find out what we think of these fresh formulas below!
Between the skin-drying effects of the low-humidity, below-zero temps, and the moisture-sucking artificial heating, winter is often a time when dead skin cells build up with a vengeance. This buildup not only leaves us with skin that looks and feels dry and dehydrated, it can also make it harder for our moisturizers, creams, and lotions to reach the new layer of surface skin in order to add back that much-needed hydration. What's a gal to do? Exfoliate of course! Body scrubs are a necessary part of caring for the skin below your chin. They help to exfoliate the skin's surface, removing that buildup of dead skin. One body scrub we've historically loved at Skincare.com is from Kiehl's, but after the microbead ban, our go-to scrub was pulled from shelves so that the folks at Kiehl's could get to work on re-formulating a microbead-free scrub. Enter: Kiehl's Gently Exfoliating Body Scrubs. Available in three luxurious scents, Kiehl's new-and-improved body scrub formulas sure smell good, but do they live up to their former exfoliating glory?
The Benefits of Body Exfoliation
Removing dead skin cell buildup from skin's surface isn't the only benefit of body exfoliation. According to the American Academy of Dermatology, by removing this buildup with gentle exfoliation you can reveal new, brighter-looking skin underneath. Additionally, exfoliating away the dead skin cell buildup helps to prep and prime your skin for the remainder of your skin care products—making everything from creams to serums to cleansers more effective. Regular body exfoliation can also help to reduce the factors that contribute to clogged pores which can lead to body acne. While you can exfoliate with chemical exfoliation—using formulas with alpha-hydroxy acids and enzymes—one of the most popular forms of exfoliation for the body is using a scrub to gently slough away dead skin.
The Benefits of Kiehl's Body Scrubs
While some body scrub formulas can strip the skin of moisture, Kiehl's Gently Exfoliating Body Scrubs feature a rich and indulgent formula that gently and effectively exfoliates the surface of the skin, removing dead skin cells without over-drying. The scrubs are each formulated with micro-bead-free exfoliation particles—like apricot seed particles—and skin-enriching emollients—aloe vera and chamomile. The combination of chamomile—the same white and yellow daisy like flower that known for its calming properties—and aloe vera—the gel derived from the leaves of an aloe vera succulent plant that so many of us have at home—can help soften, soothe, and comfort skin. With the help of these emollients the gentle body scrub can help to smooth skin, leaving it feeling silky soft, velvety smooth, and primed for moisture.
Kiehl's Body Scrub Review
To begin my review of the Kiehl's body scrub I was met with a hard choice: which scent should I try first? Since I like to think of body scrubs as a step in my at-home spa routine, I opted to try "Lavender" first. The scent was reminiscent of another one of my must-have body care products from the brand—Kiehl's Lavender Foaming-Relaxing Bath. Immediately my bathroom was filled with the calming aroma and even before I started scrubbing I knew I found a new favorite. To start I hopped into a warm shower—body scrubs can get messy so it's best to be in an easy-to-clean location. I wet my skin from shoulders to soles—not even a review can get me to wash our hair more than a few times a week…sorry, not sorry—and took a small amount of the scrub into the palm of my hand and starting from my feet and working up to my arms, I gently massaged the scrub onto my wet skin in upward, circular motions. Since the skin on the soles of my feet, knees, and elbows tends to be more rough, I scooped up a little extra scrub and paid added attention to these spots. After I had scrubbed and sloughed each area of skin, I lathered up, rinsed off, patted dry and got ready to moisturize. Since our consulting dermatologists have told us it's best to moisturize skin when it's still a little damp, I've been trying to make more of an effort to hydrate as soon as I step out of the shower. My skin felt so silky soft afterwards that I started to get bummed it wasn't the time of year when I could rock a short, flowy dress.
As much as I love the relaxing scent of the lavender scrub after a long week of work, I equally adore the grapefruit scent when I need to invigorate my senses a bit more. The spicy coriander scent is my favorite when I want to smell a little special post shower—date night, anyone?
Kiehl's Gently Exfoliating Body Scrubs (Grapefruit, Coriander, Lavender), $36 (MSRP) each
Read more

Back to top