Kiehl's Debuts First-Ever Sheet Mask
March 12, 2018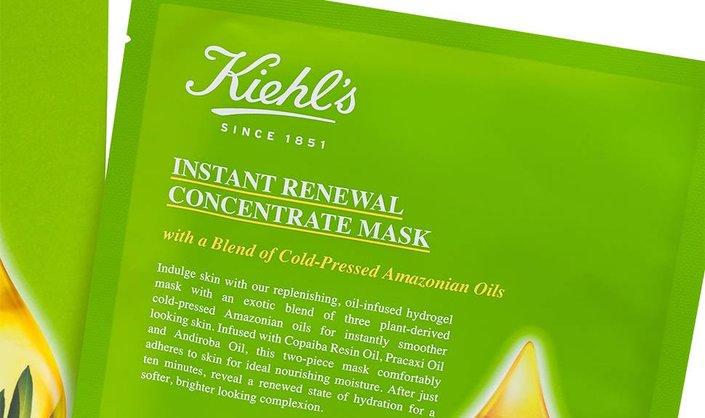 Clear some space in your face mask wardrobe because Kiehl's just launched their first-ever sheet mask! Read on to learn everything you need to know about Kiehl's Instant Renewal Concentrate Mask! 
Kiehl's has been an expert in the face mask space for quite some time now with overnight masks and clay masks to boot, but never was there a sheet mask in the portfolio—that is, until now. The New York-based apothecary recently expanded their face mask range with a brand new oil-infused hydrogel-biocellulose sheet mask called Instant Renewal Concentrate Mask. If glowing skin and instant hydration are two benefits you like to see, you'll want to keep reading. We're sharing the full low-down on the Kiehl's Instant Renewal Concentrate Mask, ahead. 
WHAT ARE SHEET MASKS?

 
There's no time like the present to indulge in a sheet mask. If you haven't already taken the plunge, allow us to refresh you on the basics of this rising mask trend. Sheet masks are sheets (engineered to fit the human face comfortably) that have been soaked in a concentrate or serum. Most sheet masks are applied the same way: they adhere to the contours of the face for about 10-15 minutes, at which point they are peeled off and any remaining product residue is gently massaged into the skin. That's right, no rinsing necessary! Long story short, sheet masks are relaxing and effective, delivering key formulations to your skin without the mess or hassle of rinse-off masks.
Another reason to love sheet masks? The results they bring! You can turn to sheet masks to help tackle your key concerns, be it signs of aging or a dull-looking complexion. If the latter sits high on your list of concerns, look no further than the Kiehl's Instant Renewal Concentrate Mask for help.                                                                                    
A post shared by Kiehl's Since 1851 (@kiehls) on
THE BENEFITS OF KIEHL'S INSTANT RENEWAL CONCENTRATE MASK

 
The Instant Renewal Concentrate Mask is ideal for those looking to surge their skin's hydration and reveal a brighter-looking visage. The two-piece hydrogel mask is formulated with an exotic blend of three plant-derived, cold-pressed Amazonian Oil—including Copaiba Resin Oil, Pracaxi Oil, and Andiroba Oil—and adheres to skin comfortably for nourishing moisture.
"Many common sheet masks in the market are either paper or cotton, which may not adhere comfortably and have a messy application," shares Dr. Geoff Genesky, Global Scientific Director of Kiehl's. "Unlike traditional sheet masks, our formula is infused directly into the hybrid hydrogel-biocellulose material."
After just ten minutes, you'll find a renewed state of hydration for a softer and brighter-looking complexion. In terms of packaging, you'll enjoy just how convenient these packs are. Each sheet mask is stored in a thin, lightweight pack that's easy to store. Whether it's sitting pretty on your nightstand or stashed away in your travel carry-on, one thing's for sure: you can mask anywhere—without forfeiting precious space. 
WHO SHOULD USE
KIEHL'S INSTANT RENEWAL CONCENTRATE MASK
All skin types can benefit from this sheet mask, especially those with skin that lacks moisture.
A post shared by Kiehl's Since 1851 (@kiehls) on
HOW TO USE KIEHL'S INSTANT RENEWAL CONCENTRATE MASK
Ready to give the sheet mask a try?  Follow these steps for application: 
Step #1: Cleanse your skin with your favorite face wash. 
Step #2: Carefully unfold the sheet mask and remove the clear backing. 
Step #3: Apply the top layer of the mask onto clean skin by smoothing outward from the center of your face.
Step #4: Apply the bottom layer of the mask onto clean skin using the same technique as above.
Step #5: Let the mask sit on your skin for 10 minutes. Use that time to close your eyes, relax, and kick your feet up. 
Step #6: As a last step, remove the mask. Massage any remaining product into the skin until fully absorbed, extending below the chin as well. You can use the mask up to four times per week.
Kiehl's Instant Renewal Concentrate Mask, $32 MSRP for 4 mask 
Interested in expanding your knowledge of sheet masks? Click here to learn more about the best drugstore sheet masks. Then, take a look at how you can maximize your experience with them, here.
Read more

Back to top