The Lip Oils You Need to Hydrate Your Pout All Winter Long
October 18, 2019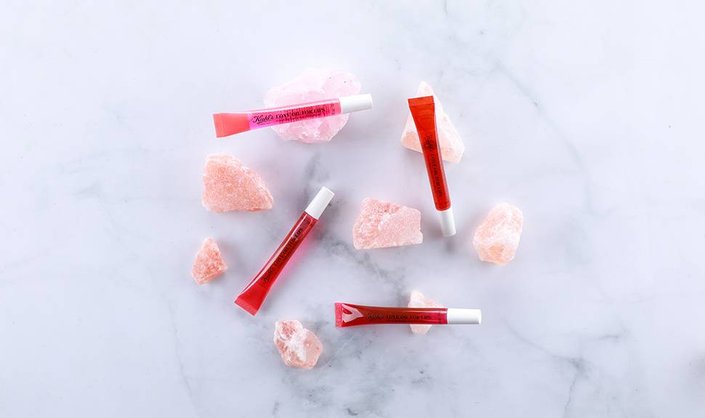 Picture this: It's 1967, and a positive, all-adoring feeling of love is washing over America like a wave. As liberations and new awakenings brought over 75,000 young people to the streets of San Francisco, an explosion of glamour, peace and harmony encompassed the city. Inspired by this unified moment in America are the new Kiehl's Love Oil For Lips. After receiving complimentary samples from our friends over at Kiehl's, we took Love Oil For Lips for a spin. Read on for a full product description and review of Kiehl's Love Oil for Lips!
What Is Kiehl's Love Oil For Lips?
This hydrating lip formula is formulated to nourish and soften the feel of your delicate lips, while leaving behind a natural-looking shine. It's essentially an elevated lip conditioner and gloss hybrid that can—in addition to nourishing your pout—deliver a soft and subtle glow with a hint of color. You can choose from four shades—Apothecary Cherry, Botanical Blush, Midnight Orchid, and Neon Pink—plus an extra clear shade aptly named Untinted.
What Is Kiehl's Love Oil For Lips Made Of?
Love Oil For Lips are formulated with a handful of ingredients, which among them includes coconut oil, moringa oil, and acerola cherry extract. Let's start with coconut oil. Chances are you've heard of this ingredient not just in your kitchen cabinet but also among your skin care stash. The oil, which has been used in Ayurvedic medicine for over 4,000 years, is rich in fatty acids and is infused into Love Oil For Lips. Similar to coconut oil, moringa oil—a superfood known as "The Tree of Life"—is also rich in fatty acids and nutrients. And last but not least, acerola cherry extract is an antioxidant that is known for being naturally rich in vitamin C.
Who Can Use Kiehl's Love Oil For Lips?
Love Oil For Lips is suitable for all skin types, including those with dry, sensitive skin. If you're looking to give your skin a dual boost of color and hydration, look to this lip oil.
How Do You Use Kiehl's Love Oil For Lips?

 
Apply Love Oil For Lips the same way you would a lip gloss or lip balm. Simply squeeze a drop of the formula onto your fingertips or smooth it directly onto your lips. You can apply as liberally as needed. Plus, there's no limit on how often you can reapply throughout the day so pop it into your bag or purse for frequent touch-ups!
Love Oil For Lips gives off a subtle color (unless you're using Untinted) but if you'd to pair it with your lipstick for a glossy finish you definitely can. You can also layer it over top of your favorite lip balm or conditioner. Below, we're listing two Kiehl's products you can use as a base.
Kiehl's Butterstick Lip Treatment
This lip treatment is a great base coat for your pout. Infused with coconut oil and lemon butter, it can help to soften lips with rich hydration. It doesn't boast a tint, so pairing Love Oil For Lips on top can introduce additional hydration, a glossy finish, and subtle color.   
Kiehl's Butterstick Lip Treatment, $19.50 MSRP 
Kiehl's Scented Lip Balm #1 Cranberry
If you're suffering from seasonal cracked and dry lips, then apply this cranberry-scented lip balm before Love Oil For Lips. It temporarily helps to soothe dry lips.  This lip balm helps shield lips from the extra drying effects of the wind and cold weather. Not only is this product soothing, but it also smells delicious.
Kiehl's Scented Lip Balm #1 Cranberry, $9.50 MSRP 
Kiehl's Love Oil For Lips Review
During the colder months, dry, cracked lips can become a big issue. Not only is it unsightly, but it can also be painful and uncomfortable. While I swear by liberal applications of lip balms, salves, and conditioners, none of them in my current repertoire boast a tint or glossy finish the way Love Oil For Lips does.
I tried all four shades, along with Untinted, and had a hard time picking a favorite! Each and every formula felt nourishing on my lips and left behind a natural-looking shine. It wasn't too glossy but rather subtle and sophisticated. I reapplied the formula a few times over the course of the day and have no complaints. While I was applying Love Oil For Lips on its own, I look forward to layering it on top of my other lip conditioning products for even more moisture. Since the skin on the lips contains no oil glands, it's one of the first areas of skin to dry out. This is especially true during the brutally cold winter, so I'm thankful to have Love Oil For Lips in my arsenal now.
Read More:
Derm DMs: Does Shaving Really Make Hair Grow Thicker?
I Gave Myself an At-Home Facial Massage With the Clarisonic Firming Head Every Day for Two Weeks
5 Eye Creams With Retinol to Add to Your Arsenal
Read more

Back to top